Audience Gain review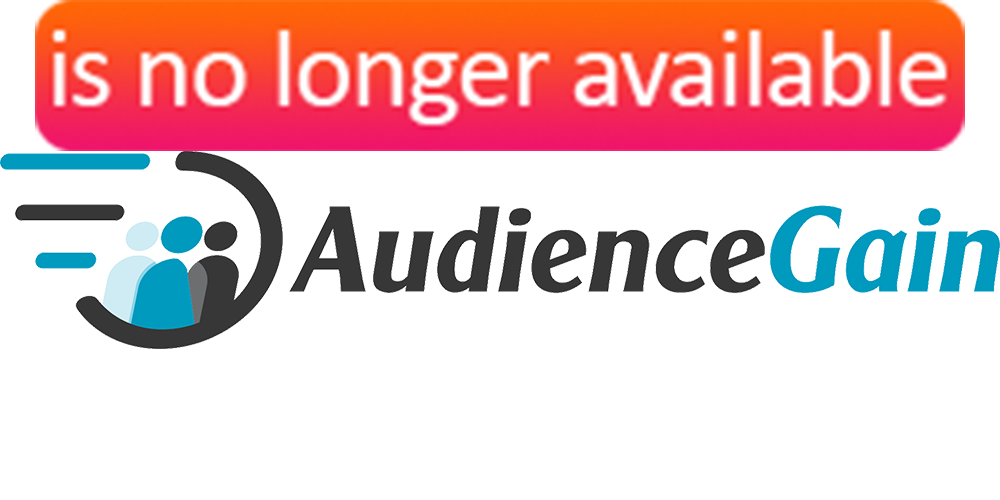 Official website:
https://audiencegain.com/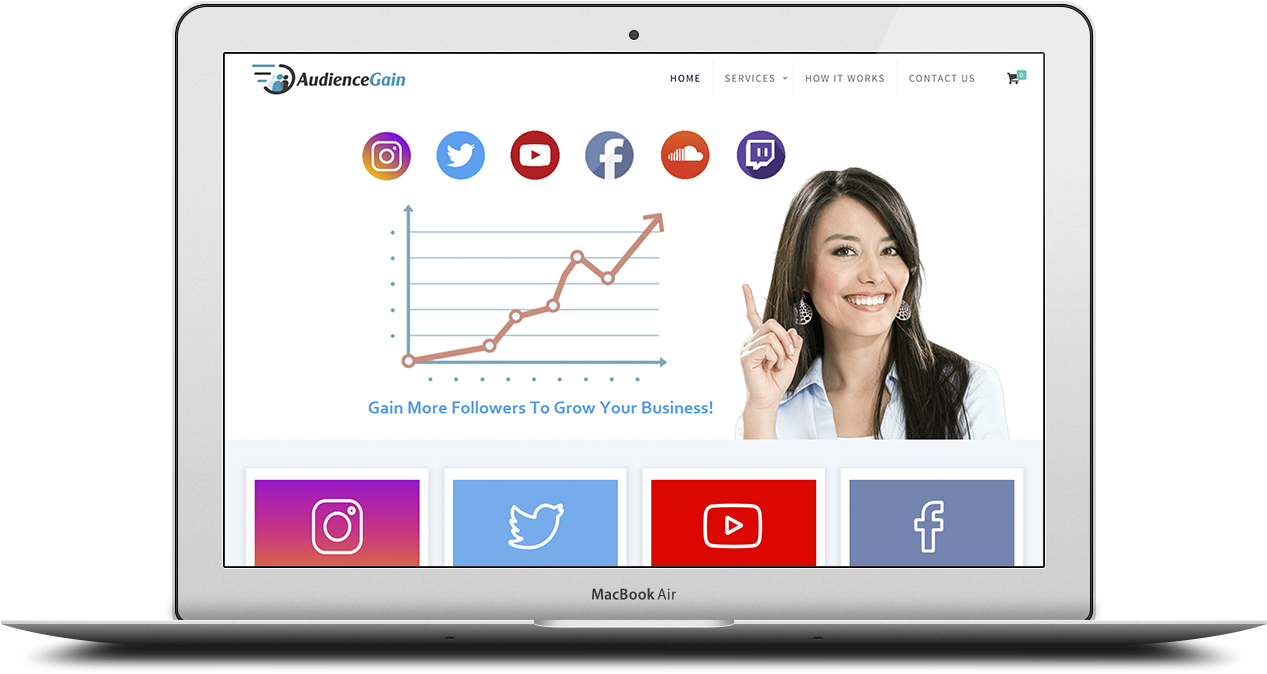 Table Of Contents
Pros and Cons
Pros
Integrates with multiple different social media platforms
Lots of service options per social media integration
Claims "real" people as followers (opposed to bots or dummy accounts)
Transparent about the # of metrics you'll receive
Markets itself as a "campaign builder" opposed to just a website that increases Instagram followers
Unique marketing opposed to competitors
Cons
There were still some negative reviews by customers
Some risk of Instagram catching on and blocking your profile
Doesn't offer a free trial or promotion
Top Social Media Growth Tools
About the service
Audience Gain is a service that allows your social profiles to gain likes, followers, subscribers, and more.
They are marketed as a campaign builder to get businesses grow their following and engagement. Audience Gain accepts many payment options such as Google Play, Cash App, Zele and Apple Pay. Their services are extremely broad – they boast options for Instagram, Twitter, Facebook, Twitch, YouTube, LinkedIn and SoundCloud (which is much more advanced than other similar software's).
Audience Gain boasts "super-fast" growth for all of their customers, and the claim to provide the best results on the market. Furthermore, Audience Gain offers analysis and tactics so you can pull reports on the success you've seen while teamed up with Audience Gain. The company is transparent that they cannot guarantee follower retention. However, if your campaign (or advertisement) isn't approved in a timely manner, Audience Gain will give you a prorated refund.
Main features
Audience Gain offers an impressive amount of services.
Upon first opening the website, there are numerous social media platforms to choose from. For example, you can use Audience Gain to improve your Instagram, Facebook, Twitter, Twitch, YouTube, and even SoundCloud. Each platform has their own unique service options and pricing associated with each. The following services per platform are:
- Instagram: followers, likes, video views, auto likes
- Twitter: followers, retweets, auto retweets
- YouTube: subscribers. Likes, views, comments
- Facebook: fan likes, photo likes, post likes, followers, shares, comments
- SoundCloud: followers, plays, likes, downloads
- Twitch: followers, subscribers, likes, downloads
- LinkedIn: followers
Login & Buy

Instagram likes
Audience Gain was created for you to get likes on Instagram, Twitter, YouTube, Facebook, or Twitch and enhance your social popularity.

Real Instagram followers
This tool quickly multiplies the number of your followers on different social media platforms. Audience Gain doesn't need to control or "hack into" your account. This makes this service safer for people seeking new followers.

Instagram views
This company offers Instagram Video views for $5 per 1.000 views, YouTide video views starting from $15, and Twitch channel views starting from $ 14.

SUPPORT
Unfortunately, no offer, promotion, free trial, or money-back guarantee was provided on the website. This is inferior to other boosting programs that do offer money-back guarantees or free trials so users can investigate the platform before committing fully to it.
Pricing
Pricing and unique features
Audience Gain offes service packages concerning Instagram, Twitter, YouTube, Facebook, SoundCloud, Twitch, and LinkedIn marketing. Depending on a service offered, their prices start from $6 - $10.
Social Media
100 pcs.
500 pcs.
1 000 pcs.
Likes
8
14
Followers
8
14
Shares
Views
5
Likes
12
48
95
Followers
20
70
120
Shares
12
20
Retweets
8
22
40
Followers
15
40
75
Views
40
40
40
Likes
12
55
Subscribers
20
75
145
Views
15
Comments
65
Does Audience Gain Offer Refunds?
If your campaign (or advertisement) isn't approved in a timely manner, Audience Gain will give you a prorated refund.
Is there a Free Trial for Audience Gain Services?
Doesn't offer a free trial.
Compatible Payment Methods
Audience Gain accepts many payment options such as Google Play, Cash App, Zele and Apple Pay.
Visa, Mastercard, Discover, Credit Card, American Express
Audience Gain Deals and Discounts
The company doesn't offer discounts.
Audience Gain: some unique features
Integrates with multiple different social media platforms
Transparent about metrics
Campaign builder what delivers real followers
Unique marketing services
Lots of service options per social media integration
In a few steps, this is how it works
How it works

Visit the website and select the needed marketing service (the social media and the type of engagement)

Then, you will need to pay for the service accordingly

Finally, track the results
results
Results and Safety
AudienceGain promises results delivered within a schedule confirmed by you.
Go to Website


Have questions?
FAQ
What are their guarantees?
The company is transparent that they cannot guarantee follower retention.
Is the service safe?
Is using AudienceGain safe?
In some cases this company grants a refund, if requested within 72 hours after payment has been made.
Is the service legit?
Is using this service legit?
As with many similar services, you should use it at your own risk.
Is the service scam?
Many customers claimed it was a scam.
looking for alternatives?
Alternative Services
Boostgram is another Insta-oriented software which provides "real Instagram followers and likes in three clicks." The downside is that the service doesn't display prices on their website, and you must login to see them; however, some reviewers did it and posted screenshots suggesting the price varies between $99/month and $124/month. On the bright side, this service offers a 3-day free trial, so you may learn all the details in practice and decide whether it is worth it.
Skweezer is a company offering services for Instagram. There is a free trial (a company offers 50 free followers a day), a Verification Badge, and they claim to provide "real" followers. However, their support team is not always helpful, their offers are on the expensive side and some customers complain about the not so perfect quality of their services.
This agency offers "social gains" for 6 social media platforms, and "promo gains". The list of services is impressive including auto likes and auto views, page views, retweets, custom comments etc. Item prices start from $ 0.50.
Reviews
Testimonials
Our first impression with reviews was on the Audience Gain website itself. Of course, these reviews were relatively favourable and sang the praise of the software. Once diving deeper into the internet, it became apparent that the reviews on the Audience Gain website were not proportionate with the reviews on other websites.
AzK NC
It's really hit or miss with these guys. Got 1000 ig followers from them and there was no problem, they dropped a bit over the months but that's expected, then got another 1000 almost a year later and they barely delivered 400, which dropped to 200 in a couple days. The first time around there were email communications, the second time none at all despite me opening 3 tickets.

5 stars
Marcus Partin
Much obliged to You Audience Gain! Astonishing Services the work quick!!!

4 stars
Melvin Hernandez
Not the best client assistance yet Audiencegain is the main organization that conveys! They have the best Youtube perspectives and IG supporters. I will arrange FB loves straightaway. Their perspectives and supporters are in reality genuine records and genuine perspectives that are affirmed by youtube and Instagram... no other organization does this!!!

5 stars
Is it worth it?
Should I try using this company's services?
Though Audience Gain's impressive services and integrations with multiple social media profiles, it seems to pose a significant risk to users. Aside from their software, Instagram is now closely monitoring Instagram growth to ensure that everything is authentic. If Instagram were to determine that your following was purchased, you risk having your entire Instagram account deleted. Considering Instagram's harsher rules blended with Audience Gain's unfavourable reviews, it seems as though it's a poor way to grow your Instagram account at all.
It is worth visiting Audience Gain's website to see how strongly they came out on top of their competitors just with social media platform integrations and a variety of services alone. In this way, Audience Gain has a step up in the market and seems to be a thought leader in their industry. However, once looking at many negative reviews, it is best to Proceed With Caution before giving them a credit card to have on file, or any money at all. Overall, Instagram accounts are best grown authentically. It looks better to the algorithm, potential brand deals, and current followers.
Audience Gain Login