BigBangram review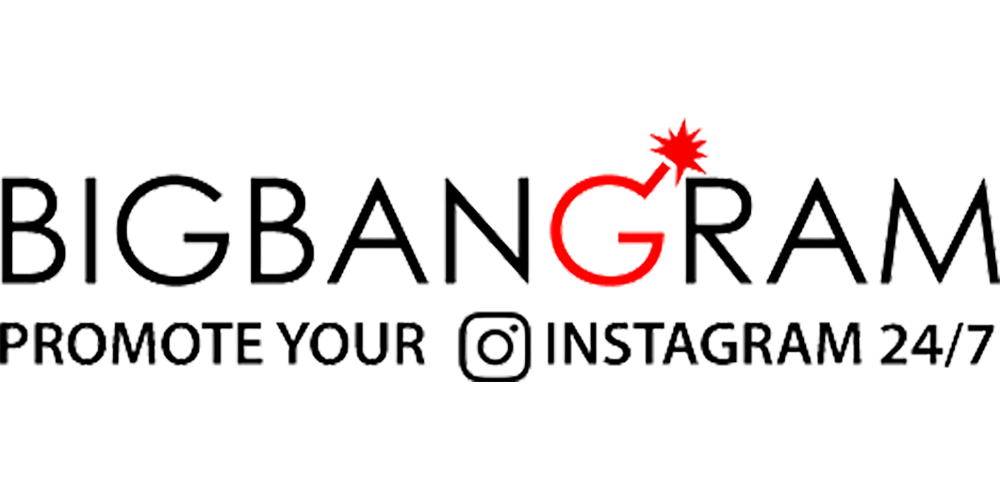 Official website:
https://bigbangram.com/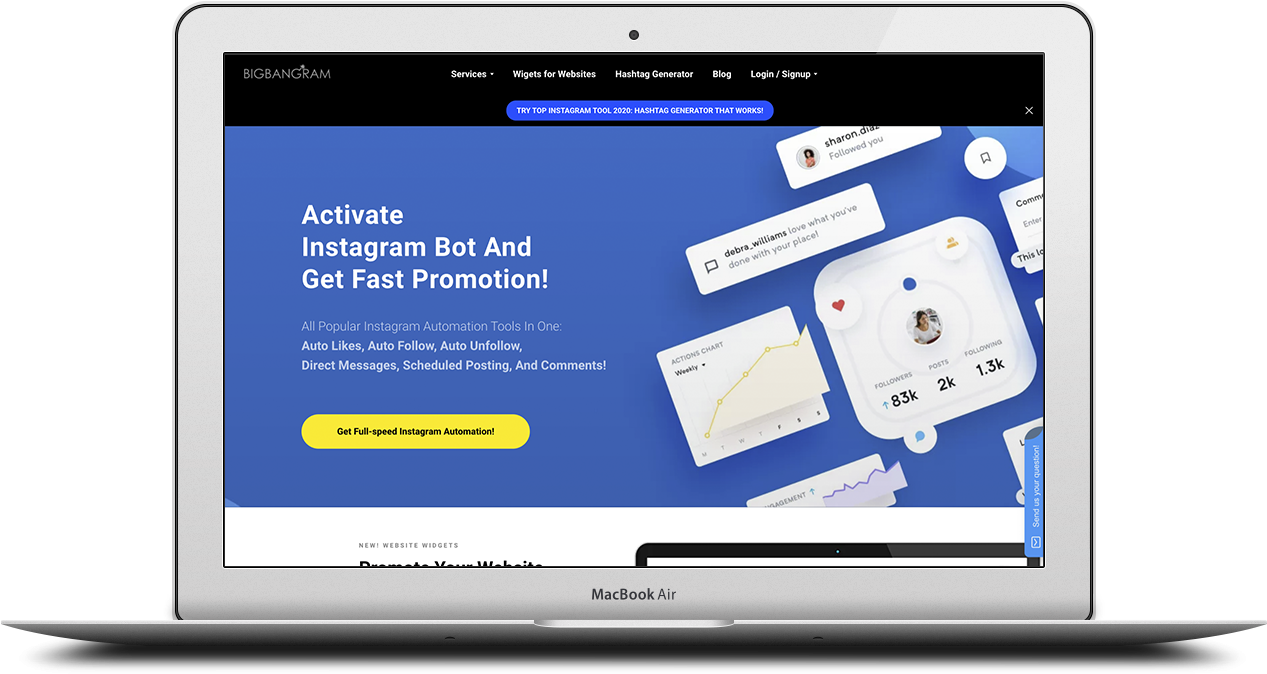 Table Of Contents
Pros and Cons
Pros
Unique concept of automated engagement opposed to just a follower bot
Utilizes all features of Instagram to help with growth (ex. Likes, followers, direct messaging, commenting)
Cons
Not certified or approved by Instagram
Only integrates with Instagram
Top Social Media Growth Tools
About the service
BigBangram is a bot software that integrates with Instagram to assist users in growing their accounts
BigBangram has a unique marketing plan, as it puts more emphasis on bot-assisted engagement than the traditional usage of buying followers. BigBangram is a platform that solely integrates with Instagram. Though it doesn't offer integrations with other social networking sites, it seems to integrate well with Instagram, and it follows a unique technique. Opposed to guaranteeing followers (like many competitors), it has bot automation that engages on your behalf.
Their ideology behind this tactic is that other users will respond to you and eventually follow you organically. This method lowers the risk of your Instagram being banned and encourages real, organic growth that actually sees engagement with followers.
Main features
Bot-assisted engagement as a focus service.
BigBangram has a unique marketing plan, as it puts more emphasis on bot-assisted engagement than the traditional usage of buying followers.
This BigBangram review thoroughly explains all the essential features, advantages and disadvantages of using this service, to help you make your buying decision easier.
Login & Buy

Instagram likes
BigBangram offers different packages for a growth strategy. Each customer can choose packages such as Instagram auto like, auto follow, auto unfollow, auto direct messaging, and auto commenting.

Real Instagram followers
Each service provided by BigBangram can is adjustable, and you can choose specific accounts that you want to target.

Instagram views
BigBangram also offers a posting service that allows you to schedule posts, so they feed out at a high traffic time.

SUPPORT
BigBangram has an easy 3-step process that is extremely user-friendly.
Does BigBangram Offer Refunds?
There is a refund page at the footer of the website.
Is there a Free Trial for BigBangram Services?
There doesn't to be an offer of a free trial.
Compatible Payment Methods
BigBangram also offers a wide array of payment options. Customers can pay via PayPal, MC and Visa.
Visa, PayPal, Mastercard, Credit Card
BigBangram Deals and Discounts
Discounts not available.
BigBangram: some unique features
Bot automation that engages on owner's behalf
Instagram auto likes, auto following, and auto commenting
Five strategies for promotions
New followers guarantee
Scheduling posts service
In a few steps, this is how it works
How it works

Step one is to register. For registering, you choose the service that you're most interested in, send your information and give payment

Step two is to adjust settings. You can customize the accounts your targeting and how often you want to engage with these accounts

Choose a promotion strategy
results
Results and Safety
BigBangram claims that with their service, your Instagram will grow in engagement and follower count. BigBangram suggests that you can enjoy your profile while autopilot while their services provide you growth.
Go to Website


Have questions?
FAQ
What are their guarantees?
Does the company provide any guarantees?
No. Neither do they guarantee the continuous, uninterrupted or error-free operability of the services, nor the number of comments, likes and followers, as it "depends on the quality and interestingness of your content."
Is the service safe?
Is using BigBangram safe?
BigBangram has a very detailed manual concerning the correct promotion and safety of a customer's account, which shows they care for their customers. However, while people who used the service did not get their accounts banned, they say the support team is'nt helpful, if some services are not delivered properly. It may be recommended to pay via PayPal, which enables a customer to get their money back if a service wasn't delivered.
Is the service legit?
Is using this service legit?
If you use it in a correct manner, following the manual and not exceeding the limits, its usage shouldn't get you in trouble with Instagram.
Is the service scam?
Is this company scam?
Their approach is laid out quite honestly in their Terms of Service. While their service is non-refundable, they don't renew the subscription authomatically when the paid time is over, unlike some other companies. They also advise to try BigBangram for $1 for 3 days before making a purchase decision.
looking for alternatives?
Alternative Services
Instazood has better reviews than BigBangram, and it integrates with both Instagram and Tik Tok. Similarly, to BigBangram, Instazood offers scheduling and automated direct messaging. Furthermore, Instazood is compatible with TWELVE languages.
Both Instazood and another competitor, Instavast, clearly offer 3-day trial periods so users can test the service before committing with a purchase. All three options allow for customization and smart targeting. Instavast is cheaper than BigBangram; however, they are in the same price range for the most part.
This software works not only with Instagram, but also with Twitter, Tumblr and Pinterest. There is an option to buy a monthly 1 account licence for $57.99. Additionally, Followliker offers a very significant discount - you should pay only $5.99 monthly (after first month) to continue using your package.
Reviews
Testimonials
Reviews seem to be relatively favourable on websites such as TrustPilot. BigBangram got four stars and had reviews such as "Functionality is super-fast!" and "I like this system". As expected, there were some unsatisfied customers that left reviews. However, overall, they seemed to be average.
Evgeniy Live
Excellent blog!!!
The site wants the best, but:
excellent blog, a lot of useful information!
Direct chat, message search solved all my problems.
I also liked the free tools.

5 stars
Lela
I like this system :)
I like this system. I use only the DMs function. Everything works well and there have never been problems sending messages. It is definitely very convenient. For those who have little time for self-mailing, it's definitely suitable.

4 stars
Margot
DON'T DO IT
Signed up to Bigbangram after hearing such wonderful things and paid them the £49 for a months 'services'
After NOTHING materialising after 1 week, (no actions whatsoever )I contacted Bigbangram to question why, they then recommended that we transfer our account to Ingramer where all my monies and credit will be transferred, and not too worry even though they were more expensive than Bigbangram , we would be well looked after.
It is a total scam, Inagramer have many poor reviews, but by now there is no choice.
I lost my money no chance of a refund as paid by Credit Card.

1 stars
Is it worth it?
Is it a quality service?
If you're looking for an Instagram growth hack, a strategy such as BigBangram's is likely to pose a significantly lower risk for banning. Overall, the service seems promising, and the followers seem to be more organic than other services.
BigBangram Login