Best Budget Drawing Tablet
Some years ago tablets were highly specialized professional instruments available for graphic designers only. Now the full rainbow of brands and models exists allowing you to use them both as a beginner and as a professional. A high-quality drawing tablet is practically indestructible (mine is doing great for 15 years!), so it could be a big investment in your career or hobby. But if you want a cheap drawing tablet that you'll use from time to time, the market now offers you plenty of varieties.
The drawing tablets are generally divided into two big categories: with screens and without them. A tablet without a screen should be connected to a laptop or PC and the lines you draw there will show on the laptop's screen. It may seem a bit weird at first, but you'll get adjusted to it just in a few days. The drawing tablets with screens allow you to see what you draw instantly, like on a piece of paper. Though it is much more user-friendly, screen tablets are generally expensive, because you need a very good screen, durable enough to withstand constant pen touching, and good enough to show the colors as precisely as possible. Such screens are just expensive by themselves.
Another important characteristic is the tablet's size. Mine is full A4, but it might be a bit excessive for most people. Smaller tablets are cheaper but will work absolutely great if you prefer working with details, zooming in, and drawing short lines. If your digital drawing style doesn't demand long lines or special techniques (like oil painting imitation), the A5 size will do just fine. A tablet too big for your working area will cause even more trouble than the need to eventually zoom in and out. A good idea is to measure your working space beforehand and think about the place the tablet is going to occupy and the place for cables running to your PC or outlet. Use the piece of paper of equal size and try to draw on it. If you are comfortable, you have chosen the right size!
I've already described the main characteristics above, but there are lots of seemingly less important ones that add up to the overall tablet quality and may make a huge difference in user experience. It is the weight of the table (irrelevant when it just lies on your desk, but very relevant if you travel and make a quick drawing), cable management (imagine your drawing album with a bunch of cables getting in the way: not a very comfortable way to draw), drawing surface (the more it mimics paper the better), OS support (self-explanatory) and additional accessories such as artist gloves (we'll get to it later).
Let's see the perfect (and expensive) tablet that is considered a standard for high-end graphic designers, just to see what we should aspire for. Wacom Cintiq 22HD isn't a budget tablet at all: it is a premium device for digital designers who take their art extremely seriously. Possibly the best drawing tablet with a screen.
Wacom Cintiq 22HD
Pros
Cons

• Inexpensive

• The perfect screen size

• Superb audio quality.

• Quick response time

• Display not sharp

• Pen a little awkward for lower Pressure

• Monitor settings buttons not easy to use
The Japanese brand is one of the oldest (if not THE oldest) on the tablet market, has a flawless reputation, and has proven itself in the high-end graphic industry such as AAA games creation. Its display colors are just perfect, better than lots of even the newest laptop screens. The color calibration is very precise, allowing you to adjust the tablet. The tablet's screen also has pressure sensors and can turn the pressure measured into line thickness, mimicking the real brush strokes. It has a crispy cover that feels almost like real paper. It is matte, of course, but if you have direct light from above (like your desk lamp right in front of the tablet), the screen can still become a little glossy, so consider your workplace light management.
The software is Windows, Linux, and Mac compatible. It also works with widescreen interfaces, if you prefer to use the tablet without a screen or have a better monitor. The tablet software processes not only the pressure but also the tilt and works differently when you draw in the tablet's corners. It isn't like a real paper, but very close.
The hardware is made of high-quality plastic and will serve you for a long time. The only thing that might need a replacement is the soft cover of the pen, which you'll be constantly touching. The great thing for such a big tablet is an adjustable angle. You may put it almost vertical or lay it flat. The thick and durable cords are put behind the tablet, so it's easier to take them away from your workplace. But the durability comes with a drawback: you can only put this cable straight, bending will be too stressful for both you and the cable.
Wacom Cintiq has its little cousin 13HD that is easier to obtain (finding a 22HD is like finding a Captain Flint's treasure).
That's our gold standard for today, the best drawing tablet. Let's see what else the market has to offer us. I'll try to make the comparison as descriptive as possible so that this guide will be helpful for people who never bought tablets before.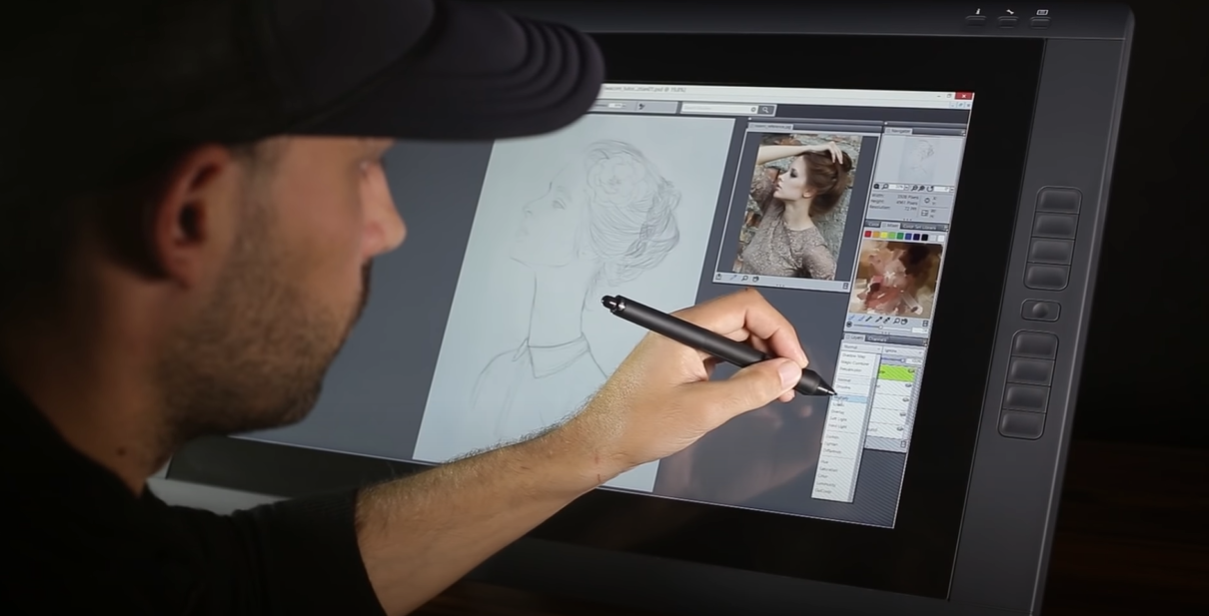 Check out this model with the artist Krisztián Tejfel on his video!
Gaomon PD1560
Pros
Cons

• pen display is pretty amazing

• big screen

• simple using the buttons and the menu on the monitor

• nice to set up for shortcuts for full size, fit to screen, mirror canvas, etc

• sometimes the tablet goes completely dark

• screen protector is hard to put on
The reign of Wacom makes designers look at other companies with suspicion. But Gaomon tablets are very reliable and high-quality devices that, still having no Wacom's pathos, have a much more pleasant price. Gaomon PD 1560 is a great choice for mid-range designs that feel no inferior to Wacom corresponding products. It may be called the second best drawing tablet with screen.
The screen of the tablet is 13.5″ W x 7.6″ H and has a 1080 pixels resolution which is more than enough for detailed and precise painting. The total resolution is higher than the average, 5080 LPI. Gaomon always features slight overperformance and tends to dominate non-Wacom market niche with it. The screen is also very pressure-sensitive, reacting to the slightest changes.
Another great Gaomon feature is hotkeys. It has ten of them. Two are fixed: for increasing and decreasing brush size, but the rest of the keys can save you lots of time after programming them to switch between the most used tools of your graphic software. There are also five menu keys on the other side of the tablet (that make a total of 15, too many for me, but you don't HAVE to use them, it's just a possibility).
Gaomon made a thoughtful decision to join all the cables. You don't need to think about how to place HDMI, power cable, and USB. The rest of the hardware feels also very durable and high-quality with a tablet stand that also allows you to adjust the angle of the tablet. The pen is rechargeable, so you don't need to change batteries, just return it to the charging station from time to time. The whole ergonomic of the tablet reminds that of Wacom. They have clearly borrowed a couple of things, but it's all for good. Now you can get a premium tablet for a much more reasonable price.
Check out this model with the artist Yenkoes in her video!
Artisul D16
Pros
Cons

• Good build quality

• Pen does not require battery

• Pen is quite sensitive

• 1080P resolution on the screen this size is sharp enough

• Some issues with apps on both Mac and Windows

• Parallax exists, corrected by calibration

• Implementation of dual screen mode is not ideal
The even newer and less renowned brand, Artisul wins the hearts of the customer with a great price and quality ratio. Its best trait is the bright and wide color palette of the screen (that is quite impressive for a 15.6″ LCD screen!). I don't know how they managed to keep the price at bay and the quality so high, but Artisul truly did it. The screen also has a 1080 pixels resolution, as the Gaomon one above. The great mild backlight together with an integrated matte protector leaves no place for sparkles. Artisul might be your choice for traveling and sketching or for full-fledged design work if you aren't ready to spend a fortune. It's a drawing tablet cheap enough to buy even when you start drawing and good enough to make your learning experience wonderful.
Artisul has one of the easiest setup and calibration programs. The hardware is also nice, though it's lighter and a bit thinner than in the two previous models. Find a proper cover and use it as a lightweight travel solution! The only mildly annoying thing is two cables you need to put somewhere. But there are two, not three: Artisul is powered through the USB cable. Seven hotkeys are more than enough for productive work, and don't make the tablet oversized. The stylus has no battery (another hint for a travel solution).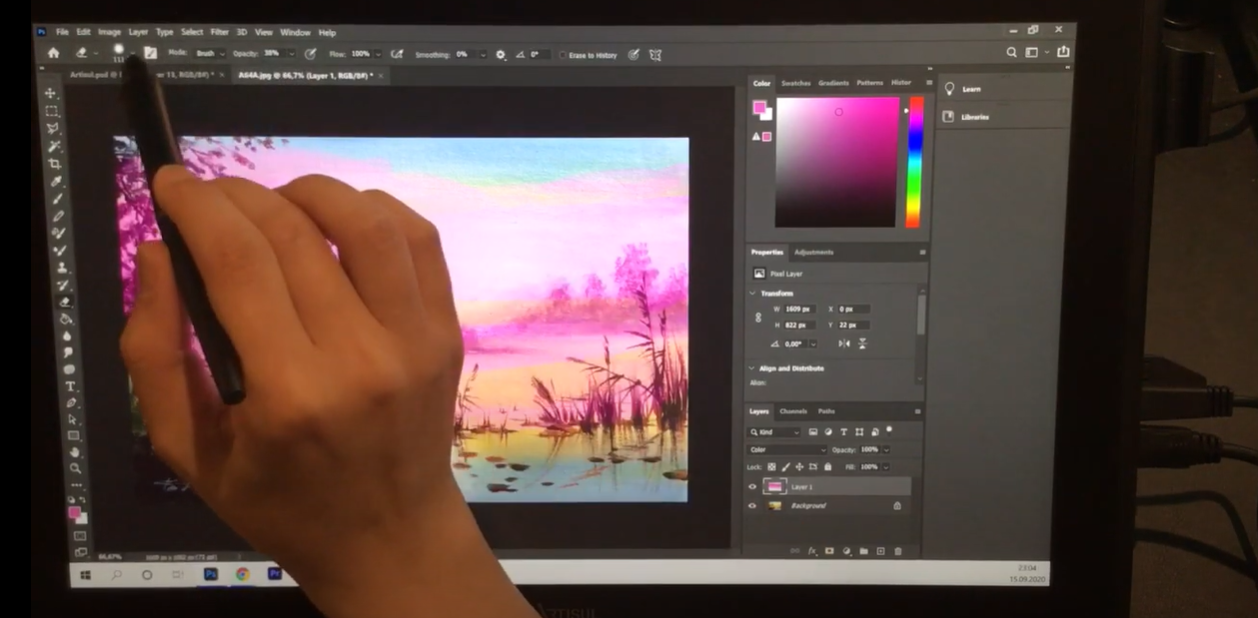 Check out this model with the artist PaintyCat in her video!
Parblo Coast22
Pros
Cons

• Exceptional accuracy everywhere on the screen

• Huge screen

• Super lightweight battery-free pen with eraser

• Comes with extra goodies like an artist's glove and screen protector

• Comes with extra goodies like an artist's glove and screen protector

• No default factory warranty

• No tablet hotkeys
Parblo Coast is another renowned tablet manufacturer with a great reputation. I should mention that while the price is reasonable but still quite high, you may always have a look at Parblo 10, which is smaller but will fit even a tight budget. Parblo 10 occupies a separate niche as a cheap drawing table with screen that still gives you a perfect experience.
Parblo may look unusual with its screen to the overall area ratio. The screen may seem too small, but it will work great for the artists used to put their hands on the tablet. The screen's resolution is standard 1080 pixels. The big size also makes the tablet easier to adjust, from totally flat to almost vertical.
The software is pressure-sensitive, angle-sensitive, and corner-sensitive. I don't even think it could be the other way around! The only thing that hints that the tablet belongs to a cheaper line is a slight delay when you start to work too fast. The lines may not lie smoothly if you draw too many of them at once. So, if you are adamant about your fast drawing style, Parblo might be not the best choice for you.
The tablet comes with lots of accessories, which makes a nice bonus. Six replacement stylus nibs, stylus holder, glove, cleaning cloth, and other things aren't very expensive and don't influence the overall price too much, but they do create a feeling that you have been cared for.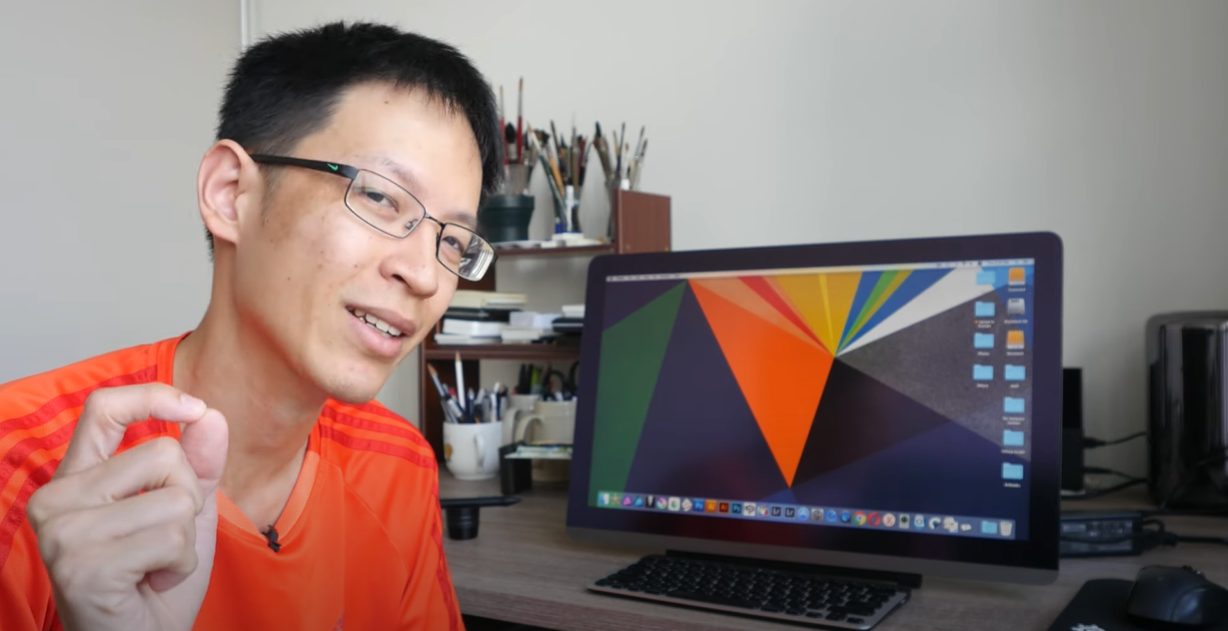 Check out this model with the artist Teoh Yi Chie in his video!
Huion GT-220 v2
Pros
Cons

• big size of the screen

• easy to maneuver

• display is a perfectly functional

• The screen calibration is not as accurate

• The screen gets really smudgy
A bit controversial company that has both extremely successful models and not-so-great ones. But the Huion GT-220 v2 is definitely a successful one. With the v2 upgrade, it becomes a truly fierce competitor for the models described above. It has also become more ergonomic, thinner, and somehow is now more responsive (I don't know whether they changed the screen or the stylus, but it works great).
The display is quite big for a budget model, 21.5", and it's an IPS, not an LCD. Some of the artists consider this a major difference, but I don't think it is. The screen can glare a bit, though, if you havent't worked well with your workplace light. Consider having an adjustable desktop lamp with changing the angle, it will save you a lot of time and neural tissue.
If you have ever had an old Huion tablet, you'll immediately notice how much the stylus has improved. It is much lighter and comfortable to hold and doesn't need to be pressed against the screen as hard as before. But there are still no hotkeys, despite the immense feedback from the v1 users. If you don't use them it's fine, but lots of artists do, so they should heavily consider if they are ready to change their working style for a new tablet.
The adjustable stand is quite sturdy and allows you to change the angle almost within 90 degrees. I still don't recommend leaning on the tablet too hard, because while the stand is durable, the tablet itself needs to be cared for a bit more.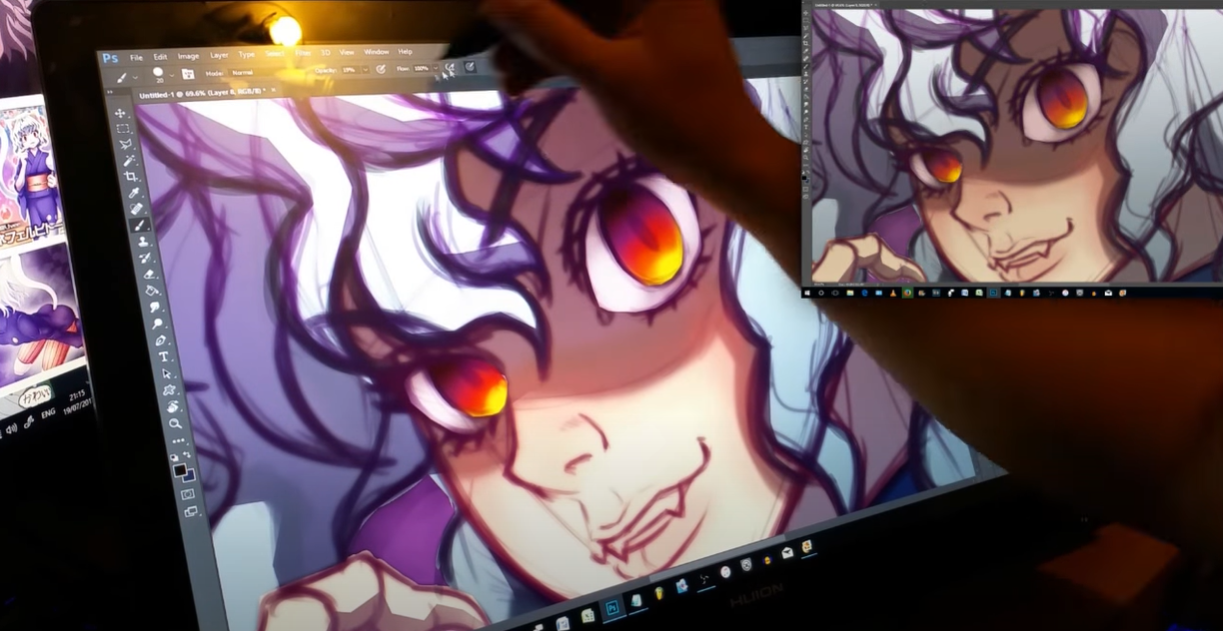 Check out this model with the artist mikeymegamega in his video!
XP-Pen Artist16 Pro
Pros
Cons

• Affordable

• 8 shortcut keys and Red Dial

• Low parallax display

• Inconsistent line quality

• Needs colour calibration

• Pressure and tilt issues
Not very renowned yet, XP-pen starts to rise and conquer the market with its newest models. It is quite big and light simultaneously. Two flexible cables - USB and HDMI - are set on the back of the table. Their flexibility means that you need to be careful with them, especially where they connect to the tablet itself. They are thin enough to get a bit warm after some hours of intense work, but it isn't the thing you have to worry about. It is still perfectly safe.
The screen is very smooth, without the crispy paper feeling. It feels more like painting on glass. It isn't a major drawback (if a drawback at all), but if you prefer a more classical approach consider buying a matte screen protector. It will give you the desired feeling and also reduce glares that inevitably appear on a glossy surface.
The tablet is thin but also very sturdy. The stand isn't as much though. A high angle may cause some instability and feel a bit uncomfortable. You aren't going to turn the tablet around by touching it, but the wobbly feeling might be annoying. Eight hotkeys are more than enough. The tablet surprisingly comes with two rechargeable styluses.
The software needs a bit of adjustment, especially if your first tablet was Wacom or Gaomon. You need to slow down a bit for all the lines to lie precisely where they need to be. Also, there is more parallax in a high-tilted position, which may look a little bit weird at the beginning. The upside of the software is that it works with older computers with "outdated" graphic adapters. You don't need to spend another fortune to upgrade your PC, after spending one on the expensive tablet.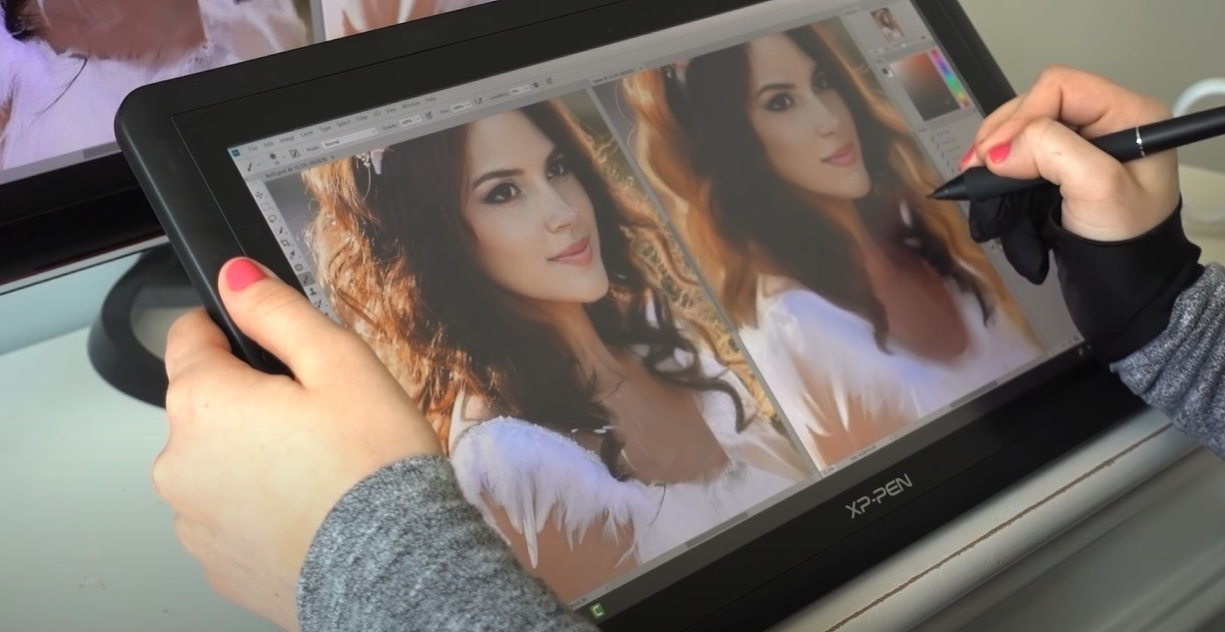 Check out this model with the artist Gabrielle Brickey in her video!
Ugee UG-2150
Pros
Cons

• Solid build quality

• Minimal, attractive design

• Supports HDMI, DVI-I, and VGA

• Unbeatable price

• No Express Keys

• Wire clutter

• Limited driver/stylus customizability
Despite the funny name Ugee is one of the best solutions. It is a cheap drawing tablet with screen (IPS screen I must say). The screen is pretty good and takes most of the overall area. But "pretty good" means pretty good only: don't expect super performance. The resolution is average 1080 pixels, the calibration is also average, the backlight is bright and only slightly glaring.
The stand is much better than the previous one though. It is very easy to adjust and has lots of light regulation options. It might be very handy if you like to look at your work from different angles. Lots of extra accessories also contribute to the overall score: two styluses again (rechargeable ones), 10 nibs (do they think you are going to lose them SO fast?), stylus holder, glove, screen protector, and cleaning cloth. None of them are necessary, but it is just pleasant to have them added to your box just because they want you to smile. The styluses are lightweight and very sensitive, they are comfortable to work with. It is surprising that they are rechargeable; usually the cheap drawing tablets have batteries in their styluses.
Ugee isn't a good travel option: the cables are a mess and the hardware isn't suitable for harsh conditions. Also, it's too big and heavy to be transported without noticing the extra weight. The best solution is to put it in your workplace and don't move it around.
The software works well with drawing in the corners and near the edges, with pressure sensitivity and angle. You don't expect this degree of performance from Ugee, I'm sure you'll be pleasantly surprised. The setup process might be a bit overwhelming though, so I recommend making a cup of your favorite tea before you start - just for positive emotions.
Generally, Ugee did a big job updating their tablets and the newest models, while staying a very budget drawing tablets with screens, are performing great.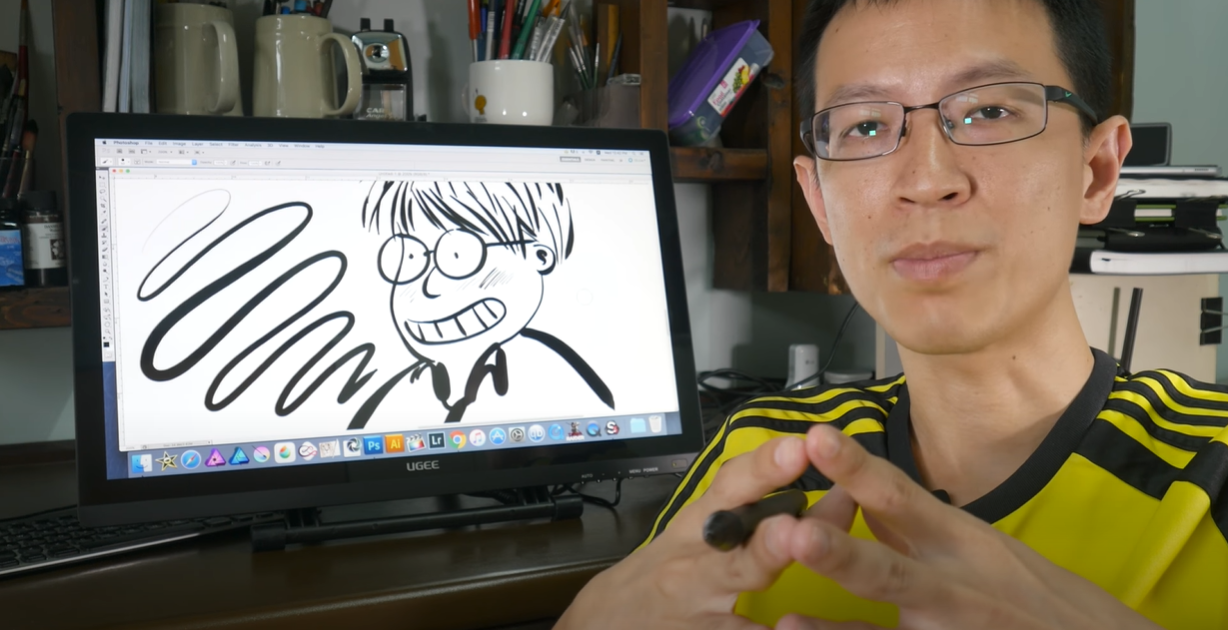 Check out this model with the artist Teoh Yi Chie in his video!
Choosing the best drawing tablet with screen isn't an easy task, especially if you want it to be a cheap drawing tablet, too. But your eyes (and you are going to look at this screen quite a lot) aren't the thing you want to save money on. I do hope that the description of the best drawing tablet models available on the modern market will help you make a choice. Remember, that there are not overly good or bad drawing tablets, they are either suitable for your drawing style or not. If you have a brick-and-mortar store to check them out - great, but if not, just experiment with paper to understand which style you are comfortable with - and then choose your best drawing tablet and start drawing!
LikesFinder.com is a participant in the Amazon Services LLC Associated Program, an affiliate advertising program designed to provide a means for sites to earn advertising fees by advertising and linking to Amazon.com.