Firing Table review


Official website:
https://firingtable.com/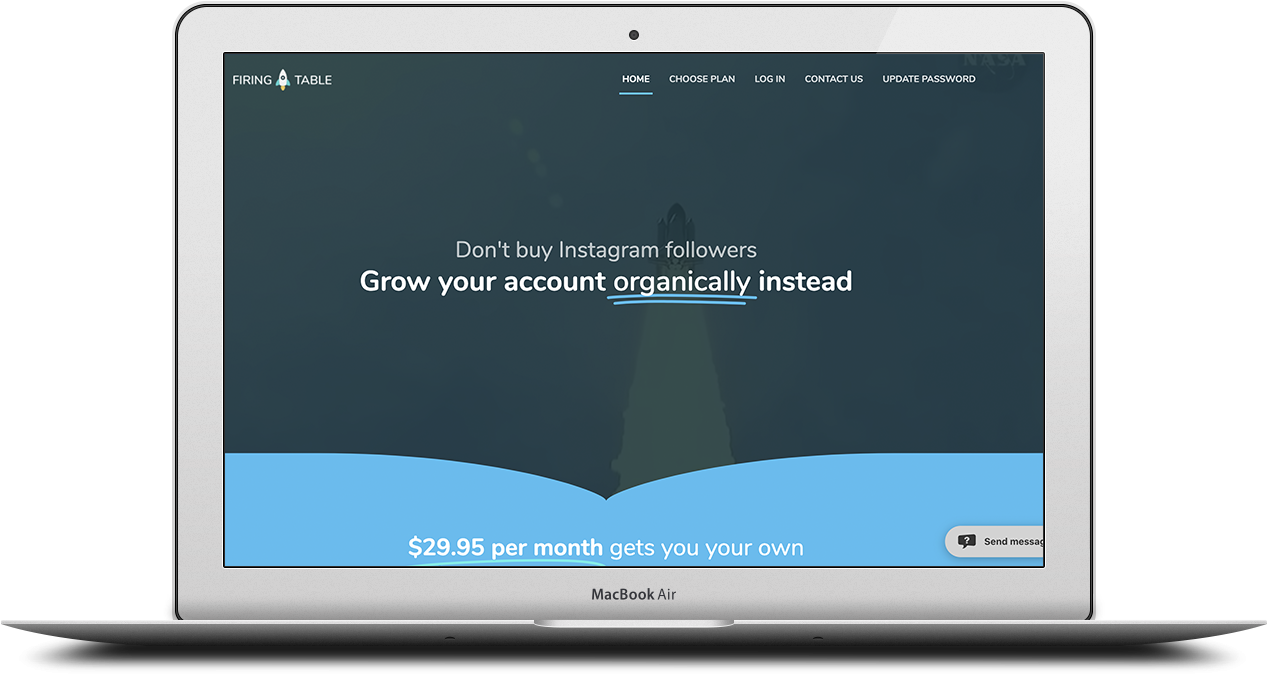 Table Of Contents
Pros and Cons
Pros
They claim to grow accounts organically
Easy registration
Terms and Conditions are clear
Accepts PayPal
Cons
No FAQ
No guarantees
Slow support
No refund policy or trial period
High prices
No reviews
Top Social Media Growth Tools
About the service
Firing Table is a new Instagram promotion agency that offers a full pack of account management services.
It doesn't sell likes or followers but focuses on organic growth and ethical promotion. The company also offers an additional content creation and management service as their premium package.
Main features
The company offers 3 comprehensive monthly packages
The main feature and difference of Firing Table is the complete focus on organic growth. They don't sell likes or followers; they help your account to grow them naturally. So, considering the amount of manual labour needed, the prices here are justified, though not affordable for everyone. One month of the cheapest package (with 60% interaction rate) costs $29.95, the fastest interaction with direct messages and comments costs $79.95 per month. The fullest package with a personal manager, content creator and copywriter (in this case you don't have to do almost anything to promote your account, you can even create less content) is $599 per month.
Login & Buy

Instagram likes
The company doesn't sell likes.

Real Instagram followers
The company allows you to interact with users more efficiently and grow your followers' numbers organically.

Instagram views
Firing Table doesn't offer views as a separate service.

SUPPORT
You can send them a message, fill in the Contact Us form or write them an email.
Does Firing Table Offer Refunds?
No info or refund is found, and their Terms of Service state: "your sole and exclusive remedy is to discontinue using the site and/or and services purchased through the site".
Is there a Free Trial for Firing Table Services?
There is no free trial.
Compatible Payment Methods
Firing Table accepts Credit Card and PayPal as their payment means.
PayPal, Credit Card
Firing Table Deals and Discounts
There are no discounts at the moment and no hints that they appear at the site. The cancellation is available at any time, but there is neither a trial period nor a refund, which, considering the high prices, is a bit disturbing. The company accepts all the major credit card systems and PayPal. Still, they claim they are less expensive than their competitors by up to 20%.
Firing Table: some unique features
They engage with users based on how you tell them to target users
You can focus on content and let the company up your followers
There are no limits to the growth you can achieve
They work 24/7 to boost your account
In a few steps, this is how it works
How it works


Sign up using your Instagram username

Make payment and start your campaign
results
Results and Safety
As they claim that they are promoting Instagram accounts organically, they don't state the exact term of completing the order. Instead, the clients pay for monthly support. They also don't give guarantees whatsoever, that is explicitly stated at their Terms and Conditions page. There is no FAQ page, and the support team isn't available 24/7 (or, at least, we weren't lucky enough to get a fast answer).
Go to Website


Have questions?
FAQ
What are their guarantees?
They promise 24/7 work to boost your account and "no limits to the growth you can achieve".
Is the service safe?
The service uses safe payment methods, but there is no refund and no free trial, and very little info can be found about their actual work because the company is new.
Is the service legit?
Since it is a new company, this is still hard to tell.
Is the service scam?
With very little info on them, we cannot be certain.
looking for alternatives?
Alternative Services
Jarvee is an app-based service that allows you to manage your different social media accounts from one application. While you may need Instagram only, Jarvee is still an extremely handy way to schedule posts, track your success, cross-post and search for the most popular hashtags to hype on. Jarvee is also a costly application but still is much more affordable than a full package of Firing Table. It needs much more of your own work, though.
Boostgram is a semi-automatic bot that allows you to choose the audience you want to subscribe to your account. It doesn't create content, it also allows you to buy automatic likes, but still, it is a bit more organic and interactive than lots of other "pay and get" services. Boostgram has a 3-day trial period while you can test the algorithms for free and decide whether you buy it or not. This is a much more client-friendly approach than one of Firing Table.
Kenji is another comprehensive Instagram-growing service, offering 2 packages - Simple & Pro - for $47 and $78/month respectively. They also claim it takes only 1 minute to set up their bot and offer a 14-day money-back guarantee if your account doesn't grow.
Reviews
Testimonials
Firing Table is a new service, so there are almost no reviews of it. We may suppose that reviews will not appear very soon, because the services are costly and people are afraid to be the first testers. Most reviews are vague and very careful, offering people to wait a bit for the agency to gain a reputation.
Subin John
Decided to try firing table. Little slow but still good. any way thanks

4 stars
akhads
I subscribed on Firing table for an Instagram account management for One Month, but these cheats put me on a auto payment without informing me.
I gave control to Firing table to manage my account, which lasted only for 6 days & for some reason (the scam they run), I got a password lock loop on my Instagram account.
I contacted the Firing Table Support to fix my Instagram account, but had no positive response. I tried everything to recover the account but failed. It took me weeks of googling and struggle to recover my locked Instagram account.

1 stars
Martin
This is a real scam site. Without customers support and . I cancel the subscription but money never back. Contact more then 20 times but but never get answer. Do not use this site if you want to keep your money.

1 stars
Is it worth it?
Conclusion
Despite the services they offer are quite unique in their segment, we still advise you to wait a bit and see if this agency is really that good.
Firing Table Login