FollowAdder review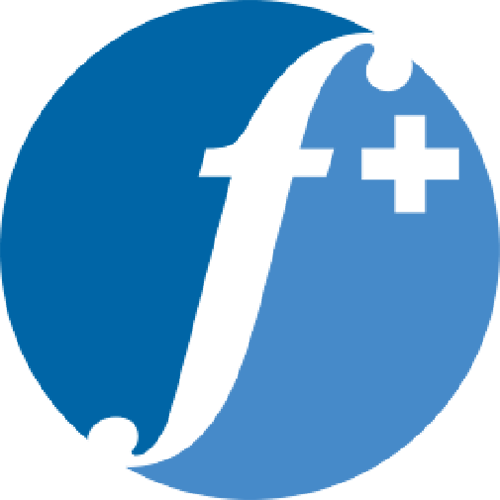 Official website:
https://followadder.com/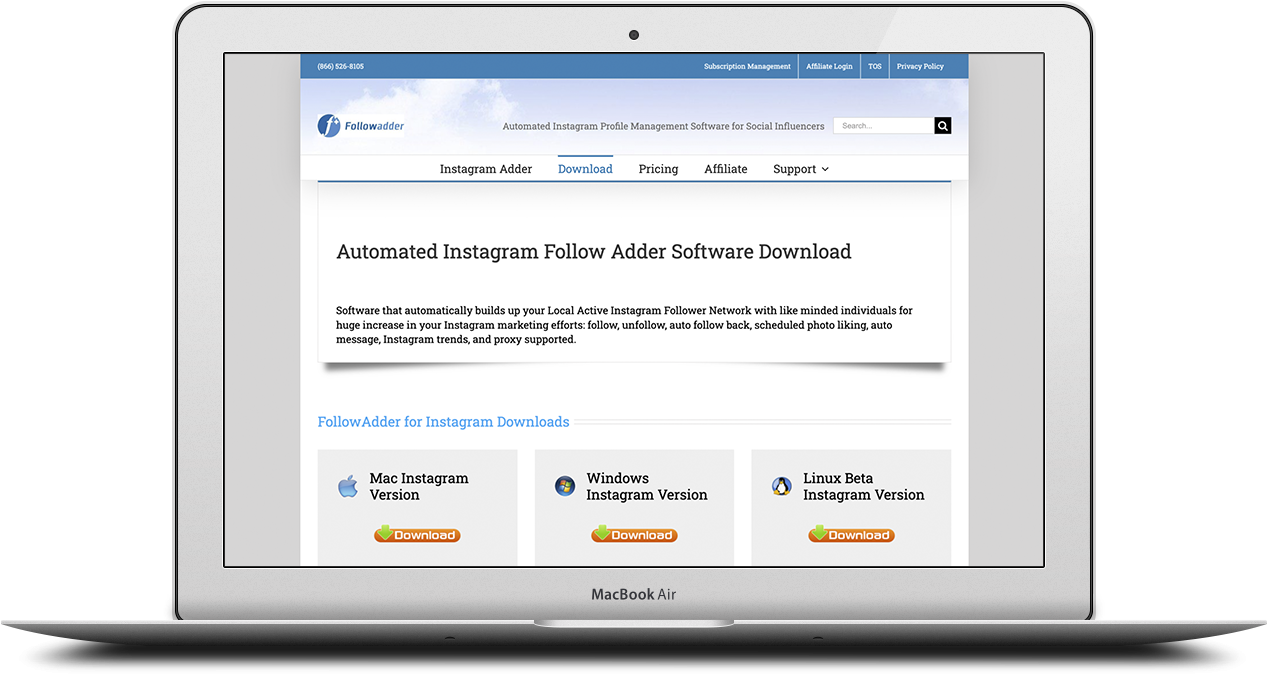 Table Of Contents
Pros and Cons
Pros
Accept major credit cards for ease of payment processing
A monthly subscription and ongoing support
Cons
No à la carte options
Terrible customer reviews
Only integrates with Instagram
Top Social Media Growth Tools
About the service
FollowAdder is an online software that is computer downloaded to provide automated Instagram activity to help grow accounts.
Their services are marketed as "Automated Instagram Follows and Promotion Software App". This service claims all engagement – including likes, views, comments, and direct messages – are from organic, real users for an authentic account. FollowAdder's primary claim is "Save time and money by putting your Instagram network building on autopilot with our app!"
FollowAdder's services only integrate with Instagram; however, they have left no stone unturned with Instagram engagement. They have considered every possible avenue of engagement when creating their software. To use their services, you download their software onto any personal computer. They support Windows, Mac and Linux.
Main features
Automated Instagram following, likes and comments.
Their primary services include automated Instagram following and unfollowing, automated liker and commenting, schedule likes and comments, niche search for pictures by hashtag or geolocation as well as automated direct messaging.
This review explains how to use Followadder and helps to get a better understanding if it is safe, legit etc. and what are the risks of using Follow Adder for your purposes.
Login & Buy

Instagram likes
FollowAdder offers automated likes and commenting services which can be scheduled.

Real Instagram followers
FollowAdder services include automated following and unfollowing on Instagram.

Instagram views
FollowAdder doesn't offer views.

SUPPORT
There is a Knowledge Base and a HelpDesk, where customers can submit a ticket or ask a question.
Does FollowAdder Offer Refunds?
They offer a 7-Day Money-Back Guarantee for unhappy customers.
Is there a Free Trial for FollowAdder Services?
They offer a FREE trial.
Compatible Payment Methods
FollowAdder accepts all major credit cards such as MasterCard, AmEx, and Visa for an easy transaction.
Visa, Mastercard, Discover, American Express
FollowAdder Deals and Discounts
There doesn't seem to be any applicable discounts or coupon codes that are available for use.
FollowAdder: some unique features
Automated Instagram following, likes and comments
Scheduling likes and comments
Niche search for pictures by hashtag or geo location
Automated direct messaging
Free trial and a 7-day money-back guarantee
In a few steps, this is how it works
How it works

Click on "Get Instant Access" button to proceed to a checkout page or choose a package on the website

Select a number of Instagram profiles you want to manage and fill in the billing info

Make payment a get a 7 day money-back guarantee
results
Results and Safety
Their services, which are all bundled together, are extensive. According to FollowAdder, by utilizing their services, you will benefit from publishing scheduled posts, growing your Instagram community with authentic engagement, increasing Search Engine Optimization, building brand awareness, driving web traffic, and maximizing reach. You can even run giveaways efficiently with their services.
Go to Website


Have questions?
FAQ
What are their guarantees?
Does FollowAdder provide guarantees?
There is a 7-day money back guarantee only available to first-time subscribers from the date of initial signup.
Is the service safe?
Is using this bot safe?
They don't provide any free trial, but a 7-day money-back guarantee, if a customer purchases their services for the first time. A subscription can be cancelled through the customer login/account management area of followadder.com. Subscription fees are not refunded; however you will be able to use the remainder of your paid subscription.
Is the service legit?
Is FollowAdder legit?
Despite looking like an efficient tool with many automation options, the service has too many bad reviews and according to them, a user risks getting banned.
Is the service scam?
With further research, many reviews suggested that FollowAdder is a scam. Unfortunately, they have several spelling mistakes on their website, which disputes their credibility. They don't seem to have much online authority or happy customers.
looking for alternatives?
Alternative Services
FollowAdder is comparable to competitor FollowLiker. Both programs are multipurpose software's that claim to provide fast growth on Instagram and promote products, services or personal accounts.
Unlike FollowAdder, FollowLiker is optimized on more social platforms than just Instagram. FollowLiker integrates with Instagram, Twitter, Pinterest and Tumblr. Their integration with Tumblr seems to be unique in this industry, as many competitors cannot offer Tumblr services.
FollowLiker also markets to customers that they run 24 hours per day. When customers are sleeping, their Instagram account is still active and providing engagement.
Similarly to FollowAdder, FollowLiker has considered every engagement avenue for each of their platforms. They follow, unfollow, tweet, retweet, reply to tweets, favourite tweets, direct message, share photos, like photos, comment, search, pin, repin, and more. Their capabilities are incredibly vast! Furthermore, FollowLiker also integrates with Mac, Linux and Windows, so every personal computer has access to their software.
FollowLiker's payment program differs from FollowAdder. Whereas FollowAdder requested one payment, FollowLiker requests one more substantial payment upfront and then maintains a smaller fee of $5.99 per month afterwards. Every single platform requires a payment of $97.99 per month, whereas every dual-platform requires an amount of $177.99 upfront. Each bundle will have access to all of their service options for the chosen platform.
For example, if you wanted the Twitter and Instagram bundle, you will pay $177.99 upfront and will pay $5.99 monthly after that. However, if you're just interested in the Instagram edition, you'll pay $97.99 upfront and $5.99/month afterwards.
This company offers a full range of Instagram services and Facebook, Twitter, and YouTube as well (they work with 17 SM platforms altogether). Instagram services start from $3 and are quite affordable. They offer up to 20% discount for bulk orders. There are TikTok and Instagram video downloaders, a blog, and a possibility to get some services for free. They promise a refund within 3 days, but there is no trial period.
Instamacro offers "time packages" lasting from 1 to 30 days instead of selling individual services, which cost from $3 to $60. There is a 5-hour free trial, a refund for unused time, and a discount from 10% to 35%.
The company cooperates with Stripe and Paypal for easy and safe payment processing. The agency claims its services are highly secure and confidential. The speed of their services delivery is chosen by a customer; slow, normal or high (thus lowering the risks of the unnatural-looking account growth). Many options they offer may be customized if a customer wishes so.
Reviews
Testimonials
When searching for FollowAdder's reviews on TrustPilot, they seem to have very few happy customers. Out of 5 stars, they were only awarded 1.5 stars, and 89% of their customer reviews were poor. Some reviews claimed that FollowAdder is a "complete scam", or that they are unresponsive.
Briana Persin
If I could give a 0 star I would
If I could give a 0 star I would. This company is the biggest scam. They say you can cancel risk free and money back within 7 days but the catch is they don't return your call for 2 weeks so you still get billed. I have emailed them and called and left messages on multiple occasions within the past 2 weeks. Is impossible to speak to a representative. I canceled my subscription within the 1st day of ordering it and got billed twice on a reoccurring cycle.

1 stars
Coze the Storyteller
Service no longer works
Service no longer works, and apparently no refunds are issued for the system not working. Awful. Will be continuing to send messages on a daily basis until refund is given

1 stars
sofia foster
Too Complicated
This service does work ( get you more followers) but it is why too complicated to implement and the tutorial videos don't really help. Ask Support a question and they respond too slowly and without adequate clarification. Maybe a tech geek will find it all plain sailing but for your average user it is all Greek.

3 stars
Is it worth it?
Is this company's service worth buying?
Unfortunately, customer reviews have suggested that FollowAdder is a poor investment with little success. Many customers with displeased with their lack of responsiveness, with many users reporting it as a scam. Due to this, FollowAdder seems too high risk to use comfortably.
FollowAdder Login