Gramto review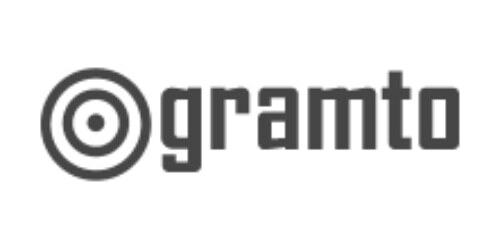 Official website:
https://www.gramto.com/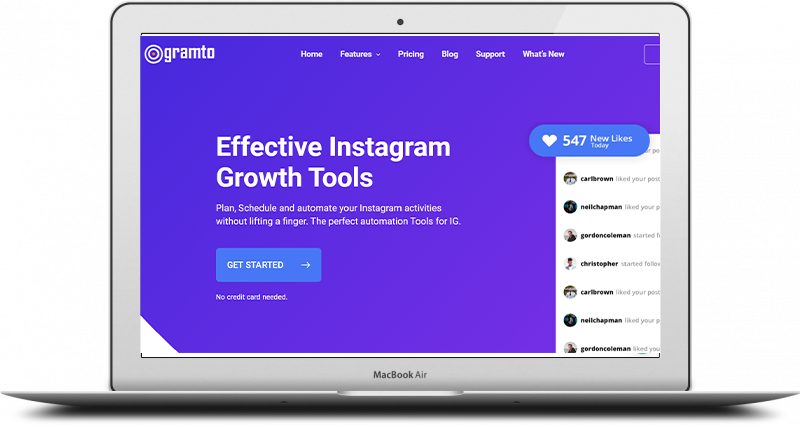 Table Of Contents
Pros and Cons
Pros
Moderate price
Safety
There is a Trial period
Cons
No refunds whatsoever
Possibly laggy up to the point it can get you shadowbanned on Instagram
Lots of negative reviews
Can charge monthly payments even after the cancellation
Top Social Media Growth Tools
About the service
Gramto is an Instagram automation service
Gramto is an automation service that allows you to schedule your actions on Instagram, even while managing multiple accounts. It is a management tool, not an auto-growth instrument.
It will not bring you extra likes, nor can you buy it via Gramto. But it is still great for one or several business accounts, allowing you to save an overwhelming amount of time for actually creating content.
Main features
Gramto offers several useful features
Gramto has several main features, some of which are extremely useful, especially while managing different accounts simultaneously. Post scheduling is one of these features: you may schedule posts and the first comment in your post, story, album, or wherever you want it to appear. Gramto also allows you to auto-follow people with certain hashtags, profile names, and several other criteria that describe your target audience. You can also auto-unfollow accounts, auto-like, or even auto-comment their posts (though the last feature requires a set of prepared comments). You may write them a direct message automatically or make a repost of their posts. In a nutshell, Gramto allows you to automatize almost any Instagram function.
In addition, Gramto has explicitly detailed statistics that show you the numbers and also analyze them, calculating the level of engagement and the growth process of your account.
Login & Buy

Instagram likes
Unlike lots of similar services, Gramto doesn't allow you to buy likes or followers. It is just an automatization service that helps you organize content, not promote it. If you need an app that engages more people, it's not the case. You may want to try the alternatives from the section below.

Real Instagram followers
Gramto doesn't offer to buy followers.

Instagram views
Gramto doesn't offer to buy views.

SUPPORT
Gramto has a great Help Center that covers all the main topics, from setup and adjusting your app to payments and troubleshooting. Gramto FAQ is vast, but it helps you to understand every aspect of work, and learn quickly. The Live Chat button, unfortunately, doesn't work though. The support works via the ticket system and the average waiting time is 24 hours. Still, lots of reviews complain about a big delay, so you might need to remind the support about your issue from time to time.
Does Gramto Offer Refunds?
Gramto does not offer any refunds and strongly advises to use the trial period and read all the Terms and Conditions section before purchase. It is fair, but it's hard to find this information (you should scroll down to the footer and click on the Terms and Conditions link).
Is there a Free Trial for Gramto Services?
Gramto allows you to use the Basic plan for one account for 24 hours of the trial period. The trial plan is somewhat limited though so to grasp the service's full potential you still should buy the full version. These 24 hours are barely enough to get accustomed to all the functions so you'd better free your day before taking a trial period.
Compatible Payment Methods
Credit Card
Credit Card
Gramto Deals and Discounts
The yearly pricing plans allow you to save 20% while paying annually.
Gramto: some unique features
A 24-hour free trial
Planning, scheduling and saving posts
Working with all types of posts
Using the first comment field always
Convenient tagging of users and locations
Using convenient addons
Importing from Dropbox, Google Drive and One Drive
Anti-ban technology
Useful automation tools
DM automation
Auto collecting data from IG leads
They don't store your password anywhere
In a few steps, this is how it works
How it works

After the payment, you get access to your control panel.

You need to login into your account or accounts to link it to Gramto.

Then you may start scheduling your posts by clicking the Automation button.
results
Results and Safety
The effectiveness of Gramto is questionable though. Gramto reviews of Trustpilot are 61% negative and (spammers and bots aside) some of them tell about the laggy automatization algorithms that don't work and even can cause blocking of your Instagram account. Some of the (seemingly) fake accounts reported being hacked, but provide no evidence of it. The second popular problem is also connected with safety and performance: recurring payments even after unsubscribing. It can be a major issue, so if you decide to use Gramto, it is highly recommended to use a separate credit card for it.
Go to Website


Have questions?
FAQ
What are their guarantees?
They say that the number of followers and likes strongly depends on their customers' own content and they cannot guarantee anything. They don't guarantee good operability of services either.
Is the service safe?
The main question that should be asked is "Is Gramto safe?" Unlike the follower-gaining services, here we shall check the two main factors: privacy and effectiveness. Privacy is protected in the following way: Gramto uses Instagram native API to log in, so you don't have to transfer your credentials to any third-party app. Gramto doesn't store or transfer your login and password, so you don't have to worry about security breaches. Payments are also made through safe payment services, so no data from your credit card is transferred anywhere. Paying for Gramto is as safe as buying something on eBay or Amazon.
Is the service legit?
Gramto service appeared in 2020 (at least their site's copyright states that). So, possibly, they just didn't polish their algorithms to perfection yet. The Basic monthly plan isn't very expensive, so you might like to try the program to understand if it is truly effective - possibly the functions you need are working great already. Still, the new updates are coming and they - as any fresh updates of any software - might be a bit glitchy at the beginning. Also, the Instagram algorithms are constantly changing, so Gramto devs may need some time to catch up and adjust. Due to these facts, there is still little information of the company is 100% legit.
Is the service scam?
The company may not necessarily be a scam, but they attempt to charge payment even when people have cancelled their services. However, this can be due to the fact that the company is still new to the market (the company was founded in 2020).
looking for alternatives?
Alternative Services
Gramto VS AiGrow
While Gramto is mostly an automatization app, AiGrow offers you a much bigger pool of services. While it still gives you the possibility to schedule posts, auto-like, and auto-follow users, and so on, it also allows you to buy likes and followers (the company promises them to be 100% organic). AiGrow has a good reputation on the market and lots of notable clients that adds a lot to the service's credibility. The limited free plan lets you learn about the app and see if it suits your needs. But the free plan has only a fraction of the features that even the cheapest paid one has. So it's better to use it for learning the interface and getting accustomed to the features. Or just for running your single, personal, not very popular Instagram account.
The big disadvantage is that the pricing plans are much more expensive than Gramto ones. You may combine them to get the set of features you truly need, but, while both companies start from $9, AiGrow services may get up to $150 per month. You may also have a tailor-made personal plan that will include features you need only. AiGrow also has an excellent score at TrustPilot and more than 200 reviews. It is older and has withstood the time test. The question is: are you ready to pay THAT much, even for the highest-quality service? If you are a steadily rising business, probably, the answer is yes.
Gramto VS Jumper Media
Another Gramto alternative, Jumper Media, isn't a self-service app. It is a full social media management company that can help you on each stage, from content creation to getting new likes and promoting your posts. It leaves to you no work at all: you make a wish, it comes true. The prices, as growth plans, are tailor-made so there is no defined price list at the site. You should ask for a phone call and describe everything you need. Though the reviews are mostly positive, there are some people with negative experiences. They state that Jumper media provided them with fake or inappropriate followers that didn't match their target audience. At least, they provided them, unlike lots of the new agencies on the market… but we strongly recommend learning about all the details before making an order. Also, keep in mind that Jumper Media is a full-fledged agency with real humans working there, so instead of dealing with algorithms, you will be communicating with people. It's up to you whether to consider it an advantage or a disadvantage.
Gramto VS Socinator
Socinator is a downloadable app that has a much bigger range of options than Gramto. It can be used for all major social media, managing different accounts, and merging them all in one app. The biggest advantage of Socinator is its price. The pricing plans start from $9.95 and this one includes up to 10 accounts in all the major social media. It is more than enough for a small business that needs to save time by posting content simultaneously everywhere. The Enterprise plan is the most expensive and for $69.95 per month you may have unlimited account management (the previous pricing plan has 150 so you can imagine the size of the business that needs more). At the same time, Socinator has issues with its algorithms and Instagram can block or shadowban users for using it (not often, but still). It is also highly recommended to try it first - but keep in mind that glitchy algorithms are the common problem of all the automatization services.
Reviews
Testimonials
Trustpilot Gramto reviews aren't very hope-inducing. The main issue is the company's attempts to charge monthly payments even after cancellation. It is unclear is it just a laggy cancellation process, support's ignorance, or a scam. It seems that it is the first case, but still, the fact is that lots of people complain about being charged even after they have canceled the subscription. The second issue is the laggy algorithms described above. Sometimes Gramto just doesn't do what it has to as smoothly as it has to. It makes big trouble together with a no-review policy and all the disclaimers in the Terms and Conditions section. The third popular topic of bad reviews is the support that ignores tickets. It is a common issue for small companies, but sometimes people are just too eager to write a negative Gramto review instead of waiting a few hours. Still, 61% of bad reviews are a thing that should be taken into consideration.
Marcus Tate
Gramto has been of great help for me in boosting my Instagram engagement! It's automation features are amazing and have helped me to gather thousands of followers on my Instagram account. Plus, all the users are genuine, no bots. Highly Recommended.

5 stars
You Fitn
I really wish I had seen all these reviews before registering on that SCAMMY platform. NEVER EVER USE THEIR SERVICES! 1. No customer service. 2. Automation absolutely DOES NOT WORK! 3. You can be charged more money so make sure to contact your bank to block that FAKERS.

1 stars
Alex Reissigl
The features offered are actually working and you can definitely work well with it - the problem is more the missing support. The Account gets blocked regularly due to flagged proxies or something similar and weeks + 100 attempts to not speak to a support bot pass before your account works again! TO SUM IT UP - PRODUCT COULD WORK BUT THE RIDICULOUS YET NOT EXISTING SUPPORT IS THE WORST.

2 stars
Is it worth it?
Should I try it?
Yes, if you are ready to get slightly disappointed. Gramto isn't as good as it advertises itself, but it still works. You should definitely take the free trial and start figuring it out immediately (because the FAQ is big and you'll need several hours to check all the functions). If all the functions you need are working fine, the scheduled comments appear exactly when and where they need to be and Instagram doesn't try to ban you, you may use it. Gramto is still developing, slowly but steadily, so we can hope that soon it'll get better and will get more functions available.
We may recommend Gramto but we'd pay monthly. It would give us the possibility to cancel anytime if the app performance level drops down.
Gramto Login