Instamacro review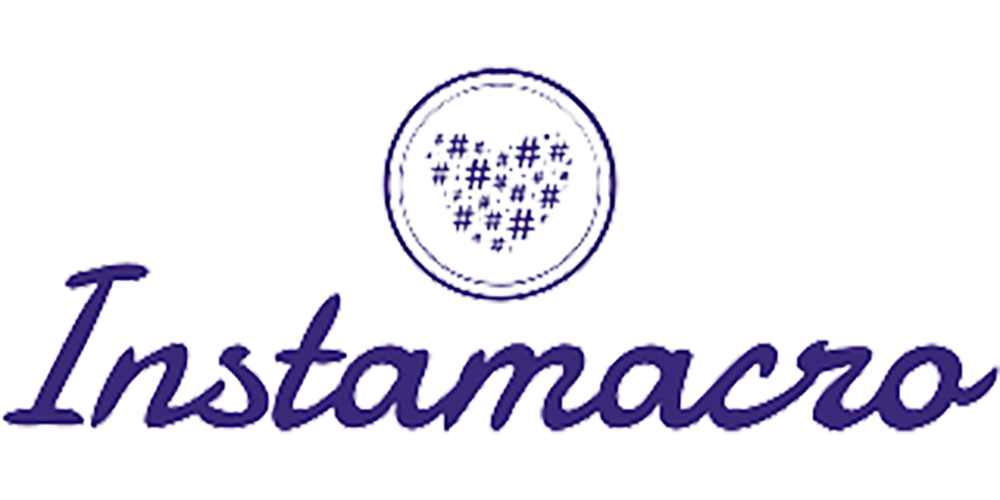 Official website:
https://instamacro.com/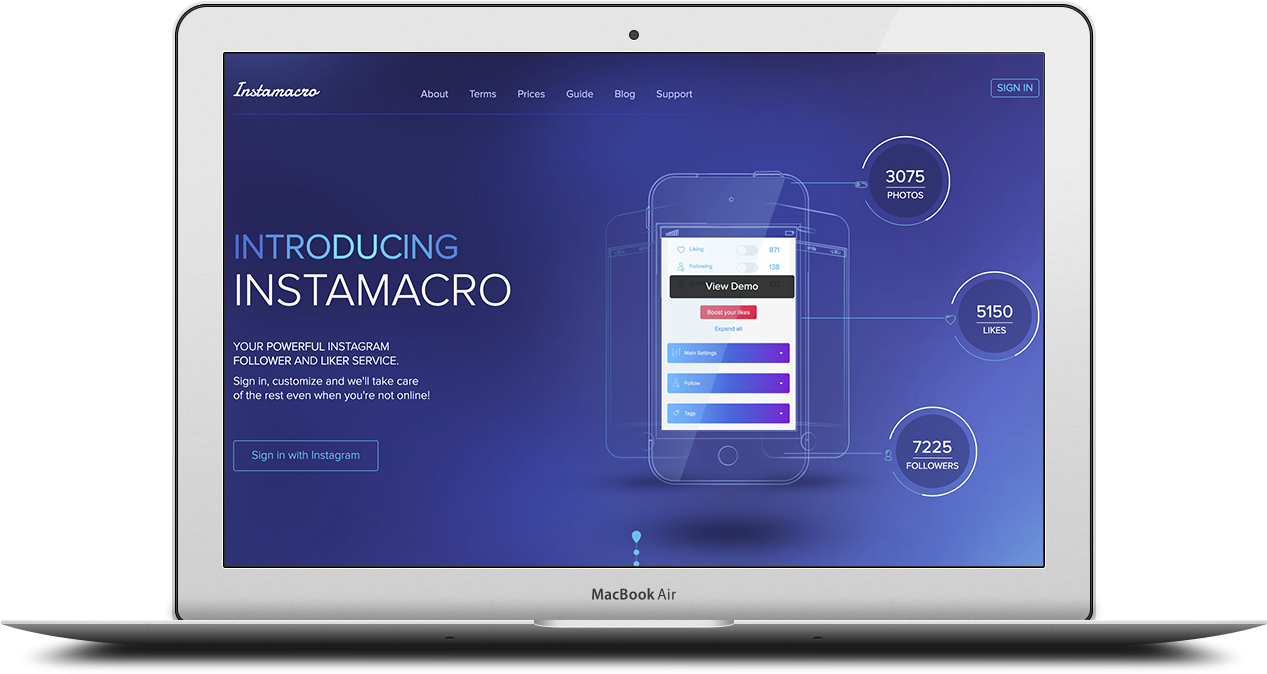 Table Of Contents
Pros and Cons
Pros
Interactive, user-friendly, visually appealing website
They make claims that they have superior customer service
They offer a percentage off based on the number of accounts that you want serviced
You can connect multiple accounts to it
Cons
A competitor was permanently shut down by Instagram, suggesting that Instamacro may eventually run into a similar problem
There is no Instamacro coupon or discount code
Online reviews suggest that there are more economical options from competitors
Top Social Media Growth Tools
About the service
Instamacro is another online Instagram-bot service that claims to grow your Instagram account automatically.
One of the most notable components of Instamacro is their interactive, well-designed website. Instamacro's website far surpasses the majority of their competitors. The website is extremely impressive and is sure to pique the interest of many users that land on it. Many competitors have very simple "theme-like" websites that have been seen a hundred times before. Instamacro, on the other hand, seems to have been carefully and custom-designed.
Instamacro refers to itself as "powerful Instagram follow and like service". The website alludes to an extremely user-friendly experience. All you have to do is sign in, customize, and relax while your Instagram grows.
Main features
Powerful Instagram follow and like service.
On their website, Instamacro claims that with the use of their software, you'll become the center of attention in minutes and benefit from real and engaging follows.
Instamacro suggests that there are three pillars of success.
Login & Buy

Instagram likes
Powerful – Instamacro claims to be the "fastest service out there" with efficiency and performance for users.

Real Instagram followers
Unmatched results – Instamacro suggests that their results far outdo any competitors.

Instagram views
Simple but flexible – Instamacro allows for user customization so that each individual user benefits from the system; however, the users that want a hands-off experience will still see growth.

SUPPORT
The entire program only takes a few minutes to set up. They provide support for questions, concerns, or inquiries.
Does Instamacro Offer Refunds?
They guarantee a refund for the unused time in 1-2 business days without any questions.
Is there a Free Trial for Instamacro Services?
Instamacro offers a five-hour trial for users that want to take it for a test drive.
Compatible Payment Methods
Instamacro has partnered up with Stripe to accept payment from all main credit cards such as Visa, MasterCard, and AmEx. Instamacro has also partnered with PayPal to accept payment from PayPal users.
Visa, PayPal, Mastercard, AmEx
Instamacro Deals and Discounts
They offer a 10% discount if you buy a 3-day package and up to 35% discount for a 30-day package.
Instamacro: some unique features
YouTube, Instagram, Twitch, Soundcloud, Spotify, and Pinterest services
Some of their services are gender specific. E.g. male or female Instagram likes
Their YouTube services are free. Meaning you don't have to pay a dime to get YouTube views and YouTube subscribers
They grow your viewers and subscribers by getting viewers who liked contents similar to what you have on your channel to view
They offer lead generation services on a few other platforms.
In a few steps, this is how it works
How it works


Log in using your Instagram account

Pay for a selected package
results
Results and Safety
Powerful – Instamacro claims to be the "fastest service out there" with efficiency and performance for users.
Simple but flexible – Instamacro allows for user customization so that each individual user benefits from the system; however, the users that want a hands-off experience will still see growth.
Unmatched results – Instamacro suggests that their results far outdo any competitors.
Go to Website


Have questions?
FAQ
What are their guarantees?
Does Instamacro offer any guarantees?
The company claims its servers are secured using high-level encryption to prevent unauthorized access of their customers' accounts. Also, they don't share any customers' credentials with third parties. They guarantee that the followers and likes a customer gets via their services are real.
Is the service safe?
Is this service safe?
instamacro owners claim that the company's services are completely safe and that they won't share their customer's information or modify his/her Instagram account.
Is the service legit?
Despite the impressive site layout, many Instamacro reviews suggest that it is also a scam website.
Is the service scam?
Is Instamacro scam?
There is too little information about this company to make any conclusions.
looking for alternatives?
Alternative Services
Instagress
At one point, Instagress had a high stake within the Instagram bot marketplace. Many influencers and Instagram users used Instagress to build their following. However, recently Instagress has been shut down by Instagram. Reports suggest that the website is permanently closed for violating Instagram's rules and regulations. Unfortunately, this potentially points to the trouble the competitors on Instagress may face. Instagram has become stricter with bots on their platform in an attempt to make their services more authentic.
Boostgram, on the other hand, offers similar services to Instamacro. Boostgram also capitalizes on an automation bot that, in theory, will gain real, organic users that want to interact back with your account. Boostgram, as opposed to Instamacro, offers a 3-day trial as opposed to only a 5-hours one. Boostgram's free trial is much more impressive than Instamacro's.
Similarly to Instamacro, Boostgram has very negative reviews within the Internet. Users also claim that Boostgram is a scam website, and they caution other Instagram users to stay away from purchasing.
Whereas Instamacro is very transparent with their pricing structure, Boostgram doesn't actually list the prices of their service on the website. Boostgram seems to lack transparency, and in result, seems lest trustworthy.
This software provides a standard list of services for Instagram growth at very affordable prices - starting from $49.99 for a six-month access for 1 account.
Reviews
Testimonials
Unexpectedly, there is not even a single Instamacro review on TrustPilot. TrustPilot is typically a reliable review website that consumers can do research on before purchasing this (or any) service, first of all, to get an answer to their question "is Instamacro safe?". However, when digging deeper, there are numerous personal blogs that touch on Instamacro services. Though many people still seem on the fence about this software, it's clear that it doesn't have as many red flags surrounding it as other similar programs.
Though the reviews are significantly more favorable than other similar softwares, many users also mention that other softwares have cheaper services than Instamacro. It seems as though users can look for competitors to get a more cost-friendly option.
Jane
The service is very slow. The customer support doesn't work properly. It took a lot of time for me to get their attention when I wanted to refund my money. They delivered the followers I paid for, but then they all disappeared after a day. Afterward, I tried to ask them about it and got a refund. Well, at least got my money back.

3 stars
Rudolf
Tried to steal my money. Thankfully, since I paid using PayPal, I filed a claim and got it back. On their website, they say they offer 24/7 support, but that's a lie. Also, luckily, had no problems with my profile's security. Change the password after using this service.

3 stars
Joe
You will get likes, sometimes not. It's been 24 hours since I purchased 500 followers and still have not received them. It took them several hours to even process the payment, so it is definitely is not instant.

4 stars
Is it worth it?
If you're looking for a bot service for your Instagram account, Instamacro will certainly impress with its website.
However, using any bot service poses a significant risk, and Instamacro's pricing is relatively high. Ultimately, organic growth and authentic engagement is typically a better option for Instagram users.
Instamacro Login