Instashop review


Official website:
https://instashop.today/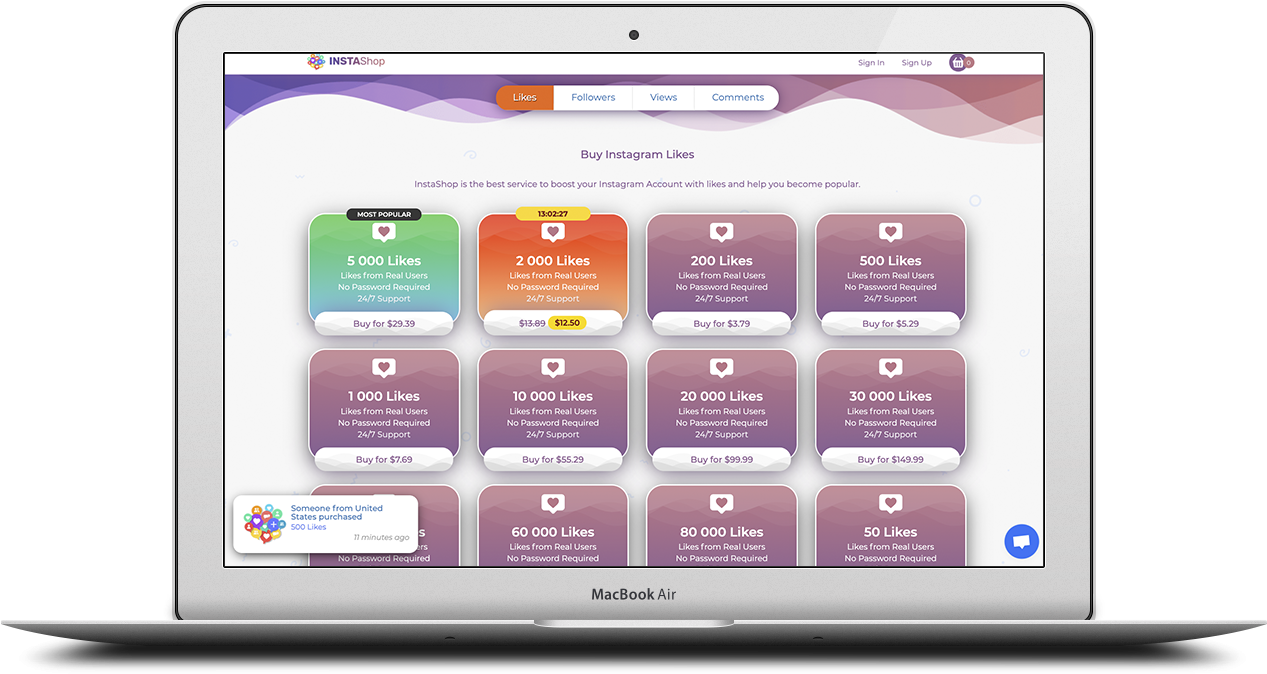 Table Of Contents
Pros and Cons
Pros
Lots of different bundles and payment plans
Daily discounts
Clear Terms and Conditions
Good support
Accepts PayPal
Free refill
Free trial
Offers to answer to the direct messages and comments
Cons
No refunds
Negative reviews on TrustPilot
Top Social Media Growth Tools
About the service
InstaShop is a specialized agency that offers Instagram services only.
It isn't something we may call unique, but InstaShop also offers pretty much interesting additional services such as an engagement calculator or a 2% cashback program. The prices start from $2,79 (per 200 Instagram likes). There are lots of different packages, and your order can be scaled in any way you need. The service offers daily discounts (not quite massive ones, but still they are present). You may also order a free trial and get 50 likes, but, unfortunately, a refund is available only in exceptional cases. The agency accepts all major credit card systems, PayPal and Crypto.
The likes shall start adding within 15 minutes after the payment. Adding followers might take a bit more time. The Terms and Conditions page is clear and understandable. The agency offers a free refill, adding new likes and followers to your account within 30 days in case some of the people unsubscribe or take back their likes.
Main features
Instashop is a company providing 4 services for Instagram users
Instashop proposes to buy Instagram likes, followers, views and comments, and a free trial.
Login & Buy

Instagram likes
The company offers to buy from 200 to 80.000 likes. 50 likes are offered as a free test.

Real Instagram followers
Instashop offers its customers to buy up to 200.000 followers.

Instagram views
You can purchase from 100 to 300.000 Instagram views.

SUPPORT
Instashop provides 24/7 customer support via Live Chat or Email.
Pricing
Pricing and unique features
Social Media
100 pcs.
500 pcs.
1 000 pcs.
Likes
5.29
7.69
Followers
7.89
14.95
Shares
Views
0.89
1.29
Comments
5.39
22.79
44.39
Does Instashop Offer Refunds?
The company may provide a refund within 7 days from making a purchase, in case of non-delivery of the product or the product being not as described.
Is there a Free Trial for Instashop Services?
There is a free trial.
Compatible Payment Methods
PayPal, Credit Card or Crypto Wallet
Visa, PayPal, Mastercard, Credit card, American Express
Instashop Deals and Discounts
The company offers a 2% cashback.
Instashop: some unique features
Free Test
Auto Start
Reliable Privacy Policy
Cash-Back 2%
In a few steps, this is how it works
How it works

Choose a package you like

Choose a payment method, pay and get an email confirmation

Expect your order delivery
results
Results and Safety
They promise a quick and efficient boost of your post and keeping your Instagram account safe from blocking.
Go to Website


Have questions?
FAQ
What are their guarantees?
The company guarantees "the highest level of speed and quality likes" to its customers.
Is the service safe?
The company uses safe payment methods, offers a free test and a refill.
Is the service legit?
It is hard to say if the company is 100% legit, so better read some reviews before trying.
Is the service scam?
There are no direct claims this company is scam, but you can test its services using a "free test" option.
looking for alternatives?
Alternative Services
Ingramer is another Instagram only agency that offers similar services: likes, followers, direct messages and commentaries. It also provides other management instruments such as auto-posting, auto-liking and others. There are more additional functions in the Ingramer bot, but they need more direct control, while in InstaShop you just pay and start receiving likes automatically.
Another Instagram service that offers both free trial and a 72-hours refund warranty in case the service isn't delivered fully and in the right way. The range of services is mostly similar to InstaShop with an extra Hashtag Research option that allows you to learn what hashtags are trending now.
Instaboostgram offers pretty same range of services as InstaShop, but it also distinguishes auto-likes from manual likes. Manual likes are usually more valuable because they guarantee that there are real users behind them. It also offers TikTok, YouTube and Spotify as additional social media to manage. We don't know if Instaboostgram offers to answer the comments and direct messages, but it seems that they don't do that.
Reviews
Testimonials
The service looks quite safe and legit. The reviews on TrustPilot are mostly negative though, but their hysterical tone hints that they might be not quite true. They also refer to messing things up due to COVID-19 pandemics. Maybe, we should have another look at this service after the quarantine is over?
Vasilis
Very good service
I have no problem so far with the service. Every time I buy likes and followers, I have my order delivered very fast. Only couple of times there was a delay of order, but they fix everything at the end. This service works 100% and they have the Best prices. And the chat is legit even if sometimes they might be late to reply.

5 stars
Sam
The quality of followers is great compared to other services. However, their customer service is trash. I ordered 3 packages of 1000 followers. I lost all of them in a matter of weeks. I requested a refill from customer service and my emails were ignored. It's been over 2 weeks and still NO RESPONSE or effort to fix the issue. This was my go to service for followers, but they have lost me as a loyal customer today. I'm utterly disappointed with this service.

2 stars
R ROLYAT
If I could give this a zero I would. This company is not trusted. I have a horrible experience with them. I made a purchase over two or more week ago and I have yet to get a complete order. Each time I contacted them they told me that my order will be completed. IT HAS YET TO HAPPEN. Today I contacted them they asked again for my email address and when I submit it then I got a message that they are off-line and will email me back. THEY ARE NOT TRUSTED. NEVER AGAIN.

1 stars
Is it worth it?
Conclusion
The service looks legit, but the reviews tell otherwise. But the free trials and descriptive FAQ leave the impression that the service is still worth trying. It is cheaper than some other much more well-known services, and the small risk that is present seems to be acceptable.
Instashop Login