Instaswift review





Official website:
https://instaswift.com/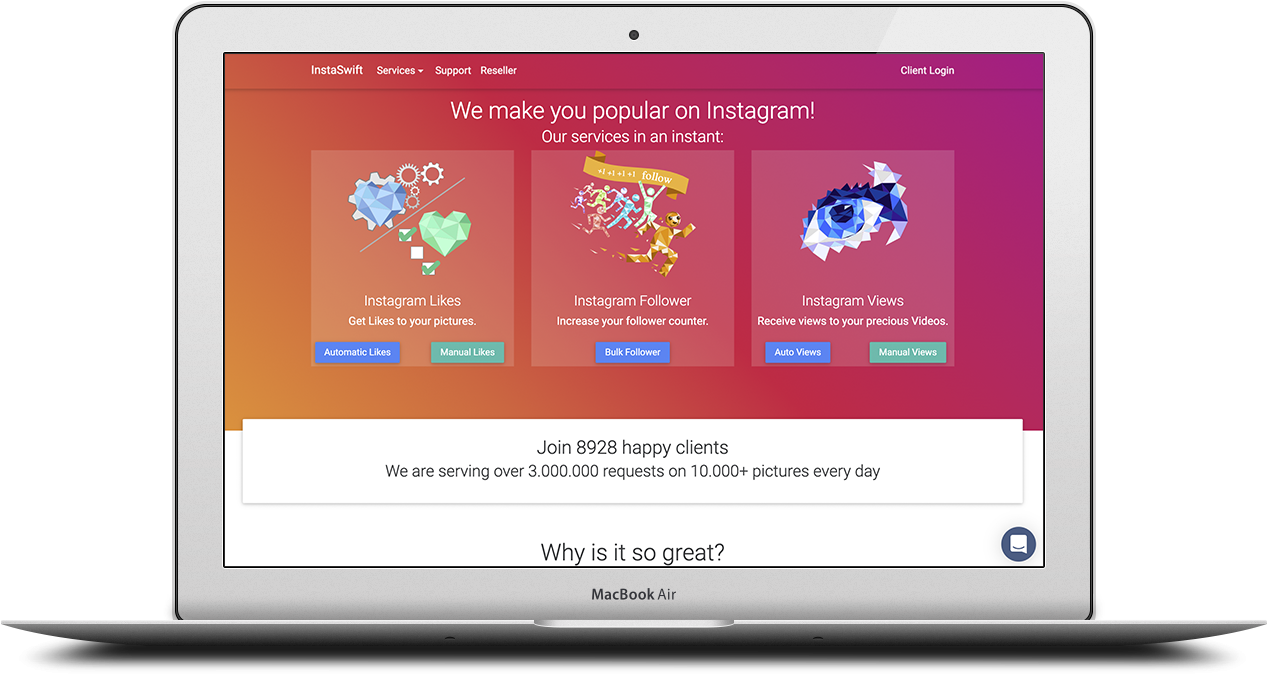 Table Of Contents
Pros and Cons
Pros
Hashtag research
Reseller program
Free trial
Refund policy
Clear FAQ and Terms and Conditions pages
Cons
Almost no reviews
No PayPal
Top Social Media Growth Tools
About the service
Instaswift is an Instagram-oriented company
Instaswift is a social media promotion agency dedicated solely to Instagram. It offers Instagram likes, followers, views and hashtag research. It also allows others to become resellers.
The service provides likes and followers in small or bulk amounts. The payment is made monthly, the smallest package — 40-65 auto-likes — costs $17 monthly.
The customers may choose the speed of likes adding to make it look more natural. The real likes from real people are more expensive. The customers can distribute likes across their content wherever they like. There are no discounts and no signs that they are going to appear. The agency accepts payments via all the major credit card systems, but not via PayPal. The legal name of the agency that is stated at the Terms and Conditions page is Netogami Lda & Comandita.
Main features
It offers Instagram Likes, Views, Followers and Hashtag Research
Two main features of Instaswift are the hashtag research (finding the most popular hashtags up to date, so the clients can use them to boost their posts) and reseller programs. They offer their services to the smaller agencies, allowing them to sell them further. The agency site exists for more than 3 years, according to Scamadviser, but it has surprisingly small amounts of reviews on the Internet.
Login & Buy

Instagram likes
There are automatic and manual likes

Real Instagram followers
The claim the followers are randomly selected and real, but cannot guarantee they will stay. "It is possible that 50% of your purchased followers will unfollow after a certain amount of time.". At least they are honest)

Instagram views
There are automatic and manual views as well. You can add views to particular posts and manage the speed of adding them.

SUPPORT
There is a contact form, a support email, and a phone number to contact the support team. They promise to reply to a written message within 48 hours, but most likely within a few hours.
Pricing
Pricing and unique features
There are packages offering a weekly or monthly subscription (you get the paid number of likes/views for every post during a week/month) or packages with a set number of likes/views for a fixed price, which are sold for an unlimited period of time and which you can distribute manually as it suits your needs.
Social Media
100 pcs.
500 pcs.
1 000 pcs.
Likes
7
20
45
Followers
18.97
34.97
Shares
Views
6
16
36
Does Instaswift Offer Refunds?
If Instaswift completely fails to provide the ordered service 72 hours after payment has been placed, a user may request a full refund for up to 30 days after payment has been made.
Is there a Free Trial for Instaswift Services?
Their Terms of Service states they may offer a free trial period.
Compatible Payment Methods
At the moment they accept Visa, MasterCard, American Express and Maestro.
Visa, MasterCard, Maestro, American Express
Instaswift Deals and Discounts
There are discounts if you buy some additional services (for example, if you buy Likes, you may also buy Views with 25% discount).
Instaswift: some unique features
Fully Reliable Platform
Instantly get Popular
Fast Delivery
Direct Supplier No Resellers
No Password Required
In a few steps, this is how it works
How it works



results
Results and Safety
They offer a free trial period and a full refund within 30 days if the agency fails to deliver the order in 72 hours. The time of the delivery may vary depending on the type of the order. The automated likes may start adding almost immediately while receiving manual likes needs some time. The service is semi-automated, the customer may adjust some of the settings in their account page, but the majority of work is done by the agency.
Go to Website


Have questions?
FAQ
What are their guarantees?
They guarantee processing your order within minutes, no risk of getting banned, convenient management and distribution of purchased items, and easy cancellation at any time if needed.
Is the service safe?
The company claims you won't get banned for using their services, and indeed they don't require your password and don't operate from your account in any way, using their own accounts.
Is the service legit?
Their operation mode seems quite legit, but the customers' reviews are too scarce.
Is the service scam?
The service doesn't look scammy, but lacks independent reviews.
looking for alternatives?
Alternative Services
Ingramer is an Instagram bot designed especially for auto-likes and automatic followers. It has more settings than Instaswift and can deliver a much more personalized experience. The prices are more than twice as high though. Ingramer is considered one of the most reliable and effective Instagram bot, but it isn't affordable for everyone. So, if you don't need an especially accurate adjustment, Instaswift may be a better alternative for you.
Unlike Instaswift, Likegrowers, as they claim, focus on the organic growth of the account. Here the customers pay for a bulk amount of likes (starting from 25 000 likes for $9.99). We aren't sure that one may buy as many organic likes for such a price, but still, the credibility of Likegrowers is quite good, and the prices allow to give it a try.
Instazood offers the services of an Instagram bot providing Auto Follow, Like, Comment, Unfollow, View Stories options. A customer can adjust the speed of their account growing. There are also targeting services and a 5-day trial.
Reviews
Testimonials
There are surprisingly few reviews on the Internet. There is no Instaswift page on Trustpilot or WebOfTrust. Some rare personal reviews are mostly positive, but they are too scarce to make a real conclusion about the quality of the services.
Mark Ludlow
Good platform to grow your IG following. Easy to use. Had a query regarding payment and received a prompt response and refund

4 stars
Eva Lans
This site has given my Instagram some biteof life. This platform has progressed my Instagram in some ways and brought some people my way. Also, it's been a good way to get my products and business some views. Sadly no sales at all.

3 stars
Krystle McGilp
Great platform with very helpful support! I would recommend Instaswirf to any brand or individual looking to build their Instagram presence.

5 stars
Is it worth it?
Is it worth trying this company?
Instaswift looks like a good agency that combines affordable price and professional approach. It is still somewhat strange to not see enough reviews for a site that exists for 3 years, but still, it may be worth a try.
Instaswift Login