Instato review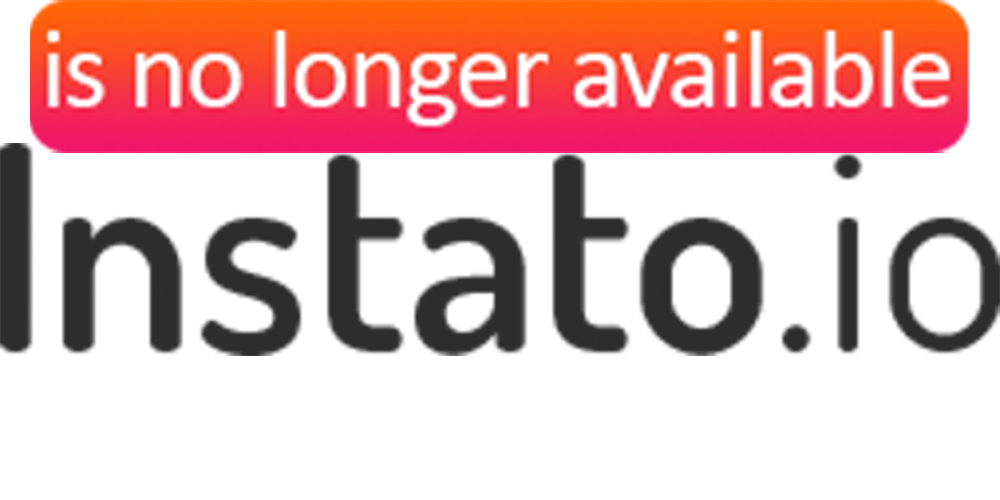 Official website:
https://instato.io?ref=roxywilson1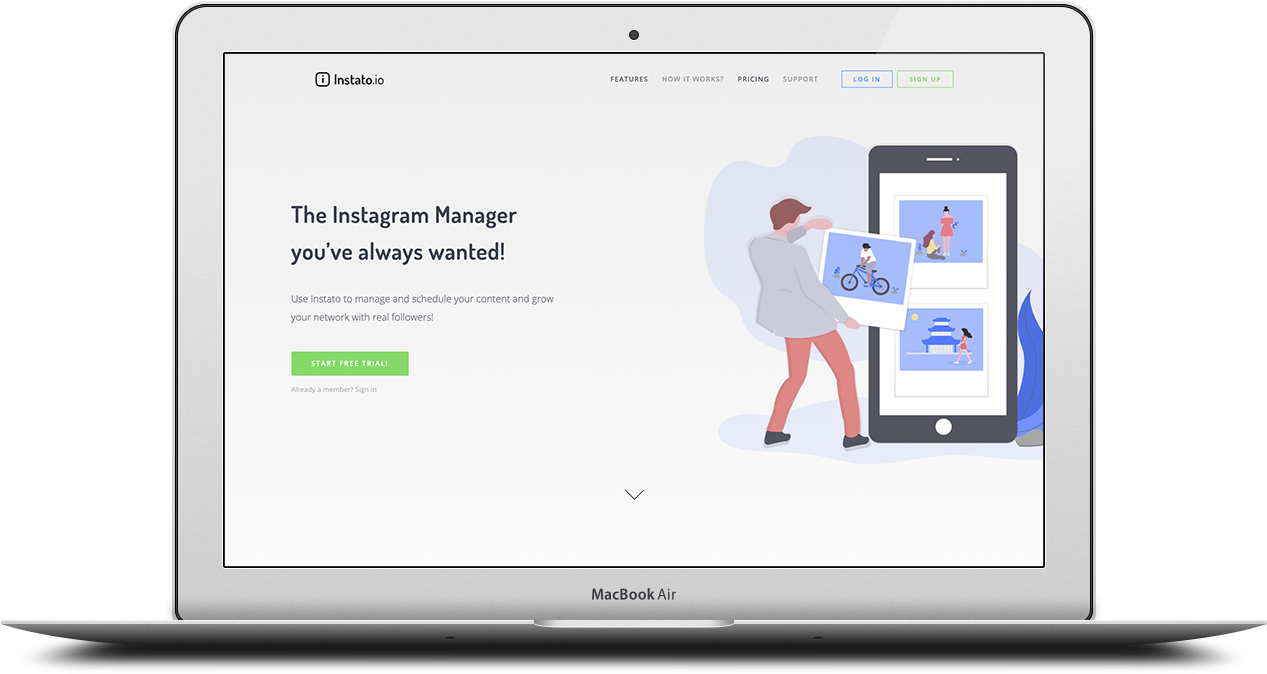 Table Of Contents
Pros and Cons
Pros
Offers a free trial
Accepts all major credit cards
Cons
An overwhelming amount of negative reviews
Only integrates with Instagram
Top Social Media Growth Tools
About the service
Instato is a bot providing organic followers
If you're looking to grow your following quickly, Instato is an Instagram bot service that is well-known within the industry. Instato claims that it offers real followers organically using their automatic bot. It is a comprehensive online software that increases your Instagram exposure with organic engagement.
Furthermore, it offers scheduling software for you to plan your Instagram content and an automated monitor that keeps track of hashtags and engagement.
Main features
Instato is an Instagram Manager Bot.
This Instato review analyses the peculiarities of the services offered by instato.io Instagram manager bot.
This software allows users to automate the processes of liking, following, reposting content, scheduling and automating posting, commenting and using direct messages. There are 3 packages and a 3-day trial.
Login & Buy

Instagram likes
They offer automatic likes to their customers.

Real Instagram followers
They don't sell followers, but offer content planning and management, working with hashtags and locations, autoliking, commenting, following and unfollowing etc. which is aimed at increasing engagement and the number of followers.

Instagram views
The bot doesn't offer views.

SUPPORT
You can contact them through their contact page or by writing at [email protected]
Does Instato Offer Refunds?
They offer no refunds once the subscription has been paid for.
Is there a Free Trial for Instato Services?
Instato does offer a 3-day free trial that does not require a credit card.
Compatible Payment Methods
Instato accepts all major credit cards (MasterCard, Visa, AmEx) through their partnership with Stripe! This makes payment easily accessible for most potential users.
Visa, MasterCard, AmEx
Instato Deals and Discounts
They don't offer discounts, only a 3-day free trial.
Instato: some unique features
Multi-account management (up to 15 Instagram accounts)
3-days free trial
Autoposting
Automatic likes, following/unfollowing, commenting and direct messaging
Statistics about accounts' growth
In a few steps, this is how it works
How it works

Provide your details, sign up and get started

Use the bot to schedule your posts and automate your account

Check the growth of your account
results
Results and Safety
Their service prides itself on delivering top results both quickly and with ease for the user. Through the use of automated engagement, results are believed to be more organic than the ones you get when using a "follower bot". Instato uses its claims of organic following for its marketing.
Go to Website


Have questions?
FAQ
What are their guarantees?
Does Instato provide guarantees?
No. Their Tems of Service state that "The expected amount of followers, likes and comments is not guaranteed to you in any way. It all depends on the quality of your content."
Is the service safe?
Is using Intstato safe?
This is not easy to estimate, but please keep in mind that they don't offer a refund and there are many negative reviews on Trustpilot.
Is the service legit?
Instato definitely seems to be a relatively easy platform for users to use, so people rarely have to question how to use Instato. The website is well designed and looks to be legitimate.
Is the service scam?
However, many reviews on the Internet report Instato as a scam.
looking for alternatives?
Alternative Services
FollowAdder offers similar services, and also maximizes on the automated engagement bringing organic, authentic followers to your account. Both FollowAdder and Instato offer very similar services and seem to be direct competitors of one another. FollowAdder is a more expensive platform than Instato.
Like Instato, FollowAdder also offers a free trial and accepts all major credit cards, so their services are easy to purchase for the majority of users. Unlike Instato, FollowAdder claims that they offer customer support to ALL levels of their packages. Unfortunately, Instato only offers hands-on customer service to the Team and Agency packages.
Similar to the services, both FollowAdder and Instato seem to have extremely poor reviews on the internet. Neither seems to be a favorable solution for users.
Jarvee, on the other hand, offers a five-day trial, opposed to the three days. Jarvee, Instato's other primary competitor, integrates with Instagram, Facebook, Google+, Twitter, Pinterest, Tumblr, LinkedIn, and YouTube. The service options with Jarvee far surpass those with Instato.
Jarvee's package prices follow a similar price structure than Instato, however, the number of accounts allowed per each level is more substantial than that of Instato. For example, Jarvee's Starter package is $29.95/month for ten accounts. Their Regular package is $49.95/month for 30 accounts, and their Professional package is $69.95/month for 70 accounts. Jarvee is most likely a better option for agencies and social media teams.
This company sells service packages for a particular period of time - from 1 to 30 days. It offers a 5-hour free trial period and a discount from 10% to 35% depending on a package. A customer may choose the speed of service delivery (high, normal or low). Customers may pay by card (using the Stripe system) or by PayPal.
Reviews
Testimonials
Instato reviews are definitely not favorable. On TrustPilot, Instato only acquired 1.5 stars. Out of their 17 current reviews, 100% were poor.
Shawn Stone
Their service is average at best
Their service is average at best, but their customer support and specifically their deceptive and fraudulent billing is why I give them one star. They enroll you at purchase in automatic billing, which may be fine if you purchase month to month, but if you do it annually, be careful. They will not send out a reminder, and they will not provide any pro-rated credits back to you if you cancel ... for example, if you did not want to renew and discovered they had billed you for a year the day after your date. They will charge you for the full 12 months and will not give any type of refund. Multiple attempts to rectify through their customer support met with the same answer. Attempts to talk to management have been dead ends. They are a ghost. So basically, they use deception and fraudulent billing and no remedies. STAY AWAY FROM THIS COMPANY. Ignore the pseudo responses in other reviews from the Company indicating to contact support. They will all be dead ends if it is any topic related to getting refunds.

1 stars
Hannah
SCAM COMPANY.
The company does not respond to any emails. There is no button to cancel your account subscription. We have been blocked from posting on our own Instagram account for a week now with no response from the company. I have called my bank to block the payments and issue a chargeback.

1 stars
Manuel L
Okay customer support - product absolute rubbish
Wanted to use their product for my company, but it just keeps failing.
The customer support was (different from the other review here) pretty responsive and apologetic, but they also couldn't do anything.
Their product just doesn´t work and is not providing any of the benefits they claimed. Can recommend them under no circumstances.

1 stars
Is it worth it?
This service prides itself on delivering top results both quickly and with ease for the user.
It also offers post and automatic statistics. Each service is adjustable – the user can target specific users, genres, hashtags, or locations, so their outcome is more favorable for their industry or target market.
Instato Login