Instavast review

Official website:
https://instavast.com/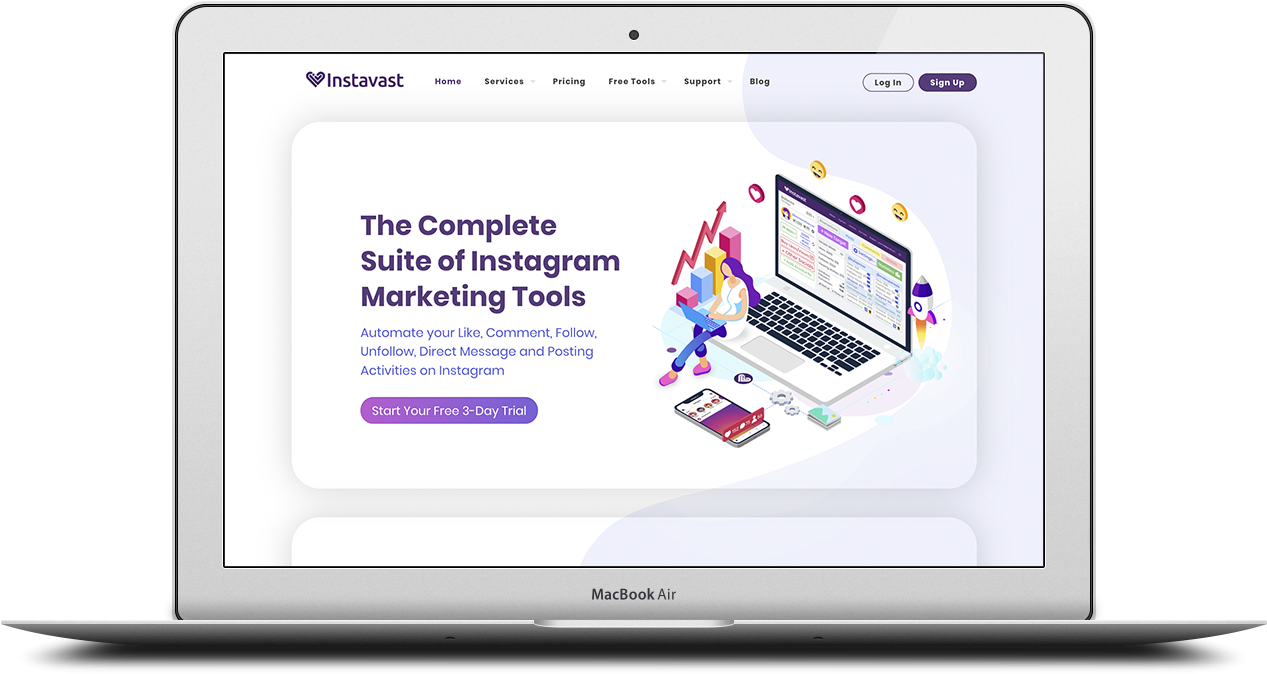 Table Of Contents
Pros and Cons
Pros
Affordable
Breaches some of Instagram's term of use
Flexible
On-site questionable reviews
Multiple Payment Options available including PayPal
Unlimited profiles
Background running of automation even with closed browser
Secure site
No requirement of software download
Cons
Customer service is slow
Customer service is available only through email
Their Terms of Service state their service ("paid subscription") is non-refundable
Top Social Media Growth Tools
About the service
This is an Insta bot offering monthly packages.
Any Instagram marketer will tell you how difficult it is to manage, maintain, and retain quality and engaged following. Two words to sum up the whole process would be "time-consuming." This is entirely understandable since Instagram updates its algorithm quite often, and that too unforgivably. While for the audience, it may mean always viewing extremely high quality all the time.
For the Instagram marketer, it means spending a lot of time coming up with strategies to remain competitive at the top, and this is where Instagram automation bots and tools are useful. An Instagram automatic bot is a tool that lets an Instagram influencer, market, marketing managers, small business, and even enterprises manage their accounts.
Main features
Instavast is a bot for Instagram automation.
Instavast is a versatile Instagram growing tool, including an Instagram bot, auto direct messaging, post scheduler etc. as well as free tools like a hashtag generator. There is a 3-days free trial for paid options.
It offers automation of all customer's actions on Instagram, as well as statistic and analytics, buying likes and views, a post scheduler and some free tools.
Login & Buy

Instagram likes
The company sells likes at a "sweet" price - $10 for 100 likes, which appear automatically after a new upload.

Real Instagram followers
The company doesn't sell followers, but offers autofollowing, unfollowing and messaging instead.

Instagram views
Their video view are also inexpensive - $0.5 for 100 video views.

SUPPORT
They have a Guide, an FAQ section, and an option of sending them a ticket. Potential partners and premium users can contact them through Skype.
Pricing
Pricing and unique features
Their prices are:
Instagram Bot - $15 monthly / 1 account
Auto DM - $10 monthly / 1 account
Comment Tracker - $10 monthly / 1 account
Post Sheduler - $10 monthly / 1 account
IG Likes and video views: $10 for 100 likes. $0.5 for 100 video views.
Social Media
100 pcs.
500 pcs.
1 000 pcs.
Likes
10
Shares
Views
0.5
Does Instavast Offer Refunds?
Their Terms of Service state their service ("paid subscription") is non-refundable.
Is there a Free Trial for Instavast Services?
Instavast offers a 3-day free trial, although the free trial does not allow the user access to all the services mentioned above.
Compatible Payment Methods
Instavast uses secure payment methods like PayPal, Master Card, Visa, American Express, and Discover.
Visa, Mastercard, Discover, American Express
Instavast Deals and Discounts
The automation service offers discount packages and flexibility in the sense that you can customize your package and choose all or one of their services, each for $10, based on your own needs and wants.
Instavast: some unique features
Multi-account management
Instagram automation, buying likes and video views
Posts scheduling, auto direct message bot
Comment tracker, analytics, and statistics
Geolocation and hashtag targeting, targeting a competitor's followers
In a few steps, this is how it works
How it works

Use a valid email to sign up and create an Instavast account

Add and log in with your Instagram account

Add a target and start a 3-day trial
results
Results and Safety
After you've chosen your post you would like to promote, the results can be seen starting from the first five minutes. However, it depends on the quantity.
Go to Website


Have questions?
FAQ
What are their guarantees?
Are there any guarantees?
No. They don't guaranteee the expected amount of followers, likes and comments, nor the error-free operation of the software. However, they provide a detailed guide how to avoid trouble with Instagram using their software.
Is the service safe?
Is Instavast Safe?
Instavast uses secure payment methods like PayPal, Master Card, Visa, American Express, and Discover. That means your money is safe, and if you use the service as instructed, then you are safe too.
Is the service legit?
Is using Instavast legit?
The company provides detailed guides and generally goes a long way to ensure its use is safe and efficient. It may be considered quite legit fo its kind of business.
Is the service scam?
Is Instavast Legit Or A Scam?
The purpose of scam service is to rip people off of their money, yet Instavast offers free tools like the Instavast hashtag generator, username to ID converter, and local proxy. Using these might also answer the question "how to maximize Instavast" to get the maximum benefit out of it.
looking for alternatives?
Alternative Services
Almost all the features of Instazood are similar to Instavast. However, the most apparent differentiator in both services is the level of customer service each provides. In contrast to Instavast, you can submit an issue to Instazood and expect a response from the customer service within 24 hours.
In contrast to Instavast, the services of this company are more expensive; their prices range from $15 per week to $99 per month. However, they offer a free trial and a 30% monthly recurring commission for every account a customer sends them using their affiliate link.
This Instagram bot is cheaper, offering its services for only $29/month.
Reviews
Testimonials
Reviews of this company are mixed.
giovanni
this is the baddest service i ever…
this is the baddest service i ever used, when i did the trial period the bot was working well, since i paid the monthly plan the bot stopped to work, i wrote to support and never had an answer! this service is fraud!!!!!!! dont buy it!!!

1 stars
Estricalla
Very bad
The platform doesn't work. I sent four messages to the support and they never replied.

1 stars
Tyrese Kemmer
I am using Instagram for marketing and cultivating my company for the last 4 years. Initially, I was unaware of Instagram automation and faced a lot of problems. One of the best tools which I am using without facing any difficulties is Instavast.
Trust me this tool will never let you down.

4 stars
Is it worth it?
Is using this bot risky or beneficial?
As like with all automation bots, Instavast comes with its fair share of risks. All investments indeed come with their own risk, which is why we advise all readers to remain diligent with their finances before they make the actual investments. Make sure the risks and struggles you go through are what you can handle.
Reevaluate your reasons to use an automation bot and your expectations with it and read this Instavast review once more. If this is the tool that fulfills all your criteria, then with the right strategies, care, and plan, Instavast is well worth it.
Instavast Login