Jarvee review

Official website:
https://jarvee.com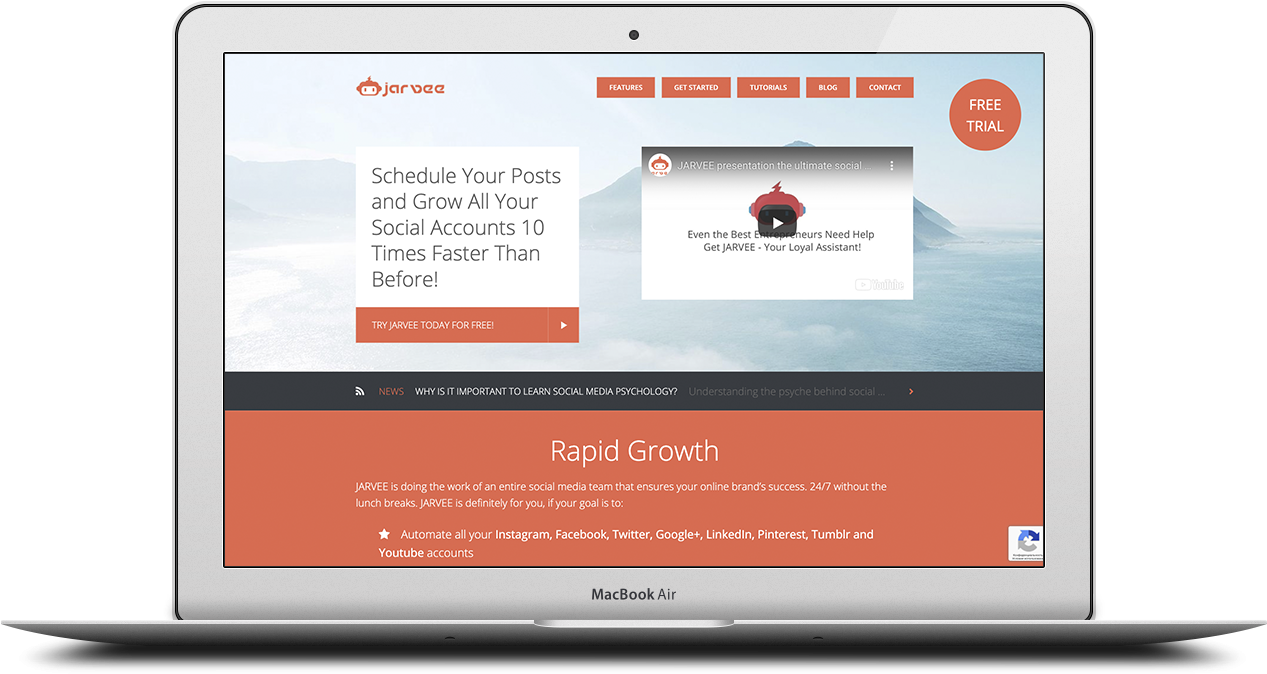 Table Of Contents
Pros and Cons
Pros
8 social media networks - more than any competitor can offer
Understandable tutorials and friendly support
A wide range of functions
Cons
No refund possible. Ever
Too many functions for inexperienced users
If you need only one or two accounts, you still have to pay for 10
Top Social Media Growth Tools
About the service
Jarvee bot is a service that covers all the major social media invented by humanity. It's your personal press service growing your business. But what are the peculiarities, pros, cons, and, of course, Jarvee price?
It is a service that allows you to automate your posts in all social media simultaneously. More specifically, it is a Windows-based interface that allows scheduling your posts and doing much more as if you were present online 24/7. For example, Jarvee Facebook package allows you to find, join, and leave target groups, auto-invite people, send and accept friend requests, and much more.
Jarvee Instagram lets you automatically follow, follow back, and unfollow your target audience, manage comments, do hashtag research, and has lots of other functions. Jarvee Twitter does auto-retweets, sends canned messages, and adjusts the response according to the preferences of your target audience. It literally can substitute an SMM manager.
Main features
Helps you automate your social media activity
This agency review shows it caters for 8 social media platforms, including Pinterest, Twitch and TikTok. Customers' reviews are more or less positive, sometimes mentioning not overtly user-friendly interface, but no scam claims. To login, you should sing up using your Facebook, Twitter or email box.
Main features include posts scheduling, Instagram, Facebook, Twitter, Pinterest, Youtube automation among other versatile and diverse services.
Login & Buy

Instagram likes
Jarvee allows you to gain auto-likes on Instagram, Facebook, Youtube and Linkedin. You can also automatically do reposts and schedule new posts as well as manage direct messages.

Real Instagram followers
There is also a function to automatically follow, follow-back or even unfollow fake users. You can also auto-comment posts with a unique and meaningful message - thanks to spin syntax, another interesting feature of Jarvee.

Instagram views
With Jarvee you can also track statistics and growth metrics, contact prospects, and do hashtag as well as other users research.

SUPPORT
Jarvee customer service is available right from the interface of the program: you don't have to go to the developers' site to complain or to ask about the best Jarvee settings for your particular case.
Does Jarvee Offer Refunds?
No refund possible.
Is there a Free Trial for Jarvee Services?
Each price package includes a 5-days Jarvee free trial.
Compatible Payment Methods
A valid credit card or PayPal account is required to make payment.
PayPal, Credit Card
Jarvee Deals and Discounts
There are no current Jarvee discounts available.
Jarvee: some unique features
8 social media networks
A wide range of functions
Virtual private server to have access from any device
Understandable tutorials and friendly support
5-day free trial
In a few steps, this is how it works
How it works

Choose a plan you want to purchase

Sign Up using your email and start a free trial

When a free trial is over, install the software and make payment for a plan you have chosen
results
Results and Safety
They offer to make your work with social media more convenient with their posts planner, automatic follow/unfollow tools etc. as well as promise a 10 times growth to your accounts.
Go to Website


Have questions?
FAQ
What are their guarantees?
Does Jarvee offer guarantees?
Jarvee claims to boost your social media performance by 10 times.
Is the service safe?
The service is not refundable in any way. Neither downgrading nor cancellation will get your money back to you. Keep this in mind and make sure that you have chosen the proper quantity of accounts to manage. Also Jarvee download will present you with quite a sophisticated instrument, so prepare to spend some time getting familiar with it. Or you may find yourself dissatisfied with too many options you don't know.
Is the service legit?
The company is completely legit, it even presents itself as socially responsible, starting an essay competition for the young social media experts, accepting their articles for publishing on their sites, and launching a free Instagram management course. Jarvee Instagram approach is totally tolerated by the platform.
Is the service scam?
Not many scam alerts are found on the Internet. Almost every Jarvee review is either neutral or positive (the few exceptions are usually overly emotional and don't give us a chance to deduce what really happened).
looking for alternatives?
Alternative Services
Followliker is another social media automation bot that has almost the same range of functions, but it covers only 4 social media networks instead of 8: Twitter, Instagram, Pinterest, and Tumblr. The interfaces of the two also look alike. The main difference is in the pricing and payment strategy. Followliker team wants you to make a one-time payment for purchasing the software itself and then pay a small additional monthly fee. In the long-term relations, Followliker's strategy seems to be more economically effective for the customers, but if you need its service for only a month or two, the initial payment is too high. Followliker also offers unlimited access and accounts - a feature that Jarvee lacks.
Unlike Jarvee, Crowdfire also has an app-based version for Android or iOS. It covers 5 social media networks: Twitter, Instagram, Facebook, LinkedIn, and Pinterest. Also, the unique feature of Crowdfire is the photo and text curation - it helps to search for and adjust texts and photos to make them the most appropriate for a particular social network. Crowdfire has a free option that includes one social media account (you may choose any except Pinterest) and other payment plans from $7.48 per month to $74.98 per month.
Instazood is an automation service dedicated solely to Instagram promotion. It provides the full range of actions possible for this platform, and its interface is much simpler. The best feature is availability in a dozen different languages that makes Instazood easy to use all over the world. The pricing of Instazood is flexible; you may pay only for the services you need. Each pricing plan includes a 3-day free trial and is paid monthly.
Reviews
Testimonials
Jarvee reviews are mixed, and there are some complaints related to the performance of the program on Instagram. Several negative reviews mention the difficulties in learning the interface or obstacles users faced probably because of the changes in the Instagram policy. Not many scam alerts are found on the Internet. The company replies to both negative and positive reviews, which makes an impression they care about their customers. Also, the payments for their services can be covered by PayPal, which adds some extra credibility to the company.
only Samuel
I've been using Jarvee for 1.5 years. It's a great automation tool with a lot of supported social media platforms. At first, I focused only on Instagram, but now I also have Facebook and Pinterest accounts running my campaign.
Reply from JARVEE
Thanks for your continued support

4 stars
Sju
Good turned to be Poor
Used to be a good service but roughly a 6M ago, I started getting blocks from Instagram. I tried to reach out to the support, followed every advice they gave me, but nothing worked. Every time I contact them again, they only give me some default solution, what I've already tried, but that's it. Now I'm giving them a last chance to solve it, but I'm on a serious lookout for a new tool. Jarvee is only causing me a headache.

2 stars
Ray
STAY AWAY!!!
Terrible, I wasted 3 months of my time trying to figure out why my dms were getting action blocked, they kept giving me different reasons why, "proxy, settings, etc." I did EVERYTHING they told me too... and nothing worked.. I gave my accounts a rest for 3 weeks, and set my settings to do ONLY 1 DM PER DAY, and I got action blocked IMMEDIATELY!!! I had 20 accounts, 11 got banned and removed from IG thanks to Jarvee (my account being compromised after logging in, even though I had every account on a different proxy) and 9 of my other accounts ALL get actioned blocked...
And for the record, just read the response from Jarvee support... how rude and terrible they are, they will just place the blame back on you, common tactic of scammers not knowing what THEY are doing and won't admit THEIR product sucks and no longer works... I wish I could share screenshots of the emails they would send me, our thread is over 100+ emails back and forth, so no customers are NOT happy the way you treat them.
For everyone reading this, DONT WASTE YOUR MONEY STAY AWAY!!!!

1 stars
Is it worth it?
What business will benefit from their services?
Yes, if you are a big company with lots of resources to manage. Jarvee will be cheaper for you than a team of SMMs, and it's the best in its division for the big structures and bulk amounts of content.
But if you are a private person with one or two accounts representing your portfolio or small business or whatever, there are cheaper alternatives that can give you the same results.
Jarvee Login