Kicksta review



Official website:
https://kicksta.co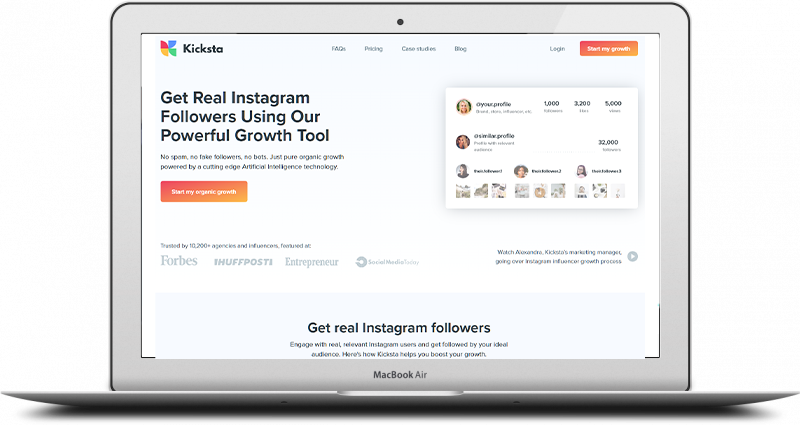 Table Of Contents
Pros and Cons
Pros
User-friendly site with just the right amount of information
Organic and Instagram-friendly growth strategies
A 14-days trial period, quite a long one in comparison with the other companies
Lots of features (smart filters, blacklist, and others)
Support answers on Trustpilot
Cons
No refunds after 14 days
You may not get a single follower if your content is mediocre
Instagram algorithms may make the service non-usable for some time
It might be hard to add target audiences
A bit expensive
Can't bring you new likes and followers directly
Top Social Media Growth Tools
About the service
Kicksta is an Instagram account growing service
Kicksta, formerly known as Kickstagram, had to change its name because Instagram forbade using "Insta" and "gram" in the names of other third-party tools to avoid confusion. But even after stopping being Kickstagram, Kicksta stays the Instagram account growing service.
It gives you extra followers and likes, using the cross-following strategy: following other people that use the same hashtags as you do, have particular account names, or can be identified as your target audience in any other way and liking the posts of other people, drawing their attention to your account. Kicksta also boasts that it can provide you with more sponsorships and sales, meaning that the followers will be organic and genuinely interesting.
Main features
Kicksta provides an automated and individualized growth service
Kicksta Instagram growth agency has a set of specific features that differentiate it from similar companies. Firstly, it works 24/7. It also uses a smart targeting algorithm. The neural network searches for the people that might be your target audience and make each automated interaction the most effective one. The Kicksta account database is (as they claim) reaching 60 000 Instagram accounts. Kicksta also promises to assign a dedicated manager to your account. You may connect them in case of any troubles and they'll also provide manual correction of the AI's possible misguided decisions. The last but not least feature is growth reports that allow you to keep track of your account progress, checking your most effective posts, engagement rate, and followers quantity.
Login & Buy

Instagram likes
The growing process is automated and doesn't need your attention, so even when you sleep your account continues to follow and like other accounts and get more new likes.

Real Instagram followers
The company doesn't sell followers directly but helps grow your account. So it doesn't guarantee any specific number of followers.

Instagram views
The company doesn't sell views.

SUPPORT
The company may be reached via e-mail. They seem to be actively solving their customers' issues.
Pricing
Pricing and unique features
Kicksta Instagram growing plans are simple. There are only two of them: Standard and Premium. The standard plan is twice as cheap as the Premium one ($ 49 and $99 per month respectively). The standard plan promises moderate growth while the Premium one promises to grow your account fast. But the exact numbers of likes and followers are never stated (which is reasonable, because when you are dealing with real people you can't predict the subscribers' number). The Premium plan also includes such features as VIP email support, live chat support, advanced targeting, and blacklist. The number of target audiences available for monitoring is also different: 10 for the Standard plan and 40 for the Premium one.
Social Media
100 pcs.
500 pcs.
1 000 pcs.
Shares
Does Kicksta Offer Refunds?
Kicksta offers a 14 days money-back guarantee and the reviews state that they do return the money if something goes wrong. But later on, the money is not refundable, so you have two weeks to decide whether you like it or not.
Is there a Free Trial for Kicksta Services?
They don't offer a free trial, but a 14-day money-back guarantee instead.
Compatible Payment Methods
The company accepts payments made with a card.
Credit Card
Kicksta Deals and Discounts
There is a discount on the Premium plan ($99 instead of $149).
Kicksta also has an affiliate program that allows you to get a whopping 50% commission for each new referral. The company also provides bonuses for the best affiliates.
Kicksta: some unique features
Helps users get organic followers instead of buying "ghost" followers
Provides "meaningful engagements" between followers
Premium Plan offers "maximum growth" and processing 40 targets
In a few steps, this is how it works
How it works


Enter yoiur email and card number

Get a confirmation email and start receiving services
results
Results and Safety
After the payment, you get access to the Kicksta dashboard. Your first step is to form the "targets" or target audiences you are interested in. You may choose specific usernames, locations, or hashtags they use. Then the Kicksta algorithms come into play. They will randomly select a couple of target member's photos and like them as your account or just follow that person. They might get interested and go see you. The best thing about this strategy is that it is totally organic and doesn't in any way go against Instagram standards.
The pre-installed Kicksta filters allow you to avoid bot accounts or long inactive ones. If some of them slip through the filters you may put them on the blacklist manually (provided you have the Premium account).
Remember that Kicksta isn't an account management tool. It can only like or follow people. It can't comment, send messages or unfollow people automatically. It also can't give you a certain number of likes per month, because the algorithms here are different and they leave people the right of choice.
Go to Website


Have questions?
FAQ
What are their guarantees?
The effectiveness of Kicksta depends on the quality of your content dramatically. Kicksta doesn't create followers out of the blue: you should create content to attract them and Kicksta just turns their heads towards you. So if you don't have enough new and creative content Kicksta won't work. It isn't magic. Kicksta provides a list of cases, showing some working strategies and results to prove its efficiency. They are mostly small businesses that didn't have a separate person to manage Instagram accounts or other agencies that resell Kicksta's services. Anyway, these people do exist and their business, too - at least they did.
Is the service safe?
Kicksta uses the Instagram API to not transfer your data to any third-party apps. It doesn't store your credentials and any other data stored is protected with 256-bit SSL encryption. Kicksta boasts that it provides bank-level security. All the payments are also made through the safe sites of the well-known payment systems.
Is the service legit?
The answer to the question "Is Kicksta legit?" is easy: yes, it is. It is one of the most organic Instagram account growing services that exist on the market. But there are still several things that may get you into trouble. First, the interaction limit. Kicksta operates on the verge of the limit, so if you yourself are liking too many people, you may accidentally walk beyond that limit and make Instagram algorithms suspicious. Don't be too active while using Kicksta or you might end with your account shadowbanned.
Is the service scam?
As the agency actively interacts with its customers solving any arising issues, it doesn't look scammy.
looking for alternatives?
Alternative Services
Kicksta VS Upleap
Upleap is very similar to Kicksta, prices, strategies, and all, but Upleap has much better support, with live chat and people that are actually reading your emails. Upleap, surprisingly, doesn't offer any trial periods and makes refunds on case-to-case basics, so we don't think you can expect to get one there. On the contrary, Kicksta returns money in the first 14 days, no questions asked. Upleap also has lots of information concealed until you register. So, you can't get the full picture without providing your credentials to the site you can't know about yet. We hate to tell you that, but we don't recommend Upleap. Try Kicksta instead. Or anything from the variants below.
Kicksta VS Kenji
Kenji.ai even has AI in the name of the site. The company boasts artificial intelligence that helps you to find your target audience quickly and easily. You can use only location and hashtags to track your target audience, names are not available (while Kicksta can do name search too). Kenji is also much less expensive, its pricing plans start from $19 per month and in some aspects, even the cheapest Kenji plan may be in a way better than the Standard Kicksta plan. Kenji doesn't have a money-back guarantee, but it gives you a free 3-day trial that functions as the cheapest plan. Kenji also combines the trial with a 14-day money return guarantee that makes it the closest Kicksta competitor. The algorithm Kenji uses for work is still a secret though. They promise to tell at least something if you subscribe to their newsletter. We are genuinely interested!
Kicksta VS Nitreo
Nitreo is one of the oldest and the most trusted Instagram automation growth services. It puts your entire process on auto-pilot. The only thing you need to do is to set up Nitreo and enter the parameters of your target audience. Nitro is considered a professional Instagram promotion kit, so it is a bit more expensive than Kicksta or other services, starting from $29 per month. Nitreo provides a wider range of parameters including age and gender (which is extremely useful when you are, for example, a gender-sensitive brand). As the two services mentioned above Nitreo uses fully organic growth methods, it is just considered a bit more reliable. The algorithm and even the very interface of Nitreo are very similar to Kicksta's, so it is hard to compare their ergonomics. Nitreo is a bit older, has a bit more credibility, and a bit more expensive. It is also suggested that Nitreo and Kicksta can be somehow connected.
Reviews
Testimonials
The Kicksta reviews page has an equal number of overly good and overly bad reviews: around 30% of each. The second popular mark is 4* or mostly good. The most popular complaint is (obviously) no new followers. But if the algorithms work and the content is less-than-stellar, the issue isn't on Kicksta side. One Kicksta review outright calls the company a scam, but it turns out that they haven't added new content and therefore there are no likes now.
The second popular complaint is the inability to add target audiences. The Kicksta support mostly replies to such complaints and helps to fix the situation (or just explain to them how to add target audiences, step by step). Another issue is connected with the new Instagram algorithms that have rendered some of Kicksta's functions obsolete. Kicksta got better in this case though.
Llonych
I like Kicksta. I never used any similar services before so can't compare, but all I wanted is organic growth and that's what I perfectly get with Kicksta. I'm on a steady package so the growth isn't fast, but I'm okey with that. Most importantly I get follows from people who truly love my brand and that's the key. Recommend.

5 stars
Alice Gruendler
My experience with Kicksta was... mixed. Was facing a lot of issues, lot of bugs, lot of server problems. It took a week to set up our account - followed by issues again. I'm sure that their service works well after solving all problems and issues but for me, it all just took too long and too much time from my side since I had to contact the customer service nearly every day.
Their customer support is very nice though, they offered refunds for the lost time. Though I decided to cancel my subscription, got a refund easy and quick.

2 stars
Emma Tweedie
Despite some initial teething problems (password problems, not being able to add targets) the service has settled down and I have seen growth on the account. My account manager did answer emails when I had issues, and between us, we resolved the issues, which was great. Obviously, the service is only at its best when the user is posting good and consistent content!

4 stars
Is it worth it?
Is it worth it?
The Kicksta reviews say "yes but proceed with caution". We may recommend Kicksta as one of the few organic Instagram promotion agencies. 14 days is enough to understand if this approach works for your case and your content. There are some cheaper alternatives, but it doesn't mean that Kicksta isn't worth trying. Possibly its strategy of "tapping" other people with likes will be the best one for your account. But don't be afraid if the full two weeks won't bring you any new followers. You may consider readjusting your target audiences and think about the content that might be more engaging.
Kicksta Login