MeetEdgar review


Official website:
https://meetedgar.com/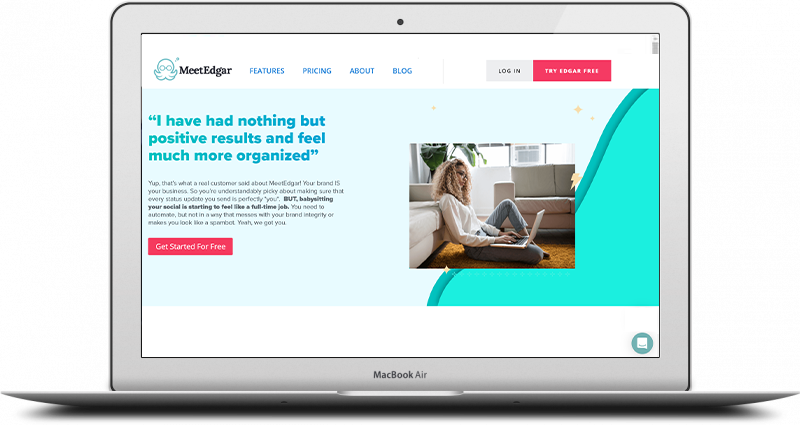 Table Of Contents
Pros and Cons
Pros
7-day free trial
Wide range of tools
Monthly and yearly plans
Refund is available within 30 days of initial purchase
Human support
Knowledge base
Suitable for businesses of all sizes
Cons
Payment with a credit card only
Just 2 plans available
Customers charged automatically unless they cancel
Discounts offered only to military and non-profit users
Top Social Media Growth Tools
About the service
MeetEdgar is a Social Media Management and Automation Tool
MeetEdgar is a social media managing agency founded in 2014 by Laura Roeder. She started her career in social media services provision back in 2009, when she launched LKR Social Media company. Later, after facing some difficulties due to the absence of convenient SM scheduling tools on the market, she and her tiny team of 7 people launched MeetEdgar, which soon became popular. Currently, their team includes 13 professionals. The agency team is proud of their company values, namely "Embrace ownership", "We're All One Team", "Make New Mistakes" and "Value for Value". The company's office is situated in the US.
Your subscription will be automatically renewed each month (or if you have chosen an annual subscription, each year).
The agency claims protecting your personal info is key to them. They honestly say they collect your name, email address, IP address, credit card information, and information needed for transaction processing, as well as use cookies. They may also give your info to Third Parties necessary for services provision.
They may send you some newsletters and updates when necessary. However, you may unsubscribe and stop getting them. They also don't track any of your online activity through your browser. The agency operates in the US under the US laws.
A user may request to access, change or delete their personal information held by the agency by writing to [email protected]
They take care to protect your personal data, like keeping them on a secure server, keeping it confidential (any third-party services they cooperate with do it, too), encrypting your payment data, and not storing your social media account passwords. The list of specific software they use to keep your data safe is found on their Privacy Policy page.
They also don't work with or collect any info from minors under 13 years of age.
Main features
MeetEdgar has plans for entrepreneurs and larger businesses
✔Social Media Automation and Scheduling Tools
✔Suggested-Variations extension for content generation
✔Category-based scheduling and continuous posting
✔Social Media Content Tools: Unlimited content library, Content importing feature, Photo and video support, etc.
✔Support from real people within 48 hours
Login & Buy

Instagram likes
The agency doesn't sell likes but complete social media packages.

Real Instagram followers
The agency helps its customers to grow the number of followers organically.

Instagram views
The agency provides photo and video support, but no views packages.

SUPPORT
Besides communicating via email, they offer regular office house sessions, monthly workshops, webinars, and other online activities.
Does MeetEdgar Offer Refunds?
You may get a refund of up to your monthly fee if you cancel your monthly subscription within 30 days of your initial purchase. Otherwise, a refund is not guaranteed and is up to the agency to decide.
Is there a Free Trial for MeetEdgar Services?
The company offers a 7-day free trial for 2 plans: Edgar Lite (which normally costs $19/mo) and Edgar ($49/mo).
Compatible Payment Methods
Payment is accepted only via a credit card.
Credit Card
MeetEdgar Deals and Discounts
They offer a discount to their military and non-profit users.
MeetEdgar: some unique features
You'll need a credit card to sign up for Free Trial. However, if you cancel during the Free Trial period, you won't be charged anything.
You can change your plan anytime. Just email the support.
You can arrange your content into categories and use the content library feature provided by their software (all your SM updates will be stored there).
You can choose a number of posts and categories you want (normally 4 categories are enough).
You can choose to reuse or alter your posts when you run out of content. Alternatively, you can select the option "Use once" or take your post out of rotation after a certain date.
In a few steps, this is how it works
How it works



Log in to start a free trial
results
Results and Safety
The results will be easier 'auto-pilot' management of your social media accounts.
Go to Website


Have questions?
FAQ
What are their guarantees?
They don't give explicit guaratees besides their '100% happiness guarantee'.
Is the service safe?
The company offers a full refund within 30 days, which makes it quite safe. There is also a Free Plan.
Is the service legit?
The company seems legit.
Is the service scam?
There are no proven facts that it is scammy, as the company has positive reviews.
looking for alternatives?
Alternative Services
SocialPilot is a complete social media management system that allows you to monitor and manage several social media accounts on different platforms. It allows managing up to 100 accounts and has a 14-day trial period, though a very short refund period. It is costly and more efficient for a larger business.
This agency also provides the options of scheduling posts, multi-account management, content management, data analysis, competitor analysis, and more. It offers monthly packages, which cost from $7.48 to $74.98, and yearly packages. A free version is also available. However, it allows not more than 3 accounts, and there are no discounts for long-time members.
Hootsuite
This company offers a variety of features including analytics, content management, SM monitoring, reputation management, etc. It features 80 various applications, a very convenient one-stop platform for all social channels, and is available in 16 languages. However, it is costly - the cheapest package is $19 and the most expensive is $ 599.
Reviews
Testimonials
There are few reviews, but they are mostly positive.
Lorraine Dallmeier
I signed up for MeetEdgar.com a few months ago and have never felt more relieved to leave my social media accounts in their hands. I have so far only set up my Twitter accounts (personal + business) to retweet all the content I have spent years laboriously producing, but I'm already seeing it really pay off. For my business account, I see a monthly growth of 2% in followers which I'm very happy with so far (although once I add in even more content I'm sure I must be able to bump that up a bit).
The site is user-friendly, the team is extremely helpful (the few times I've had a question or issue, they've got back to me straight away) and the design is brilliant. 5-Stars all round, great website, great concept, great team.

5 stars
Jana Tolmar
I love that I can set aside an hour each week to add more to my library and then I don't have to think about social media again!

5 stars
Dana G
What I like most about the Edgar Social Media Management software is that it automates our social media to stay relevant and top of mind. It allows us to grow our base without having to constantly micromanage our channels. But, there are not enough options for posting schedules. It works really well for a daily posting but does not allow for weekly or bi-weekly posting to be scheduled.

4 stars
Is it worth it?
Would this agency's services suit smaller or larger businesses?
This agency may serve both individual entrepreneurs and larger companies. Using a free trial shall reveal if this service is suitable for your particular case.
MeetEdgar Login