MeetEdgar review


Official website:
https://meetedgar.com/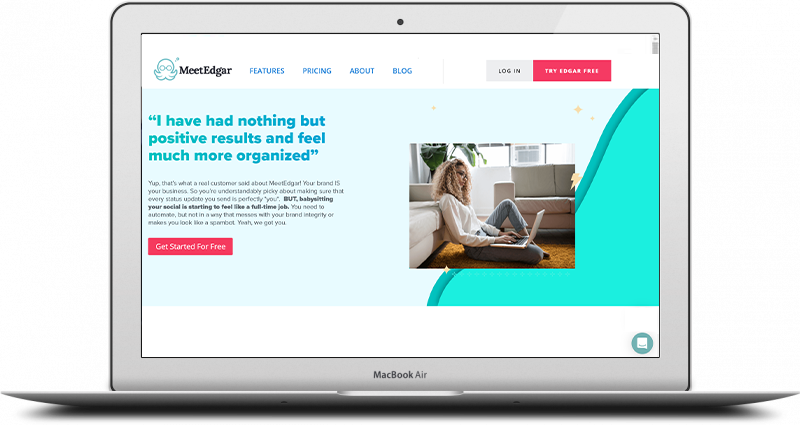 Table Of Contents
Pros and Cons
Pros
7-day free trial
Wide range of tools
Monthly and yearly plans
Refund is available within 30 days of initial purchase
Human support
Knowledge base
Suitable for businesses of all sizes
Cons
Payment with a credit card only
Just 2 plans available
Customers charged automatically unless they cancel
Discounts offered only to military and non-profit users
About the service
MeetEdgar is a Social Media Management and Automation Tool
MeetEdgar is a social media managing agency founded in 2014 by Laura Roeder. She started her career in social media services provision back in 2009, when she launched LKR Social Media company. Later, after facing some difficulties due to the absence of convenient SM scheduling tools on the market, she and her tiny team of 7 people launched MeetEdgar, which soon became popular. Currently, their team includes 13 professionals. The agency team is proud of their company values, namely "Embrace ownership", "We're All One Team", "Make New Mistakes" and "Value for Value". The company's office is situated in the US.
Your subscription will be automatically renewed each month (or if you have chosen an annual subscription, each year).
The agency claims protecting your personal info is key to them. They honestly say they collect your name, email address, IP address, credit card information, and information needed for transaction processing, as well as use cookies. They may also give your info to Third Parties necessary for services provision.
They may send you some newsletters and updates when necessary. However, you may unsubscribe and stop getting them. They also don't track any of your online activity through your browser. The agency operates in the US under the US laws.
A user may request to access, change or delete their personal information held by the agency by writing to [email protected]
They take care to protect your personal data, like keeping them on a secure server, keeping it confidential (any third-party services they cooperate with do it, too), encrypting your payment data, and not storing your social media account passwords. The list of specific software they use to keep your data safe is found on their Privacy Policy page.
They also don't work with or collect any info from minors under 13 years of age.
Main features
MeetEdgar has plans for entrepreneurs and larger businesses
✔Social Media Automation and Scheduling Tools
✔Suggested-Variations extension for content generation
✔Category-based scheduling and continuous posting
✔Social Media Content Tools: Unlimited content library, Content importing feature, Photo and video support, etc.
✔Support from real people within 48 hours
Login & Buy
results
Results and Safety
The results will be easier 'auto-pilot' management of your social media accounts.
Go to Website


Have questions?
FAQ
They don't give explicit guaratees besides their '100% happiness guarantee'.
The company offers a full refund within 30 days, which makes it quite safe. There is also a Free Plan.
There are no proven facts that it is scammy, as the company has positive reviews.
Is it worth it?
Would this agency's services suit smaller or larger businesses?
This agency may serve both individual entrepreneurs and larger companies. Using a free trial shall reveal if this service is suitable for your particular case.
MeetEdgar Login