Mr. Insta review

Official website:
https://www.mrinsta.com?ref=1719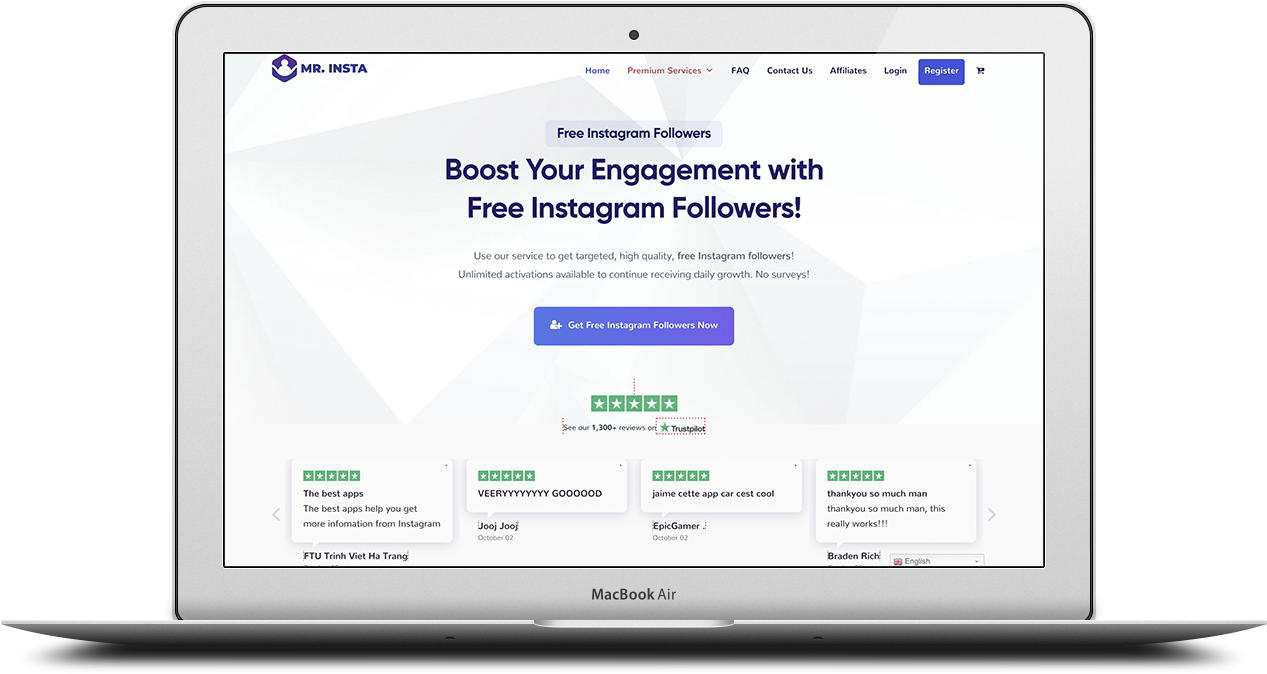 Table Of Contents
Pros and Cons
Pros
No bots
Fast delivery
Descriptive FAQ
Free trial and affiliate program
Clear Terms and Conditions and refund policy
Cons
Fairly expensive
To use a free plan, you have to like and follow others
Refund isn't always possible
Doesn't accept PayPal
Top Social Media Growth Tools
About the service
Mr. Insta is a narrower service that allows customers to get followers and likes for their Instagram accounts.
It has an app and a relatively high TrustPilot and SiteJabber ratings but is a bit costly for such an app. It also has a clear and understandable (though not very generous, but it is common for such services) refund policy.
Additional services aren't described as vividly, but the company still provides them as the auxiliary ones.
Mr. Insta can help you boost your Twitch, YouTube, Spotify, Pinterest, and SoundCloud projects, covering the most popular visual, video, and audio social media. Another interesting feature is the possibility of buying a full SEO service pack for your account or channel, adjusting it to get more organic traffic instead of paying for traffic. It is a very unusual proposal for such a service and, despite being quite costly (for example, a YouTube channel evaluation costs as much as $120), deserves extra credit from us.
Main features
Mr. Insta uses an app
Mr. Insta has an app that allows you to get likes and followers in real-time. New customers can get a free trial period (24 hours for getting followers and 12 hours for getting likes with a limited amount of likes and subscriptions per account). If the client is satisfied, they can buy a renewal subscription that starts from $20 per 15 followers or 20 likes. The prices may go up to $700 per 1000 likes, which is quite a significant sum for similar services. The main advantage the company offers for such big money is live profiles only. The new algorithms of Instagram ban bots incredibly quickly, so providing live likes and followers is a real advantage.
Login & Buy

Instagram likes
You can buy a package of 100 - 50.000 likes for a fee starting from $6.

Real Instagram followers
Mr. Insta's Followers Packages include from 250 to 5000 followers ($10 - $110).

Instagram views
The agency offers Instagram Views, IGTV Views, and Instagram Reels Views. Mr. Insta explain the advantages of buying such services and promise to always deliver more than you purchased.

SUPPORT
To contact them, you should leave a message using a form on their Contact Us page.
Pricing
Pricing and unique features
The prices are average, and the agency offers free Instagram and YouTube plans as well.
Social Media
100 pcs.
500 pcs.
1 000 pcs.
Likes
6
14
25
Followers
25
40
Shares
Views
3
7
12
Comments
80
Followers
30
45
Views
30
30
30
Likes
13.5
Subscribers
30
60
100
Comments
160
Does Mr. Insta Offer Refunds?
The refund policy exists (and it's a good bonus already!) Any customer can get a refund in the first 7 days if the service isn't as described or wasn't delivered in time. The company warns that the services are irrevocable, so their refund policy is based mostly on saving their reputation. The owners also honestly say that refund isn't always possible, so if you are still in doubt, consider starting from the free trial or the shortest and cheapest subscription.
Is there a Free Trial for Mr. Insta Services?
The free trial period has a little trick in it: your profile has to like or follow other people's profiles. So it isn't completely free. You don't pay your money, that's true, but you still work for Mr. Insta, being one of the "live non-bot profiles" that follow and like others for money. This is described on the company's home page, and they don't conceal it in any way, so it's still a pretty fair exchange.
Compatible Payment Methods
Unfortunately, the company doesn't accept PayPal. They state that they use PayOp instead. Mr. Insta also accepts all Visa and MasterCard cards and systems as CVS, Dollar General, and Obucks (these three may puzzle anyone outside the US that makes us think that the whole company isn't targeted to the non-US customers).
Visa, MasterCard, Credit card
Mr. Insta Deals and Discounts
The company offers you discounts for your first order (ours was 10%, but it depends on the current discount campaign), but it looks more like a marketing trick. It is doubtful that someone will place a huge order as their first, so this 10% discount won't play a big role except luring the customers into buying some services.
Mr. Insta also offers an affiliate program, so if you have friends to invite, you may make prices seriously lower for yourself. It is a much more interesting way than getting a single discount.
Mr. Insta: some unique features
Guaranteed Delivery
Refill Guarantee
Safe & Private Delivery
Delivery starts in 24-72 hours
Delivery continues daily until complete
In a few steps, this is how it works
How it works


Activate a Free or Paid Plan

Follow Profiles or Make Payment and Get a Result
results
Results and Safety
Results are promised within the time period from 2 minutes to a full day after you've completed all the required steps, depending on the package.
Go to Website


Have questions?
FAQ
What are their guarantees?
They guarantee a refill if any of the followers are lost. The company doesn't explicitly guarantee a refund, as they "offer non-tangible irrevocable goods". However, they may chancel a reoccurring payment.
Is the service safe?
The company uses safe payment methods (Visa, Master Card, PayOp) and claim they provide Social Marketing services in the utmost safest manner that constantly changes with updates made by the Social Media Network.
Is the service legit?
The service seems quite legit for its niche, however, they actively ask for reviews and boast them on their website. At the same time, they have replied to 1% of negative reviews or so, which looks like they care more about their image than about their customers.
Is the service scam?
The TrustPilot 4,3 rating and SiteJabber five-star rating with hundreds of reviews show that either Mr. Insta paid lots of money to create tons of fake reviews of high quality, or they really do what you pay them for. Considering their policy, pricing, and guarantees, we think the second variant is more likely. Mr. Insta doesn't look like a scam, and it is a huge advantage for the company that sells paid likes and followers.
looking for alternatives?
Alternative Services
Another company that provides an app to use. Crowdfire offers a different range of social media except for Instagram: Facebook, YouTube, and Twitter. It gives the customers an opportunity to control their likes and followers, and the app is very ergonomic. The prices are lower but unstable, and the pricing can change quite fast and without any warning.
MediaMister offers the same range of social media as Crowdfire, but the prices are the cheapest ones possible. You can get lots of likes and followers for $20 there. Though MediaMister is a new company without lots of reviews, it works hard now to build a reputation, and you may use this for your benefit. Unfortunately, MediaMister doesn't have an app (at least yet), so if it is a crucial point for you, consider choosing another company.
Instazood offers fair prices and promises to deliver you organic traffic. You don't have to do anything except paying them. But, unlike the companies listed above, Instazood doesn't offer any refunds whatsoever, so take as much information as you can from the free 3-day trial.
Reviews
Testimonials
The TrustPilot 4,3 rating and SiteJabber five-star rating with hundreds of reviews show that either Mr. Insta paid lots of money to create tons of fake reviews of high quality, or they really do what you pay them for. Considering their policy, pricing, and guarantees, we think the second variant is more likely. Mr. Insta doesn't look like a scam, and it is a huge advantage for the company that sells paid likes and followers.
Yerena Onlly
Terrible customer support. They say they reply in 24-48 hours. Haven't gotten a response in 5 business days.

1 stars
Harithma Rajamanthri
I had followed 10 profiles using MrInsta and I had gained only 9 followers back out of promised 25 followers. I am very grateful for these followers, but I would like to expect the promised amount next time. I would recommend this to a friend in need of Instagram followers and I think this is a useful tool for many people.

3 stars
AA
Sounds scary to deal with at first because they don't have a phone # to call to, a few bad reviews, no more PayPal payment channel, etc., but they just delivered and completed my 4th order seamlessly and I've been a loyal customer for a year so that would say something on them.

5 stars
Is it worth it?
Is it advisable to try?
Mr. Insta looks fairly legit, but we still don't think you should trust it head-on. Still, it is worth trying, and we encourage you to use a free plan to see if the terms and conditions suit you. The prices aren't affordable for anyone, but the quality seems to meet the expectations you have after paying such a sum.
Mr. Insta Login