Social Empire review





Official website:
https://socialempire.pro/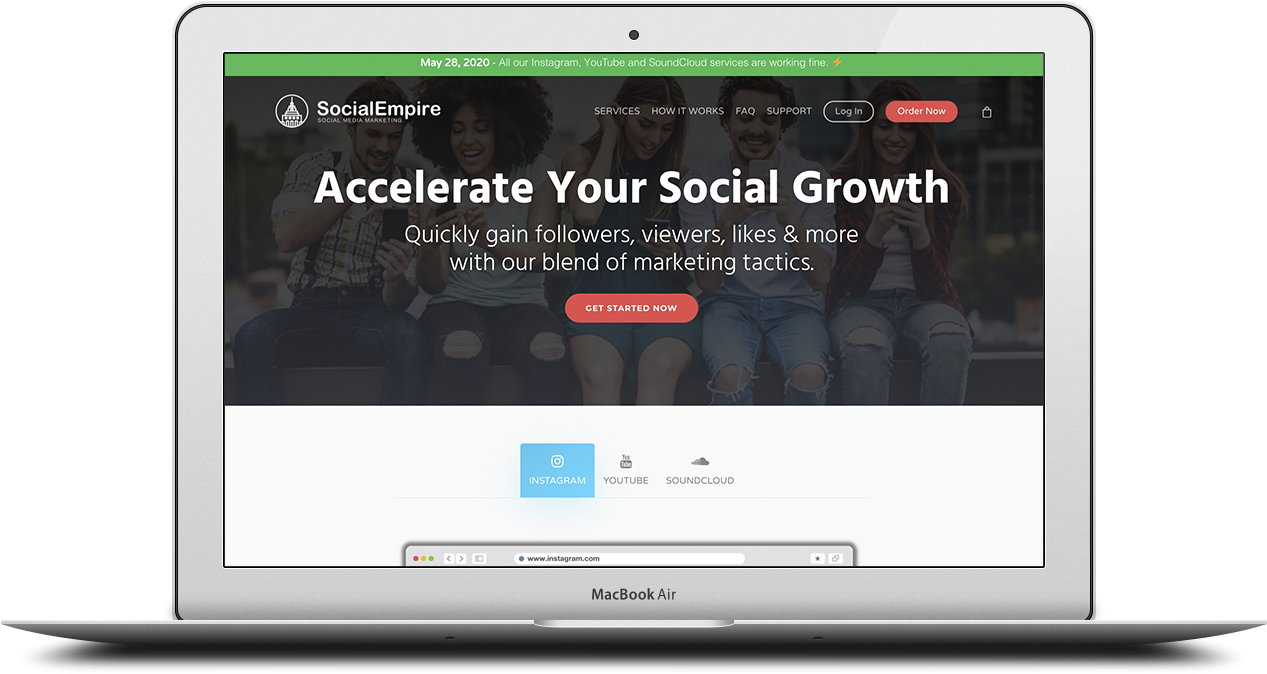 Table Of Contents
Pros and Cons
Pros
Affiliate program
Paid placement on other sites
Affordable prices
Great for visual and audio content creators
Seems trustworthy
Cons
Lots of negative reviews (but mostly fake)
No Bitcoin payment
About the service
SocialEmpire is a web agency that offers Instagram, Youtube, TikTok and Soundcloud promotional services.
It makes it perfect for the artists and media companies that create visual and audio content such as event agencies, movie makers, and others. They promote all three social media networks equally.
Main features
Main Features of SocialEmpire
The main feature of SocialEmpire is the sponsored placement. They claim to have more than 600 sites where they can promote clients' posts. The prices start from $0,55 and can be customized depending on your goals. The company doesn't have a trial period but offers a money-back guarantee. The agency accepts all major credit card systems and PayPal. The Bitcoin payments are temporarily disabled due to its high volatility. The agency also has an affiliate program that allows clients to invite new customers and get cashback.
Login & Buy

Instagram likes
They offer from 250 to 5.000 Instagram likes for a very lucrative price.

Real Instagram followers
There are Instagram, Soundcloud, and TikTok followers and YouTube subscribers starting from 50 items.

Instagram views
There are Instagram, YouTube and TikTok views in bulk.

SUPPORT
The company claims to have a 24/7 customer support.
Pricing
Pricing and unique features
The company's prices are inexpensive (for instance, 250 Instagram Followers cost $ 4.49). They have mentioned their low price policy in their FAQ and explain this by the fact they have optimized their methods and techniques over the past five years to keep costs at the lowest possible, while still maintaining the high-quality service.
Social Media
100 pcs.
500 pcs.
1 000 pcs.
Likes
6.49
12.49
Followers
8.49
14.49
Shares
Views
4.49
6.49
Comments
Likes
Followers
Shares
Video Views
Comments
Likes
Retweets
Followers
Views
Comments
Likes
Subscribers
16.49
Views
8.49
Comments
Shares
Does Social Empire Offer Refunds?
They have a 100% Money Back Guarantee. They claim if they don't deliver, they will provide a full refund.
Is there a Free Trial for Social Empire Services?
The company doesn't have a trial period
Compatible Payment Methods
All major credit card payments and as well as PayPal.
PayPal, Credit card
Social Empire Deals and Discounts
They don't offer discounts as their prices are low.
Social Empire: some unique features
Guaranteed Results
No Login Details Required
High Quality Results
24/7 Customer Support
Safe Marketing Methods
Anonymous & Discreet Service
In a few steps, this is how it works
How it works


Secure payment using a card or PayPal

The company processes your order
results
Results and Safety
The customer doesn't have to do anything; the agency takes care of the order automatically after the payment is made. The results are to be delivered in 1-2 days. Privacy is also guaranteed in each case. The agency has clear FAQ and Terms and Conditions documents, a real address in Barcelona, and guarantees 100% money back. They seem to be victims of spam reviews on TrustPilot (including accusing them of being an ISIS project from some random one-review accounts). Still, some reviews seem real, so it is highly recommended to give it a try first, before starting a full-fledged campaign. The main complaints that seem real are the silent support service or the wrong or incomplete delivery.
Go to Website


Have questions?
FAQ
What are their guarantees?
The company guarantees high quality results, 24/7 Customer Support, safe marketing methods and anonymous and discreet service
Is the service safe?
The company emphasizes that working with them is safe. They don't share with or sell customer information to any third party, and limit information shared internally as well. They don't ask your Social Media login information or password, and accept payment with cards and PayPal, which are secure payment means.
Is the service legit?
The company emphasizes its safety measures mentioned above, and claims to have over 70,000 satisfied customers.
Is the service scam?
There are many "scam" reviews on Trustpilot, but there is no evidence they are written by real users, not competitors. However, the company doesn't react to these negative claims, unlike some companies do. Their website's content looks reputable and written by intelligent people. As their prices are low, a customer doesn't have much to lose anyway, and they offer a full refund if they don't deliver.
looking for alternatives?
Alternative Services
RedSocial
RedSocial is a well-known social media agency that offers a broader range of services than SocialEmpire, a bit higher, but customizable prices and an additional possibility to pay with Skrill. RedSocial has more positive reviews and is more renowned in general, but it is also a bigger agency, where the approach can be less personalized.
Fastlykke
Fastlykke is a new service that tries to win the hearts of the customers. They also accept PayPal and offer a 100% money-back guarantee. The prices are very modest, and the desire to earn a good reputation may make the agency treat you much better than the more famous ones will do.
AudienceGain
AudienceGain is also an agency that offers more services than SocialEmpire, but Youtube, Instagram, and Soundcloud are amongst them. They are quite trustworthy, and, in addition to a 100% money-back guarantee, they offer a free replacement guarantee in case some people take their likes back or unsubscribe. They also accept all major credit card payments and as well as PayPal.
Reviews
Testimonials
The reviews are mostly negative, but the ridiculous claims about the agency being terrorists make them not trustworthy. Still, there are more than 80% of negative reviews and, even with most of them being fake, the agency needs to be taken cautiously.
David Smith
Thumbs up to the customer support team for being ready to offer support when needed, the emails we responded to us in less than one day.

5 stars
Fatima Neutrino
After completely ignoring my messages, these cowboys actually came through with the number of followers promised. This happened right towards the end of the time scale they were paid to add them. PLEASE NOTE that this also happened after I wrote a negative review of them and their post-purchase absence on here.
*Shrugs*. Look around.

3 stars
Stan
I bought 1k followers for my business Instagram and followers started to unfollow me, I got 600 after one week and the number is still descending. Don't pay for stupid thing friends :)

1 stars
Is it worth it?
Conclusion
SocialEmpire looks like a trustworthy agency. Despite the negative reviews, it still has a clear Terms and Conditions page and FAQ. It can be a great choice for visual and audio content creators who want their social media networks managed by a single agency.
Social Empire Login