SocialCaptain review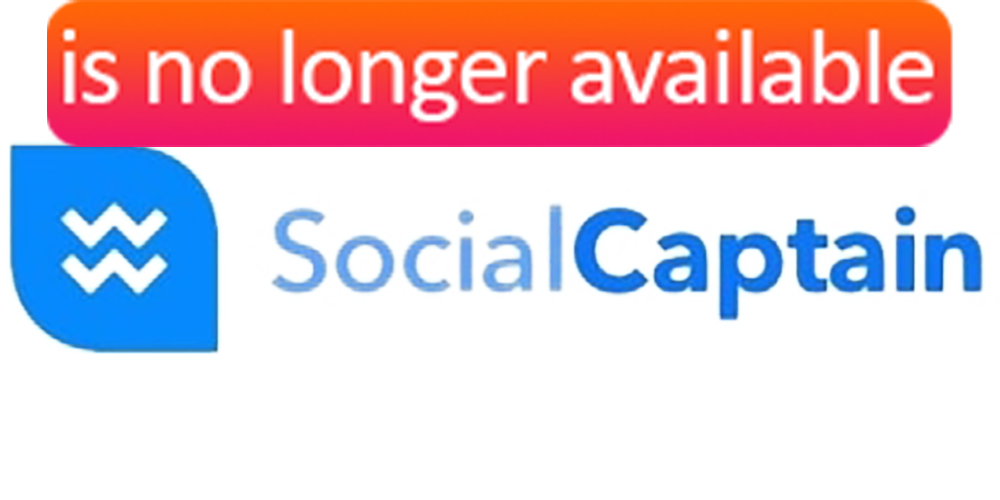 Official website:
https://socialcaptain.com/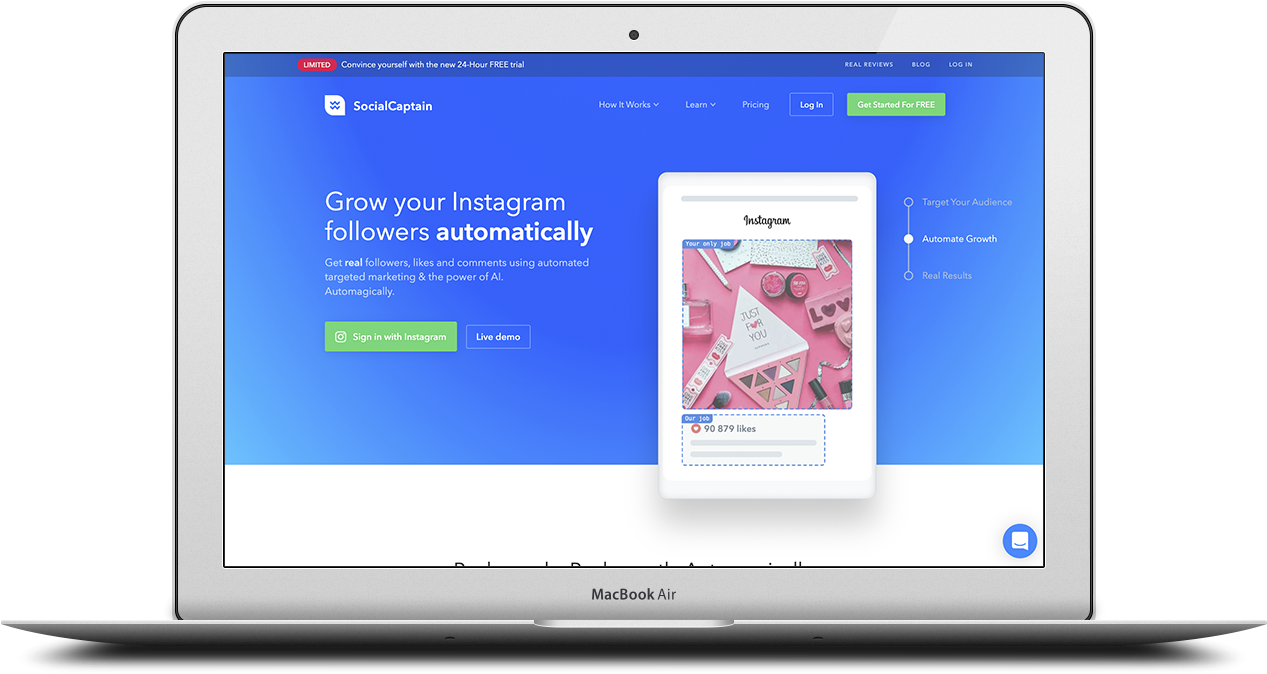 Table Of Contents
Pros and Cons
Pros
Fully automated service
Moderate prices
Free trial
Video tutorial
Using the https protocol
Cons
Dubious reviews
Unethical attitude to the competitors
Top Social Media Growth Tools
About the service
What is SocialCaptain?
This is another like-making network with a funny name: SocialCaptain is a bot operating on Instagram to give you likes in exchange for the likes your account gives to other network users.
It is something like Torrent, but with likes instead of files and strict equality policy. You get only as much as you give.
Main features
SocialCaptain is a bot operating on Instagram only
SocialCaptain exists for Instagram only. There are no SocialCaptain Reddit or SocialCaptain Facebook. The network has a very narrow audience focused on a single social network. It is both good and bad. The positive side is that the 8 000 customers that are mentioned on SocialCaptain site are real live Instagram accounts, each of which can bring you likes. You don't have to divide this quantity into several major social networks. On the other hand, if you want to promote several accounts simultaneously, you'll need some additional services to keep all your social networks on the same page.
Social Captain is a bot-like automatic service for automatic Instagram growth. There is a rough competition between such services, so this company faces a lot of negative reviews every day, which seems unnatural and fabricated. Anyway, this company offers a free trial option and you can always try its services and not risk your money. To login, enter your email and password or use your Google account.
Login & Buy

Instagram likes
It is an Instagram (and Instagram only) promotion service that provides you with organic traffic and targeted audiences to like, follow, and comment on your posts.

Real Instagram followers
Everything is done automatically; you generate content, paying fees for the SMM service of SocialCaptain, and do nothing else.

Instagram views
The algorithms of the system choose people who are already interested in something connected with your posts - via their own posts, interests, or hashtags they follow - and offers them to like your post or follow your account.

SUPPORT
The service utilizes the Instagram API, so your credentials are safe.
Does SocialCaptain Offer Refunds?
The developers offer a full refund within the first 24 hours after the purchase.
Is there a Free Trial for SocialCaptain Services?
A free trial that doesn't require credit card data.
Compatible Payment Methods
Payments with a credit card are accepted.
Credit Card
SocialCaptain Deals and Discounts
SocialCaptain has a referral program, paying you a 30% commission for each referred person.
SocialCaptain: some unique features
Real live Instagram likes
Organic likes, followers, and comments
Free trial
Full refund during the first 24 hours
The service is completely safe
In a few steps, this is how it works
How it works

Create a SocialCaptain account or sign up with Google

Connect your Instagram account an start a free trial or make payment for a chosen package

Choose desirable settings in the dashboard and watch the growth
results
Results and Safety
They promise growth up to 150x times better than that with manual interaction.
Go to Website


Have questions?
FAQ
What are their guarantees?
Are there any guarantees?
Although they promise growth of their customers' accounts, they specify that the expected number of followers, likes, and comments is not guaranteed to their customers in any way.
Is the service safe?
A free trial that doesn't require credit card data and a promise of a full refund during the first 24 hours adds credibility to the site. The service utilizes the Instagram API, so your credentials are safe.
Is the service legit?
Is using SocialCaptain legit?
SocialCaptain provide their customers with real Instagram users, which seems legit.
Is the service scam?
Is SocialCaptain scam?
Some reviewers claim they did not get any service or even got their accounts blocked by Instagram. It is advisable to try a free trial to see the current company performance.
looking for alternatives?
Alternative Services
Upleap
One of the most similar alternatives to SocialCaptain is Upleap. The two services look identical; they have similar prices, set of features, and even interfaces. SocialCaptain review pool is somewhat better, but we all know what the review war with competitors looks like.
Combin
Another similar service is Combin (they both are mentioned in SocialCaptain "we are better than they" list). The main set of services here is also similar, but Combin also offers a scheduler of Instagram posts and stories.
It seems that most of these services look similar and charge similar prices. Unfortunately, neither of them really discloses the algorithm of its work, so it's hard to distinguish them. The reviews of all the three range from 1 star to 5 stars, and most of them do look as a result of a review war.
This Instagram bot is cheaper (with a current discount it consts $74 for 3 months) and has more positive reviews
Reviews
Testimonials
It's hard to say something about SocialCaptain reviews because what we see on the Internet looks like a paid bot attack. Every day there is one new negative 1-star review on TrustPilot. Considering the tense relationships between this site and its competitors from the "we are better" list, we can only advise using free trials to check which of them is really working.
Here is the TrustPilot page of SocialCaptain; you may see it yourself. No matter how bad the service is, it can't be notorious enough to get a new bad review almost every day.
Actually, 94% of their reviews are "bad" with only 2% being "Excellent" or "Average," respectively. The company claims the reason is their competitors posing devastating fake reviews about them.
Tilly Wilkinson
Don't trust all the articles that rank SocialCaptain.
I'm not even a customer yet, and yet I'm receiving a dreadful customer experience! My free trial didn't work due to 'errors' and I was promised another free trial. I haven't been given this free trial after weeks of trying. I'm looking at other bots now despite this one being ranked at the top of articles. Starting to believe these rankings are paid for now. After reading the reviews on here, I think I'll stay clear. What a shame!

1 stars
Andrew Walsh
Paying for no service!
I started using social captain on the 8th May 2019, and the growth pattern looked great; however, Instagram told me to change my password three times from the 28th - 30th May, and it now appears my account has stalled. I have not changed any settings and therefore do not believe I have done anything wrong. However, I have tried using live chat to get support, and nobody replies. I am contemplating canceling my subscription as I do believe in good customer service, which I am not getting. Shame as I thought from the start, the service was great, and now, I'm paying for what appears to be nothing!
Currently, there are only 4 positive reviews on Trustpilot.

3 stars
Pedro CreunaCom
21,483 Followers Increase – 21% Engagement Improvement
I'm the last person to write online reviews, but I'll go out of my way this time since I absolutely love the service and what it did for our business.
Why? Well, I signed up on November 7th – 15,728 Followers, 17% Engagement Rate.
Today (January 6th) – 37,211 Followers, 38% (!!) Engagement Rate.
Over 20k real followers in under 2 months that interact with our content and generated over $175k+ in sales over the last 30 days alone! I think that speaks for itself!

5 stars
Is it worth it?
Is this service worth trying?
It depends on what you want to get. You definitely might try a free trial to decide it for yourself - but the TrustPilot reviews of this service (and what is more interesting, the services of the competitors) show the quality so below average that it's hard to believe in it.
So, it is worth trying, at least, but don't pay your money to anyone until you make sure that the service does work well.
SocialCaptain Login