TubeBuddy review


Official website:
https://www.tubebuddy.com/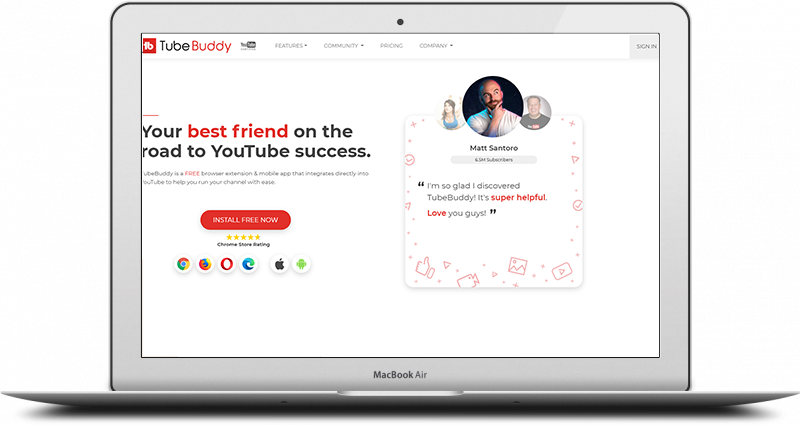 Table Of Contents
Pros and Cons
Pros
Flexible pricing
Self-explaining interface and a good overview
Lots of additional features
30 days of full refund possibility
Cons
Some pricing plans are a bit costly
Some essential features such as keywords are available only on more expensive pricing plans
Minor issues with client support (emails don't always arrive, the tickets may be answered late etc.)
About the service
TubeBuddy is a great instrument seamlessly connected to YouTube.
This is a service connected to YouTube that allows users to edit and manage their videos. Among its features, there are bulk uploading, message templates for comments, links to other social media, video branding, and so on. To start using it, you need to either install the browser extension (it exists for all the most popular browsers) or download the mobile app. Then you can watch the tutorials or start using the features straight away. They will be available in the mobile app separately and at the YouTube site as your browser plugin.
The company has a notably long history. The four founders started from making instruments for the miscellaneous video streaming and storing platforms, long before YouTube certified them in 2005. This is a truly remarkable way that makes TubeBuddy one of the most credible companies on the market.
Recently TubeBuddy got a portable edition, so people can now use it on their cellphones and tablets. It opens a whole new dimension for the video bloggers that benefit from the new hardware possibilities and create classy videos on the go. Now, when portable devices can support complicated video editing apps, the new TubeBuddy edition is exactly what is needed to keep the project running and conquering new markets. TubeBuddy is very popular among the small businesses that use it as an alternative to hiring the production crews. TubeBuddy allows one person to perform all the necessary tasks, from basic video editing to creating a marketing strategy, thus greatly reducing the costs spent on advertisement. Large companies also use it but on a more professional scale, opting for Star or Legend pricing plan and relying more on the data analysis than on the editing features. Freelancers use it either to boost their results with video teasers or, if they are precisely video-oriented, to promote their videos and, possibly, giving them a final polishing touch.
Main features
TubeBuddy offers a plugin and instruments for managing YouTube accounts
The wide range of editing and analyzing tools makes TubeBuddy essential for any vlogger or streamer who wants to grow their audience consistently and strategically.
Not only TubeBuddy allows you to save lots of time, but it can also be adjusted to fit any marketing or promotion strategy, providing the possibility that vanilla YouTube editor and metrics just don't have. Finally, you may choose any thumbnail for a video without the extra sweat.
TubeBuddy has plenty of pricing plans that allow access to different tools. The tools are roughly ranged from the ones needed for everyone to the specialized instruments used mostly by the big enterprises. Sometimes it isn't so tough, and unfortunately, you can have your function available only in the expensive pricing plan. The main pricing plans are:
Free plan:
perfect for beginners or those who want to test the service. The free plan allows you to manage a single account and edit videos. Unfortunately, the mobile version isn't available in the free plan as are the keywords.
Pro plan:
gives access to the mobile, sorting tags and keywords, but these are the only main differences from the free plan. The bulk upload that helps so much isn't available.
Star plan:
the most popular plan that gives access to the most features of TubeBuddy: comment filtering, screen templates, branding and an immense range of metrics.
Legend Plan:
opens all the SEO features that TubeBuddy has. Great for the big companies, includes discounts to the compatible third-party tools and competitors analysis.
Service Features & Technical Details
TubeBuddy has lots of features that make a whole laundry list here. We will talk about each but shortly. If you need explicit information about any of them, the TubeBuddy support section has great descriptions, FAQs and tutorials that will help you to master all the tools you need.
Data Analysis
Metrics are one of the most important features that make TubeBuddy so valuable. Performance of a video measures its quality and success like nothing else. The metrics are detailed enough to quickly understand what aspects of a video are already perfect and what needs to be improved. A constant analysis of all your videos allows you to build your long-term strategy and cater to your customers' needs much better.
Branding your videos
Adding your logo to the video may be an essential tool at the age of copycats and pirating the content. Even without taking this into consideration, branding is extremely useful for raising your brand awareness, creating a loyal audience and making your business popular with different virus videos. The last but not least: the videos with carefully applied logos look more professional and expensive.
Bulk Uploading
Any YouTube user knows how annoying the uploading process can be. The bulk upload feature is a blessing for those who need uploading a dozen of video every day. This is one of the most prominent tools that is very easy to find and use. Automatizing the uploading process saves your content managers a whole lot of time.
Closed Captions
The caption feature is already present in the vanilla YouTube, but if you are editing your video via TubeBuddy it will also come in handy. The recognizable design will let you start editing captions almost instantly. It is both convenient and good for SEO because videos with captions are automatically getting a higher position in the search list.
Mobile Version
As we said before, a mobile version is a crucial feature for all modern vloggers. It allows both editing videos from your phone and optimizing videos for the portable devices of your audience because nowadays they are the most popular platforms to watch something. The design of the mobile version is very ergonomic and easy to adjust to for both PC version users and new users.
Social Sharing
Sharing the videos in social media makes a big share of the overall marketing strategies. TubeBuddy gives you all the tools needed for that to control and restrains access to the content (for the pre-paid or VIP categories of your audience, for example) and for sharing the content wherever your audience wants to, greatly increasing your brand awareness.
Looping and Streaming videos
Going Live is one of the most important features of any modern business. It shows your audience how all of it works from the inside, gives your brand a personal touch and creates the feeling of the connection with your audience. It is always great to be closer to your customers, and TubeBuddy has all the tools to achieve it.
Login & Buy
results
Results and Safety
The company promises easy and successful YouTube account management.
Go to Website


Have questions?
FAQ
They guarantee up to 50% of recurring fee if you get them customers via their affiliate program.
The company is considered safe. The payment data is protected, and you can learn more about your privacy and manage these terms by emailing the support team. The company uses a secure HTTPS protocol. They use a OAuth 2.0 mechanism to connect to YouTube. The Terms and Conditions section of the site is explicit and clear, too, written in human language, not in legalese one.
The company is definitely legit and values the clients' privacy above all, stating that it will never transfer the received data to anyone except the legal authorities.
TubeBuddy offers support, a free trial period and a refund and doesn't look scammy.
Is it worth it?
Is this YouTube plugin useful?
TubeBuddy is one of the best YouTube extensions so far. The credibility of the company makes it a good choice for any business, big or small. Though the new users should examine the pricing plans carefully and make sure that the chosen one has all the options they need.
TubeBuddy Login