Upleap review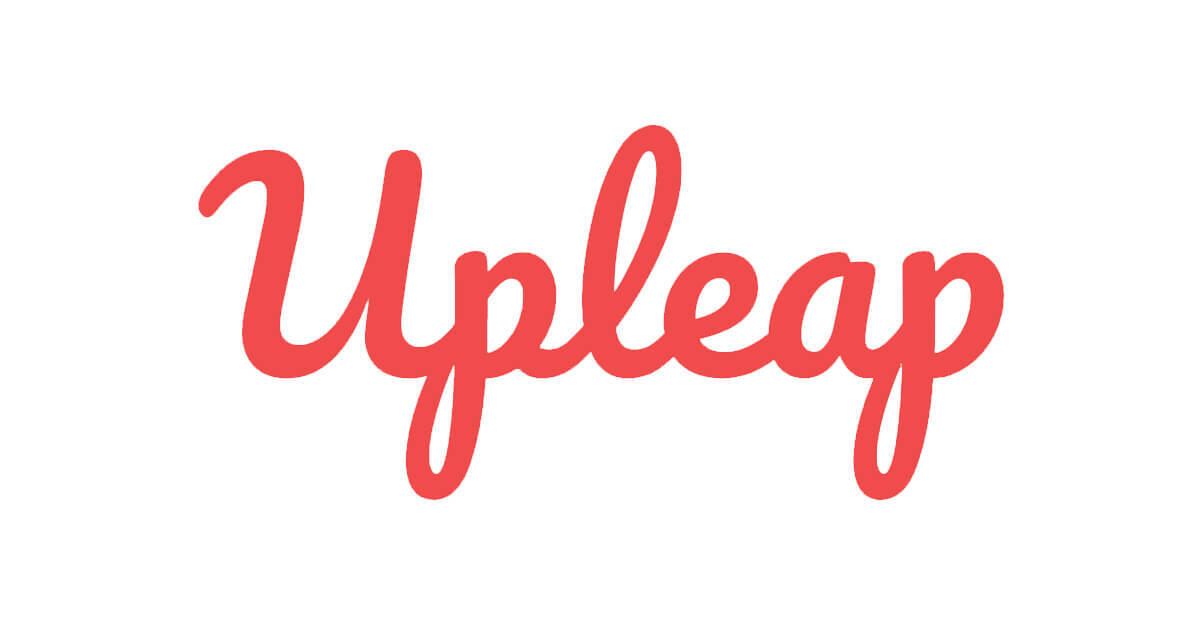 Official website:
https://upleap.com/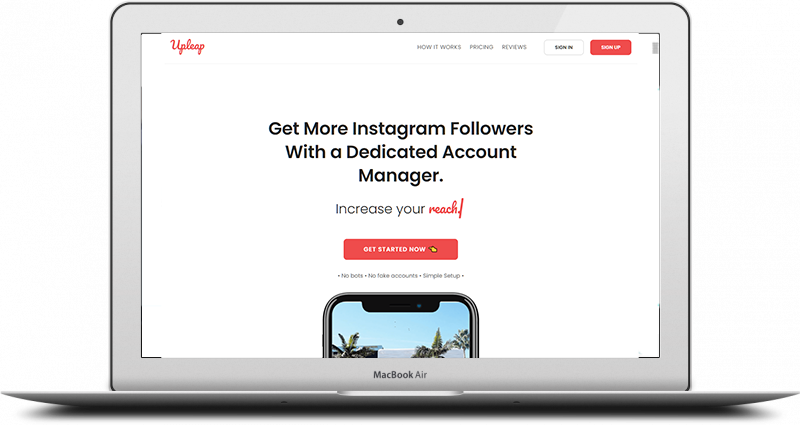 Table Of Contents
Pros and Cons
Pros
Monthly payment - you don't need to pay extra for additional likes.
Services are mostly delivered.
Cons
Quite a high price
The agency doesn't provide all the information needed before registration
Slow support
The quality of likes doesn't match the agency's statements
No trial period and vague refund policy
Top Social Media Growth Tools
About the service
Upleap offers to add organic followers and likes to your Instagram
Upleap is another service that promises to drive more organic followers and likes to your account. The company boasts having a personal manager for each case and thousands of people ready to like and follow. It also promises its clients to rise account growth up to 300% and choose followers according to the desired target audience.
Upleap sits in the upper-middle level of the market, offering relatively premium services for somewhat premium prices. Still, the Trustpilot reviews aren't as good as the agency promises. It also has a very vague refund policy and has recently cancelled the 3-day trial period that doesn't add to its credibility.
Main features
Personal account manager and tag management
Upleap Instagram agency names two main features: personal account manager, responsible for the particular account growth and available for questions; and hashtag management, which is very important for Instagram account growth. Attention to hashtags can be a significant advantage for the agency. But the responsibilities of managers aren't clearly defined even in the Terms and Conditions section. It doesn't look very credible and might be as well a marketing solution.
The FAQ section isn't very explicit, and half of the questions lead you to a subscription button that can be quite annoying. Still, the articles in the knowledge base may help you better understand subscribing and unsubscribing, billing and payment, and adding or removing your Instagram accounts. There are only several mentions of a refund (saying that refund is provided on a case-to-case basis), though; you need to search for the full refund policy in the Terms and Conditions sections. There is an explicit description of privacy protection measures in Terms in Conditions and the FAQ, too, which is also important and useful to see there. Also, Upleap provides several use cases of its service, showing the benefits of the different pricing plans and strategies for other business branches. Unfortunately, the case studies are allowed for registered users only.
The Blog section gives lots of general information about maintaining and growing your Instagram account. Still, the articles look more like SEO advice and are vaguely connected to the services of Upleap. They might be useful as a guide for content creation that the agency will later promote.
Login & Buy

Instagram likes
A customer shall get views from real organic followers as they start to follow his/her account.

Real Instagram followers
Another valid strategy is to provide mutual growth for similarly-themed clients by cross-following them and exchanging their follower base. As the company describes it, its clients with similar hashtags have more chances to be cross-followed. It may be the right solution for truly organic traffic but limits the possibilities for the narrower, niche Instagram accounts that don't have too many similar Instagram users around.

Instagram views
No views are offered directly, but customers shall get more views from new organic followers.

SUPPORT
Each customer is assigned an account manager to help with anything related to their account growth. However, support is not available 24/7.
Pricing
Pricing and unique features
Upleap has three pricing plans: Lite, Standard, and Premium. The Lite plan costs $59 per month. The yearly plan is cheaper by 25% – $528. It's quite an impressive price for the most affordable plan than other Instagram agencies, but a live, personal manager and a valid cross-following policy may be worth it. The standard plan costs $79 per month, and the yearly payment is 30% cheaper – $660. It vaguely promises faster growth (does it mean more attention from your manager?) and adds the possibility to view Instagram stories. Premium Plan costs $199 per month and a whopping $1428 per year, making a significant sum even with a 40% discount. It includes premium support that, possibly, means your requests being a priority, target locations, and exclude keywords. It may be useful for some brands that might be confused with other brands (that's what exclude keywords are usually for), but it doesn't seem worth an extra $64 monthly if your business is not the case.
Social Media
100 pcs.
500 pcs.
1 000 pcs.
Shares
Does Upleap Offer Refunds?
The company has a very vague refund policy and has recently cancelled the 3-day trial period that doesn't add to its credibility.
Is there a Free Trial for Upleap Services?
Upleap offers no free trial.
Compatible Payment Methods
The company accepts a variety of credit cards and payment processor providers.
Visa, MasterCard, Credit Card
Upleap Deals and Discounts
You can save from 25% to 40% if you choose one of the Yearly plans.
Unfortunately, Upleap has discontinued its free three-day trial program. It could be very helpful, but now you have just make a leap of trust. A bit expensive leap. The Terms and Conditions describe the refund policy very vaguely, and it is mostly reserved for the newest users of the service. Anyway, you have a risk of paying your money for the services you don't like, and it isn't an enjoyable feeling.
The affiliation program offered allows you to get up to 30% commission for your affiliates. It's one of the biggest possible sums on the market. The upper limit of the affiliation gain is $10 000, a decent sum and one of the market's biggest too. The company looks exceptionally confident and eager to invite new customers.
Upleap: some unique features
Quick registration
Personal account manager catering for a customer's needs
Discounts for choosing yearly plans
Free affiliate program
In a few steps, this is how it works
How it works


Get in contact with your account manager

Choose the kind of followers you want and inform the company about it
results
Results and Safety
All the work happens at the agency's side. You have to register and answer a simple quiz that will define your account's possible target audience. Then you choose your pricing plan and pay for it. After the payment is accepted, you just do nothing, getting followers and contacting your manager in case of need. The agency promises to care about hashtags management, cross-following, adding relevant likes, and steady account growth. It also gives you access to complex progress tracking metrics.
More expensive pricing plans include showing stories to those who haven't subscribed yet, broadening the audience, and raising awareness of your account and brand. The knowledge base is available to all the users but has less than a dozen articles in it. The support uses the ticket-based system, and you usually need around a day to get an answer. It is suitable for most accounts, but those who need the fastest reaction should consider either using the more expensive plan or choosing another agency.
Go to Website


Have questions?
FAQ
What are their guarantees?
The agency doesn't offer any particular guarantees.
Is the service safe?
Safety measures described in the Terms in Condition section are reasonable and state that by no means can Upleap staff ask you for access to your Instagram account. But they also state that they are using third-party sites and apps to boost your account and do not guarantee that they are safe both for your credentials and for the credibility of your Instagram account. There are lots of ban cases because of improper usage of third-party apps.
Is the service legit?
So, is Upleap legit? Probably yes, but the quality of the services is still doubtful.
Is the service scam?
Trustpilot Upleap reviews show us not a pretty picture. Many cases stated that the services weren't provided as described, and the support wasn't as dedicated as promised. Unfortunately for many accounts, the support isn't available 24/7, so if you need a super-fast solution, it isn't the case. One Upleap review outward states that there was no service provided at all (we think that's the refund case, but it is unclear what the company's reaction was). Of course, there is always a chance that the company was the victim of a bot attack, but the mediocre Trustpilot rating should be a warning.
The site footer also states that it was created in 2021. For such a new service without an established reputation, the prices are unreasonably high. The lack of a trial period doesn't contribute to the agency's credibility either. We don't urge you to believe in each bad Upleap review, but we strongly recommend talking to the support and asking all the questions bothering you first.
looking for alternatives?
Alternative Services
Kicksta VS Upleap
The most similar service is Kicksta. It has similar pricing plans ($59 and $99), but Kicksta boasts live chat support (in Premium package only though). Both Kicksta and Upleap say that you are using them at your own risk, and there is no guarantee that the accounts using them won't be banned on Instagram. The huge Kicksta advantage is the 14-day trial period that makes choosing it much safer. Still, the refund policy is quite strict, so you'd better make your choice during these days. Kicksta also has a bigger FAQ that gives you much more information without registration.
Stormlikes VS Upleap
Stormlikes offers a more flexible payment system: you don't buy a subscription but pay per likes. It guarantees a certain quantity of likes, and it is the main positive difference (Upleap doesn't give you any particular amount, just access to the service for a month). It also has a trial period of 10 likes - not so much, but enough to evaluate the quality of accounts that like your posts. Stormlikes is older than Upleap and has a nicer score on Trustpilot. It also has a friendly rewards program. It isn't an affiliate program, but here you don't need to persuade anyone to join; just do the simple tasks to get more free likes and followers.
Buzzoid VS Upleap
Buzzoid is another trusted Instagram agency. It also offers payment per certain quantity of likes (or watches, or followers). It also has an additional security measure: followers replenishment. If someone unfollows your account, they will provide you with another follower for free. It also allows you to choose between live and automatic likes. Auto likes are cheaper but can be blocked by Instagram with time. Real likes work just as well as in the agencies listed above. Probably, Upleap should provide the users called "premium" on Buzzoid only, but the ability to choose the number of likes and adjust your budget is a great option.
Reviews
Testimonials
The latest Trustpilot reviews are divided 50/50. There are almost no other reviews except total disappointment and sheer excitement. Either people get everything right and just as described, or they get shadowbanned by Instagram because of inadequate like-adding algorithms or suspicious behaviour. There are also many complaints about the 3-day trial period, but Upleap doesn't provide a trial period anymore, so they are hardly relevant now.
The most popular complaint is about the poor quality of likes: the profiles appear to be obvious bots, and the company seems not to live up to its promises of 100% genuine human likes. While the services are provided, their quality doesn't match the description. If you need high-quality likes and followers, you should possibly have a look at the other companies that divide auto likes and human likes.
Ethan
Not the cheapest agency I tried, but the results are phenomenal, thanks!

5 stars
Wunderkind Golden
They offered me a 3-day trial spent a bunch of time signing up imputing my info and they wanted me to pay to begin when I clicked on a 3 day "try it free" link on their website. Shameful waste of time and good thing I didn't sign up because the other commenters were blocked working with this same company … huh… go figure…

1 stars
Randy
Used it for a month, good results overall, although communication with the team can be improved imho.

4 stars
Is it worth it?
Is it worth it?
We can't say that the question "Is Upleap legit?" has a negative answer. Upleap works. But there are lots of companies that provide much better services for the same or even smaller price. Unfortunately, we can't recommend Upleap to our users yet. If you are satisfied with low likes quality and don't want to pay anything more than a monthly payment, you may take this risk and get your likes. The redeeming quality of Upleap is that it does provide the likes you ordered. It's up to you to decide.
Upleap seems to be a new player on the market, so you may have an eye on it and see if they will improve the quality of their service. Possibly, in a few months, the company will totally earn its monthly payment.
Upleap Login