YTpals review


Official website:
https://www.ytpals.com/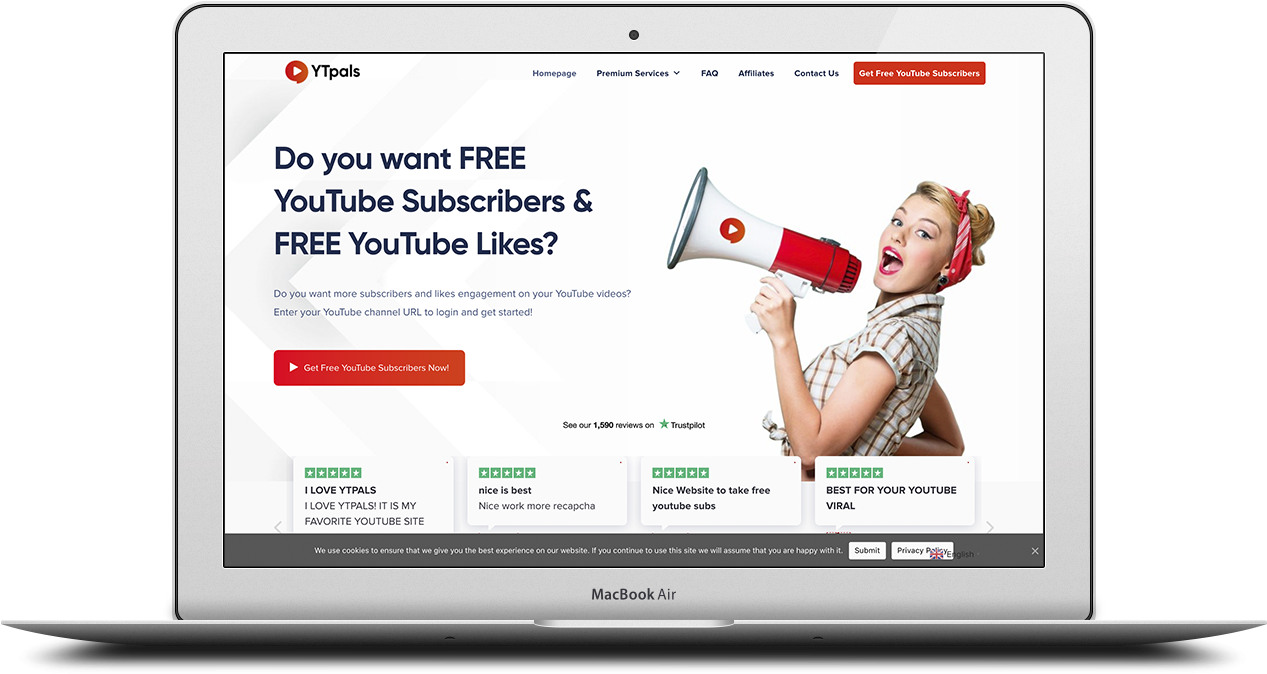 Table Of Contents
Pros and Cons
Pros
Free subscription plan
Clear refund policy
Real subscribers, not bots
Cons
No Terms and Conditions page
Doesn't accept PayPal or Payoneer
Refund is available for a limited amount of time
Top Social Media Growth Tools
About the service
YTpals is the service that promotes YouTube channels, providing new likes, watches and subscribers.
It also has other services (called Premium for some reason) for Twitch, Instagram, TikTok, Pinterest, SoundCloud, and Spotify. The prices are quite reasonable (up to $100 per 1000 live subscribers) and, considering the mechanism of getting new likes, they will definitely be not bots.
YTpals has lots of good reviews but, considering the similar design, terms and conditions, as well as common hyperlinks, is somehow connected to another service, Mr. Insta. Mr. Insta is a quite trusted company, so, if YTpals belongs to the same owners, we can hope to get what we paid for.
Main features
YTpals have one free plan and three paid subscriptions.
YTpals have one free plan and three paid subscriptions. The free plan means that you get 10 subscribers and subscribe to 20 channels instead. So, it isn't free per se; you get 10 subscriptions for 10 yours and pay 10 more to the company that sells them to the paid subscribers. It is clearly and visibly written on the home page of the site, so it's your choice whether to accept their terms and whether to consider them fair. Other paid plans range from $20 to $80 per month and include 15, 30, and 60 subscribers per day accordingly. You can also get a defined number of subscribers from 100 to 1000 by paying for them once.
Login & Buy

Instagram likes
There are regular and automatic Instagram likes offered as well. You can buy from 100 to 50.000 likes in a package, paying from $6 to $179. You can also get 20 free likes on 1 post or buy 25 - 1000 automatic likes. The price starts at $20.

Real Instagram followers
The agency offers a choice of regular or automatic Instagram followers. You can buy from 250 to 10.000 Instagram followers; the prices range from $10 to $ 190. Automatic followers are more expensive and cost from $20 to $80. You can also get 25 free followers if you adhere to the requirements of the Free Followers plan.

Instagram views
The company offers Instagram views packages containing from 100 to 10.000 views for $3 - $49. Instagram Reels views packages cost $7 - $115.

SUPPORT
The agency offers support via email. To Email them, a customer should use the "Help" widget in the bottom right corner.
Pricing
Pricing and unique features
Paid plans range from $20 to $80 per month and include 15, 30 and 60 subscribers per day accordingly. You can also get a defined number of subscribers from 100 to 1000 by paying for them once.
Social Media
100 pcs.
500 pcs.
1 000 pcs.
Likes
6
14
25
Followers
25
40
Shares
Views
3
7
12
Comments
80
Likes
13.5
40
Subscribers
30
60
100
Comments
160
Does YTpals Offer Refunds?
A full refund is possible within 3 days from purchase, a partial refund of unused costs is possible after 7+ days of using the service. To find this information we had to browse through the entire FAQ, but still, it is quite a nice refund policy for such a service. If you decide to cancel your subscription, the system will automatically use up all the paid costs unless you write to the support and ask them to refund you the unused sum.
Is there a Free Trial for YTpals Services?
The company doesn't offer a free trial but offers free plans.
Compatible Payment Methods
The company doesn't accept PayPal or Payoneer but uses PayOp instead (which is another hint of YTpals being a sub-brand of Mr. Insta). It also accepts Visa and MasterCard credit cards and gift cards of CVS, Dollar General, or oBucks systems. This may cause some complications for clients from abroad who prefer to use international payment systems, so keep it in mind if you are a non-US resident or just don't want to use gift cards.
Visa, MasterCard, Discover, American Express
YTpals Deals and Discounts
There are no discounts, but an affiliate program that works through the unique link offers 20% from each sale to their affiliates. Though the minimum withdrawal sum is $100, it is still real to get it quite fast, considering the rate of new reviews appearing on TrustPilot. People do use this service and seem to be quite happy with it.
YTpals: some unique features
Basic and Starter Free Plans
Free Instagram followers and YiuTube subscribers
Delivery of extra subscribers
Option to pay with Gift Cards
In a few steps, this is how it works
How it works



results
Results and Safety
Results, as the company promises, are delivered automatically. The likes are delivered almost instantly; subscriptions need up to a full day to appear. The subscriptions are added daily if you use a plan or are provided in several days (up to 2 weeks) if you paid for the constant quantity.
Go to Website


Have questions?
FAQ
What are their guarantees?
There is no Terms and Conditions link on the site (or it is hidden from our eyes too well), but the FAQ covers this theme, at least partially. The guarantees of service are a trial period, the possibility to refund money, and good reviews on Trustpilot and SiteJabber (it is truly hard to fake more than a thousand positive reviews).
Is the service safe?
The service doesn't look like a scam and is (at least relatively) safe, because lots of people use them and leave good reviews.
Is the service legit?
The agency claims to use legit methods.
Is the service scam?
The service doesn't look like a scam and is (at least relatively) safe, because lots of people use them and leave good reviews. They also have a legit refund policy that actually seems to work. They claim to use the methods that are not restricted by YouTube, so the only case when YouTube can mandatory unsubscribe your new subscribers is when you have fewer video views than subscribers. The YouTube algorithm considers that the "extra" new subscribers may be fake ones.
looking for alternatives?
Alternative Services
It is hard to call it alternative, but until we have the legit proof that Mr. Insta and YTpals belong to the same company, Mr. Insta is the closest counterpart to YTpals. Mr. Insta has the same payment methods and similar review count, so it can be compared to this company in terms of reliability and legitimity.
It doesn't have such a big and clear review pool as YTpals, but AudienceGain is another renowned company that works on the market for a long time. AudienceGain offers affordable prices and claims it also uses real people as likers and subscribers. Its main drawback is the lack of a coherent refund policy and free trial period.
SubPals is another YouTube channel promotion company that is considered one of the safest on the market. It also has a free plan for getting a minimum amount of subscribers to give their service a try or boost your channel just a little. They also don't have any coupons or discounts so you'd have to pay the full price if you'd decide to buy a more effective plan.
Reviews
Testimonials
The reviews on Trustpilot and SiteJabber are impressive - around a thousand with an average score of 4,3 and 5, respectively. Either it is a result of a big and costly marketing campaign or the service is truly remarkable and satisfies the demands of most clients. The main benefits of YTpals are fast delivery and really live subscribers.
BhumiX
YTpals is really a very good website that can be trusted. Recently I used this site and received 10 subs in 12 hours.

5 stars
Christian_wolff
I put 3 stars for the reason that if the subs that subscribe to your channel do not see your video 2 minutes minimum the subscription is canceled, so we can all try to watch the video that time so that we all get favored and help each other.

3 stars
OasisAcquiesce
This website ytpals.com is a FRAUD. Don't trust them. Based on our personal experience, in the beginning, we got 45 subscribers, but then a few days later all of our gains are ALL GONE. Only 5 subscribers gained remains. Luckily I didn't pay any money for their service.

1 stars
Is it worth it?
Is YTPals worth trying?
YTPals is a nice and reliable likes and subscribers provider with a medium price range and fair terms of free usage. Though we can't recommend you to trust it blindly (we can't do it for any company), it still is worth a try.
YTpals Login